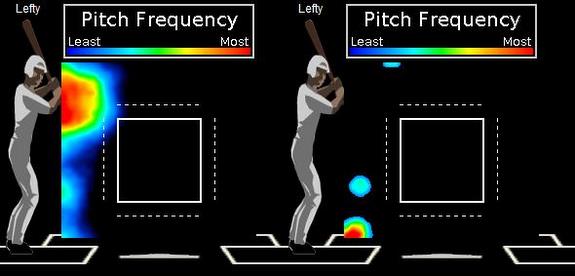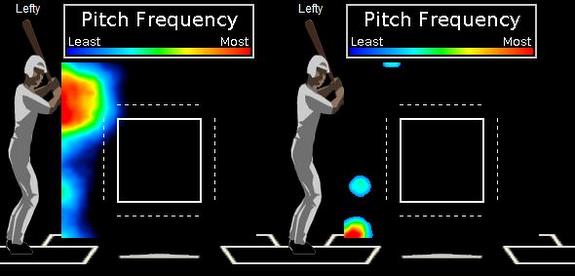 Over the last three years, A.J. Burnett has hit 38 batters with pitches, the most in baseball. Twenty-one of those 38 batters were left-handed, or 55.3%. Right-handed pitchers around the league have about a 68%/32% split (RHB/LHB) on hit-by-pitches during that time, so Burnett's clearly an outlier in that regard.
Those two heat maps above come courtesy of David Pinto at Baseball Analysts, and they show the general location of the pitches that have hit left-handed batters over those last three seasons. The graph on the left is the league average, the one on the right is Burnett. He's not hitting these batters up high (around the shoulders, arms, and hands) like everyone else, he's catching them down around the feet and ankles. Why? It's the curveball, as Pinto shows in his post.
Thirteen of those 21 hit-by-pitches came with two strikes, which is why A.J. really goes to the hook. Hitting a batter is bad enough, but doing so in a two strike count is as infuriating as it gets. Hopefully those new mechanics get help straighten Burnett out, because free baserunners are a bad, bad thing.