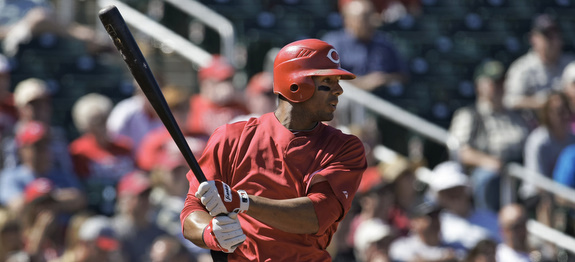 Update (11:41am): The Yankees have received OF Chris Dickerson from the Brewers. He has one option remaining and is a legitimate center fielder (+15.7 UZR/150 but in a limited sample), so think of him as Curtis Granderson insurance should the oblique thing drag on. The soon-to-be 28-year-old was awful last season (.206/.250/.268, .242 wOBA in 106 PA), but he missed close to four months after having wrist surgery.
Dickerson hit .283/.383/.440 with 16 steals while with the Reds from 2008-2009 (421 PA), and is a .282/.382/.471 career hitter at the Triple-A level. So yeah, he has some on-base skills, plus he hits righties well (career .347 wOBA). Considering Mitre's limited value and the fact that they were probably going to release him before Monday's 45-day termination pay deadline, the Yankees actually made out really well in this swap.
Original Post (11:03am): That's the word from Jerry Crasnick of ESPN.com. Mitre was one of four pitchers competing for three roster spots, so this trade makes the situation clear. Ivan Nova, Bartolo Colon, and Freddy Garcia will all break camp with the team, though we're not quite sure about the roles yet. Nova will be in the rotation, but it's still unclear which of Colon and Garcia fills the fifth spot and which goes to the bullpen.
This also puts the Kevin Millwood signing into better perspective. He's now essentially insurance in case something goes wrong with Colon or Garcia early in the season, when the young arms might not quite be ready.