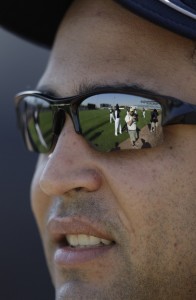 The season is just nine games old, but so far Joe Girardi has gotten every player on the 25-man Opening Day roster into at least one game, most more than one. Except one guy: Gustavo Molina, who has yet to take the field and play. The backup catcher by default, Molina is only with the team because Frankie Cervelli had a foul ball break his foot and Jesus Montero underwhelmed in camp. A career .235/.295/.348 hitter in the minors, it's easy to see why Girardi has hesitated to use him in a game.
It's not all on Gus* though. His name was penciled into the starting lineup last Wednesday, but Mother Nature intervened and rained the game out. That allowed the team to skip Molina's start just like Freddy Garcia's, keeping Russell Martin in the lineup. And it's not like Martin has been overworked either. He's started no more than four consecutive games at any point in the season so far, and it's not like the sun has been beating down on him at this time of year. With the way he's hitting, why would they want him out of the lineup anyway?
With the weather expected to clear up today and hopefully through the weekend, it looks like Molina's first start is imminent. The Yankees will play in each of the next five days before Monday's off-day, and I would be surprised if Girardi used his starting backstop in all five games. He knows all about the position, and four starts in five days seems to be the accepted limit for a catcher. Martin is playing well, but you don't want to run him into the ground like Joe Torre did over the last few years and have him turn into a pumpkin come June.
Unfortunately for Gus, his time with the Yankees figures to be short lived. He might start this weekend, but he's only keeping the job warm for Cervelli, who recently shed the boot and has resumed non-baseball workouts. Early-May sounds like a reasonable expectation for his return, but even if it's not, Montero is hitting the snot out of the ball in Triple-A and could be called up at any moment. All of that means Molina is down to what is likely the last three weeks of his Yankees career.
But you know what? Gus will be able to tell his grand kids that he once played for the Yankees, and that alone is pretty cool. If things break right the rest of the season, he might even be able to show them his World Series ring. Now that would be cool.
* Yeah, I'm calling him Gus from now on. It's an old-timey kind of New York name, and the Yankees could use a Gus.