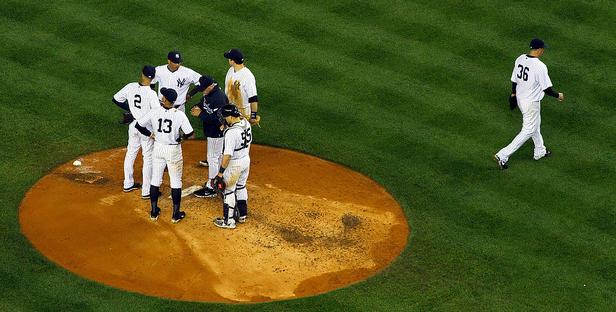 As expected, it was a busy morning in Yankeeland thanks to all the recent injuries. Bartolo Colon was predictably placed on the disabled list following the hamstring strain he suffered yesterday, though Joe Girardi said the MRI came back "pretty good." I have no idea what that means, but Colon told reporters that he expects to be back after his 15 days are up. Holy cow, that would be awesome. Just please don't rush it, the last thing the Yankees need is for him to have a setback and miss three months instead of three weeks. "I feel bad because the team needs help and I got hurt," said Bartolo. Given all he's done for this team already, he's shouldn't feel bad. Amaury Sanit was also placed on the disabled list with an elbow injury, the nature and extent of which is unknown.
Replacing those guys on the roster are Hector Noesi and Chris Dickerson. Since you can't call a player back up for ten days after a demotion, they had to use the injuries to get these two back so quickly. There's still no word on Thursday's starter though. As I sit here on my perch of infinite wisdom, I think the best course of action would have been to start Noesi today. It's his scheduled day to start for Triple-A Scranton, and it would give Freddy Garcia, A.J. Burnett, and CC Sabathia and extra day of rest while allowing Colon's replacement to miss the Rangers next week. They're killing the ball right now, so keeping a rookie away from them seems like a good idea. Maybe Noesi will throw multiple innings in relief today as a tuneup, then start Thursday. That's pretty much the best case right now.
Anyway, both Russell Martin and Alex Rodriguez are in today's lineup. Martin's back is finally okay following his little weightlifting injury, and A-Rod's hip is fine after it stiffened up following that hit-by-pitch yesterday. So that's pretty much it, hopefully they can get through today's game healthy. Here's the lineup…
Derek Jeter, SS
Curtis Granderson, CF
Mark Teixeira, 1B
Alex Rodriguez, 3B
Robinson Cano, 2B
Nick Swisher, RF
Jorge Posada, DH
Russell Martin, C
Brett Gardner, LF
Freddy Garcia, SP
Today's game can be seen on YES locally and on TBS nationally once it starts at 1pm ET. Enjoy.