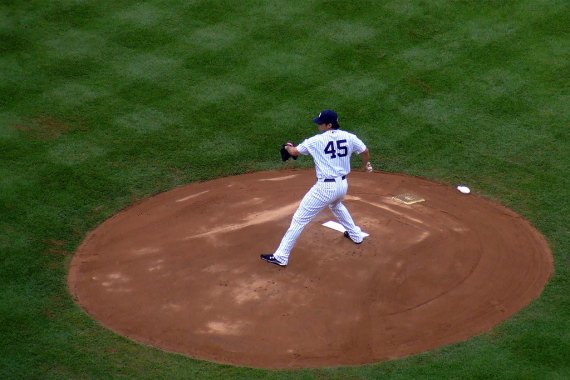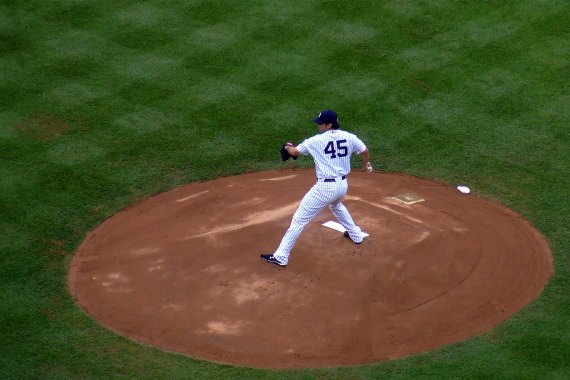 The biggest complaint last night was not about Phil Hughes's shaky first. It wasn't about his inability to put away batters, nor his lack of a clean inning. In fact, it had little to do with Hughes at all. Running through the comments on the game recap and on other social outlets, such as Facebook and Twitter, the biggest complaint was the mere presence of Sergio Mitre. That has something to do with Hughes, since he only pitched five innings and forced the bullpen to enter the game early. But everyone seems willing to overlook that and heap the blame on Mitre, whose disastrous inning proved to be the difference* in last night's game.
If you don't believe in the fallacy of the predetermined outcome, that is.
Having Mitre in the game was surely a problem, but given the situation and roster composition it's hard to argue with his presence. Take a gander at the 40-man roster and see if there are any better alternatives. The only pitchers who aren't in the majors have something that makes them something of a worse choice than Mitre. They have:
Dellin Betances: It's pretty clear why he's not in the MLB bullpen.
Andrew Brackman: He hasn't transitioned well to the AAA bullpen, so AA is a greater possibility than the majors.
Steve Garrison: He's currently getting shellacked at AA. He throws with his left arm, so if the Yanks thought he could help in the pen he likely would have been up at some point during this big bullpen shuffle. An early season injury has cost him, and his last start skews his numbers a bit.
Brian Gordon: He certainly could be helping the Yanks out of the bullpen right now, but it's understandable why they have him working as a starter in the minors. We've already seen this season how important pitching depth can be.
Ivan Nova: Same deal as Gordon. He'd probably work very well in the bullpen, when he could focus on his fastball and curveball. But his best starts this year have come when he mixes all four of his pitches, so it's probably best at this point to have him continue doing that in the minors. They'll need him for a start sooner or later, anyway.
Pants Lendleton: He's only two years younger than Mitre, and I have a hard time making a case that he's as good.
Ryan Pope: Dude just got demoted to AA from AAA, so he's far removed from the issue at this point.
Kevin Whelan: He's on the seven-day disabled list in AAA.
Perhaps at a point later in the season we'd see Nova or Gordon taking Mitre's spot. But for now, with nearly three months of baseball left to play, preserving starting pitching depth takes a slight precedence over the bullpen. That's probably the biggest reason why Mitre is on the roster right now.
Regarding the complaints that he should not have been the one to enter the game, I find it hard to disagree. The Yankees had other options at that point, and a 3-0 lead is far from insurmountable, especially with the A lineup. Girardi could have gone to Cory Wade, who didn't pitch in Tuesday's game, or Hector Noesi, who hasn't pitched since Sunday (and threw just two pitches in that game). Maybe Girardi didn't want to use Wade, since Cleveland hit him around on Monday. I don't quite buy that, but it's not enough to raise a stink. But when it's combined with the non-use of Noesi — he's pitched just 6.2 innings since mopping up for Freddy Garcia against Boston in early June — it becomes an issue. There is little reason to trust Mitre over Nova, especially in a game that the Yanks can still salvage.
The hand wringing is likely for naught, as the Indians did have a strong hold on the game. Even if Noesi or Wade had entered the game in the eighth and held the Indians scoreless, the Yanks would have faced Chris Perez to open the ninth. He's been good this season, but has a propensity to walk guys and doesn't strikeout many (at least this year). But he shut down the Yanks immediately upon entering the game, and I imagine, since he's done it most of the season, that he would have held down the top of the order at the start. And so that three-run rally might not have even gotten off the ground if Mitre didn't allow those two runs in the eighth.
For the time being Sergio Mitre is the unfortunate product of the Yankees bullpen situation. Three of the seven guys they'd counted on to start the season are on the 60-day DL, and two aren't coming back this season. That means the Yanks have some mixing and matching to do, and Mitre gives them just one more option. He'll be gone soon enough, as the Yankees shop at the deadline and perhaps get Rafael Soriano back. We can gripe in the interim, and rightfully so. But until the Yankees make an acquisition or get back a pitcher from the DL, he's going to be sitting in the bullpen and sometimes agitating us with his presence.