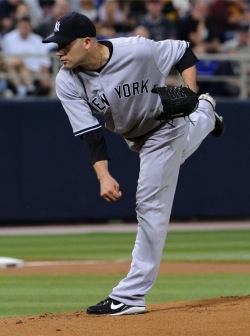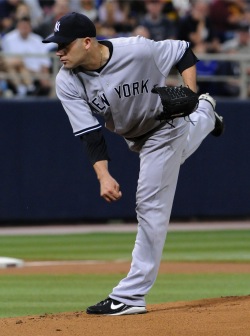 The bullpen was not in great shape. Brian Bruney had been lights out, but he'd also gotten hurt. Jose Veras, who showed plenty of potential in the second half of 2008, had an aversion to leaving men on base. Damaso Marte couldn't keep the ball in the park. Edwar Ramirez's changeup magic had worn off. All told it added up to a horrific month for the Yankees bullpen: a 6.46 ERA, 5.41 FIP, and 4.53 xFIP through the first month of 2009. If that team was going to contend it had to improve the bullpen. With one move at the end of April it accomplished just that.
On May 4th, after the Red Sox knocked around Phil Hughes for four runs in four innings, Alfredo Aceves made his season debut. He had made his major league debut just a few months earlier, in August of 2008, and he had thrown a quality 30 innings by season's end. The peripherals weren't pretty — 3 BB/9, 1.2 HR/9 and just 4.8 K/9 — but the results impressed. Since the Yankees had a full rotation and bullpen to start the 2009 season he started in Scranton, but he was sure to take the shuttle at first opportunity. The poor bullpen provided that opportunity, and Aceves quickly filled the void.
His appearance against the Red Sox was good, not great, though he did manage to strike out seven in 4.1 innings. During his next few appearances he began to earn Joe Girardi's trust. He finished two straight games during Walkoff Weekend against Minnesota. He pitched two innings, three innings — whatever it took. He even threw four innings in relief of an ineffective Joba Chamberlain on July 5th, earning a save in the process. While he did hit a few rough patches later in the year, he was generally among the Yankees' most effective relievers that year. His presence helped the Yankees go from worst bullpen in April to one of the best by season's end.
During the 2009 season Aceves experienced back issues. They cropped up in late July, and bothered him through his rough patch in August. He stayed mostly healthy that year, though, but in 2010 he finally succumbed. While delivering a pitch against the Red Sox he aggravated his back and left the game. Reports of his rehab and recovery persisted throughout the season, but every time he got close he suffered another setback. But hey, he's a pitcher and that kind of thing happens. Best to move on and try again next season, right?
There was no indication of what came next. Maybe it had to do with how he approached his rehab. Maybe there were unreleased details regarding the bike accident that broke his collar bone during the off-season. For whatever reason, the Yankees decided to not tender Aceves a contract this past off-season. It came as something of a shock, given how effective he'd been when healthy and how relatively little he'd cost. It's not often that you see a player who makes less than a million dollars non-tendered.
Making matters worse, the Red Sox ended up signing Aceves later in the off-season. Things got worse still when Aceves went through a normal spring training and appeared perfectly ready to start the 2011 season. Rock bottom has come recently, as Aceves has been a key member of the Red Sox bullpen. In August he's been at his best, allowing just two runs while striking out 18 and walking five in 14.2 innings. As a reliever this year he has a 2.15 ERA in 67 innings, holding opponents to a .190/.259/.326 line. It's one reason that Boston's bullpen has overcome the question marks it faced earlier in the season.
The Yankees aren't necessarily missing Aceves's presence in the bullpen. They rank third in the majors with a 3.02 ERA, and fourth with a 3.30 FIP (just a single point behind the Red Sox). They have their late innings covered by David Robertson and Rafael Soriano, and they have a band of other relievers who have stepped up and have pitched exceedingly well in their roles. In fact, if the Yankees had kept Aceves they might have missed out on one of their most effective relievers this season.
Cory Wade did not start the season in the Yankees' farm system. In the off-season he signed a minor league deal with Tampa, but they did not recall him by his opt-out date. The Yankees, shorthanded in the bullpen after injuries to Soriano and Chamberlain, scooped him up and added him to the major league roster. In 28.1 innings he's shown good stuff, resulting in a 2.22 ERA. He's had the peripherals to go with it, too, a 3.43 FIP and 3.49 xFIP despite a below average strikeout rate. Aceves's numbers line up comparably: 2.15 ERA, 3.80 FIP, and 4.27 xFIP as a reliever. With those numbers in mind, Wade just might be the better option in 2011. Yet if the Yankees had kept Aceves they might never have discovered this hidden gem. Maybe he would be the one helping Boston's bullpen currently.
Losing Al Aceves was sad at the time, given all he had contributed in 2009. It hurt plenty when the Red Sox signed him, and hurt even worse when he started to help their bullpen. But it wasn't all bad for the Yankees. They have one of the best bullpens in the league. Not only that, they discovered one of their most effective relievers at a time when they might not have, had Aceves been on the roster. This doesn't excuse the Yankees' decision; they refused to pay Aceves half a million, yet spent $8 million on Pedro Feliciano. But there is a silver lining in this. If they can knock around Aceves in this series, well, maybe the issue will finally lay at rest.