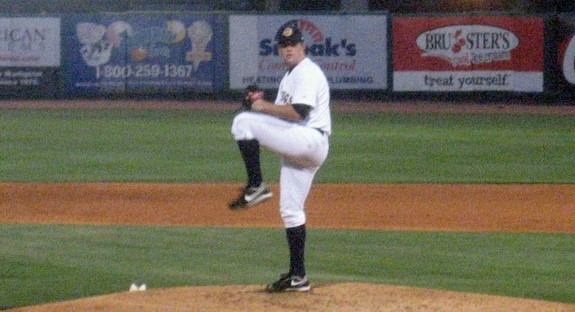 Zach Nuding | RHP
Background
A Texas kid from Haltom City — just outside of Dallas — Nuding wasn't much of a pro prospect coming out of high school. He went undrafted after graduating in 2008, then joining the upstart baseball program at Weatherford College, a two-year school. Nuding served as the Coyotes closer as a freshman, then played in the Texas Collegiate League during the summer. He was drafted by the Pirates in the 37th round of the 2009 draft, but did not sign and returned to school for another year.
As a sophomore in 2010, Nuding established himself as the best pro prospect on the staff. He moved into the rotation and appeared in 16 games, striking out 65 with 35 walks in 78 IP. He led all starters with a 2.19 ERA, then again pitched in the Texas Collegiate League after the season. Baseball America (subs. req'd) considered Nuding the 37th best prospect in Texas prior to the 2010 draft, and the Yankees made him their 30th round pick, the 925th overall selection. He signed relatively late for $265k — after the Yankees got a longer look at him in summer ball — foregoing his commitment to Texas Tech.
Pro Career
Nuding appeared in just one game after signing in 2010, allowing two run in two innings with the rookie level Gulf Coast League Yankees. He was assigned to Low-A Charleston to open last season, and he pitched to a 4.48 ERA (4.26 FIP) with 82 strikeouts (7.51 K/9 and 19.5 K%) and 44 walks (4.03 BB/9 and 10.5 BB%) in 98.1 IP spread across 20 starts. He suffered an unknown but minor injury in late-July, and he was back on the mound in early-August. He made three rehab appearances in the GCL, then finished the season with one start for High-A Tampa. All told, Nuding struck out 91 batters (7.56 K/9and 19.7 K%) and walked 45 (3.74 BB/9 and 9.8 BB%) in 108.1 IP in 2011.
Scouting Report
The only player in the organization more physically imposing than Nuding is Dellin Betances. The right-hander is listed at 6-foot-4 and 250 lbs., but he's probably an inch or two taller and 10-20 lbs heavier. His fastball can cash the check his frame writes, living in the 93-96 range with big time boring action in on righties. He's been clocked as high as 98. Neither of Nuding's offspeed pitches — a low-80's slider and changeup — are consistent yet, but both have shown put-away potential at times.
Nuding's delivery is a bit herky jerky and rough around the edges, leading to occasional control problems. He does pitch aggressively though, with a willingness to pound the zone when he's in sync. The Yankees have used him as a starter so far in his career, but Nuding is likely to wind up a power reliever unless both the slider and changeup make some big strides. He could end up touching triple-digits as a one-inning bullpen guy. Here's the only video I could find, though it doesn't appear to be working at the moment.
2012 Outlook
The Yankees will send Nuding back to High-A Tampa to open the season, where he will continue to take the ball every five days as a starter. He'll get another year before shifting to the bullpen permanently, at the very least.
My Take
The Yankees have built up this hilariously deep cache of power relievers with their late-round picks, and Nuding fits the bill perfectly. He isn't the best prospect of the bunch, but he has the best fastball and arguably the most upside. I do love these big hard-throwing relief types even if they have less than stellar control and underwhelming secondary pitches because you can be an effective big league reliever with a huge fastball and just a show-me breaking ball. Grant Balfour, Matt Thornton, and Joel Hanrahan are doing it right now. Nuding has some movement on his fastball, and that will help a little. I don't expect him to be all that great this coming season as a starter, but it's all about getting experience and working on things. He's a little too good for a sleeper, but don't be surprised if he's getting much more attention in like, 18 months.