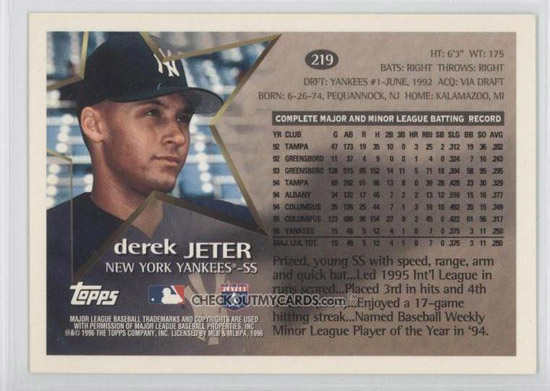 (The workweek is Saturday-Sunday, so it still counts!)
I've never known any other shortstop than Derek Jeter.
River Ave Blues has spent the past week talking about 80's and bits of pieces of the 90's because they're history now: the players are gone, and while their numbers remain forever to tell us what they think is important, and while the plays may be play-index'd and written in scoresheets, they're long in the past.
One of the great things about baseball is that it's ageless: it can bring together the young and old. Baseball is frequently passed down from our parents or grandparents, who may have gifted us with stories about Ruth, Henderson, Berra, Righetti, or any number of the people who we the fans were fortunate enough to have in pinstripes. Maybe they became attached by someone old, cranky and awful, like Mel Ott. Fans of all ages deck the stands at New Yankee Stadium, from the cranky old gentlemen whining for the old park to the babies too young to really understand what's going on yet. For each generation, what Retro Week is is something a little different. Everyone has their own childhood heroes, and ten different Yankees fans of ten different ages would write ten different weeks of Retro Week.
I was born in 1988 and missed out on Mattingly, Berra, and the hapless Yankees of the 80's. My generation and I were lucky enough to pick up at the right time, raised with a scrawny-legged shortstop named Derek Jeter and his comrades: a Panamanian ex-starter, a chinless, scowly catcher (who was first a backup), and a beak-nosed crafty lefty. And there were plenty of other Yankees in those dynasty teams that 8-year-old me will never forget too, of course: Tino, Bernie, Cone, Paul O'Neill (my first favorite player ever), and so on.
As I end up finding my place in the real world attending my stupid job and counting my birthdays (I turn 24 in two weeks), the players that I grew up screaming for in front of my tv with my grandma have slowly faded away. Earlier this week, Mike covered David Wells' perfect game as yore and I came to the startling realization that it happened way over ten years ago. Meanwhile, every new year comes with a new group of fans and their own childhood players. There are plenty of readers, I'm sure, who have never known another third baseman other than A-Rod, and some who can't remember a time when the rotation didn't feature the pure domination of CC Sabathia. That's not bad, it's just the way that time is. The half-important types that these Yankees kids might pick up could be Cervelli, Pena and Nunez. My favorite was Chad Curtis, and I will always love Alfonso Soriano. Sooner than maybe we'd all like (or maybe not soon enough), the youngest generation of fans will only know Derek Jeter from videos, retro baseball cards, and their parents' brilliant stories of him, much like I know Mattingly, and my grandparents knew Ruth. When he's honored for the Hall of Fame and Mo knows what else (tentatively everything), they'll give him polite applause because he is history, while I'm pretty sure I will bawl hysterically thinking of the hundred different ways he enshrined himself in the hearts of everyone (but, as always) especially the kids.
Eventually, fans will grow up loving Manny Banuelos, Austin Romine, JR Murphy, and Mason Williams, or players in that age-group. I will politely reply to any children I have (and maybe some boasting kids) that there's no one like Jeter or Pettitte or Wells anymore, and that while the cathedral that is Yankee Stadium right now is pretty amazing in almost every conceivable way, it isn't what they had back in the 90's. They'll scoff, of course, and point to whatever the next greatest deed that's been done by their hero, even if the teams are awful. And after that, well – I'm sure plenty of Yankee heroes of the future are still a blink in their parents' eyes like Jeter was in the 60's and Robinson Cano was in the 70's.
Some day, kids will love them and will eventually boast to their kids that their generation was great, but man they would kill to see heroes of yore, like Derek Jeter.
(Mo is, of course, immortal, and all our children's children will still see him pitching.)