I'm not going to call this the biggest win of the season, but the Yankees got a much-needed win against the Royals on Tuesday night. It snapped a three-game losing skid and was just their second win in the last eight games.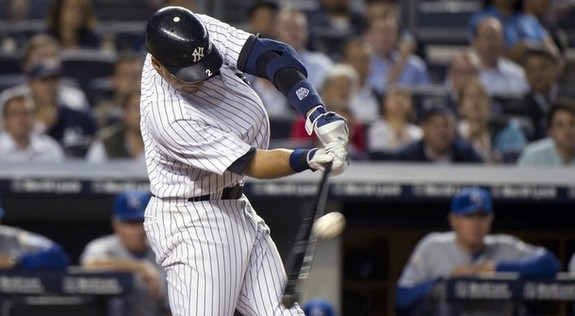 And The Yankees Take The Lead
It had been 15 innings since the Yankees held a lead prior to the fifth inning of this game. Robinson Cano cut Kansas City's two-run lead in half with a solo homer in the fourth before the club found itself in a dreaded bases loaded, nobody out situation in the fifth. Seriously, they've been brutal in those spots over the last few games. Dewayne Wise's gorgeous bunt single loaded the bases after Mark Teixeira's hustle double (scored a single and an error) and a ball grazed Russell Martin's jersey. I'm pretty sure Wise was attempted to sacrifice, but it was just perfect. Well done, Dewayne.
The Yankees were roughly zero for their last 10,259 with runners in scoring position (actually 0-for-15) before Derek Jeter dunked a single into shallow right to tie the game. Seriously, between Wise's bunt and Jeter's single, it felt like a minor miracle. Curtis Granderson plated the go-ahead and eventual game-winning run with a ground out one batter later, but the Yankees failed to tack-on because Alex Rodriguez and Raul Ibanez struck out following an intentional walk to Cano. Lineup protection means little over the course of 162 games but it can have a big impact in one individual game, and that intentional walk was a prime example.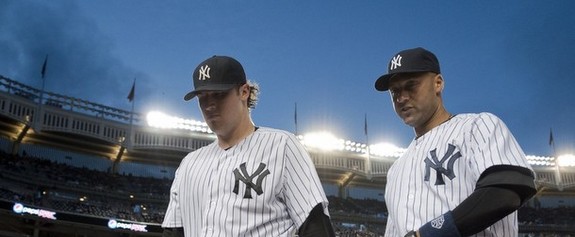 Another Strong Start
You gotta hand it to Phil Hughes, he's really turned his season around following that brutal start. The two runs he allowed came on a double into the right field corner by Humberto Quintero — he homered off Phil to end his day in Kansas City two weeks ago — and a solo homer by Jeff Francoeur. Hughes struck out seven and walk two in his six innings, escaping a bases loaded jam in the sixth to end his night. He even got more ground ball outs (six) than fly ball outs (five).
One thing I noticed was that Phil went with his full arsenal right out of the chute. Usually a pitcher will be fastball-heavy the first time through the order, incorporate some breaking balls next time through, then break out the changeup the third time through the order, but Hughes used all three pitches in the very first at-bat of the game by Jarrod Dyson. Given all the left-handed hitters in the Royals' lineup, it was probably a good idea. It worked, obviously. Bravo kid, keep proving me wrong.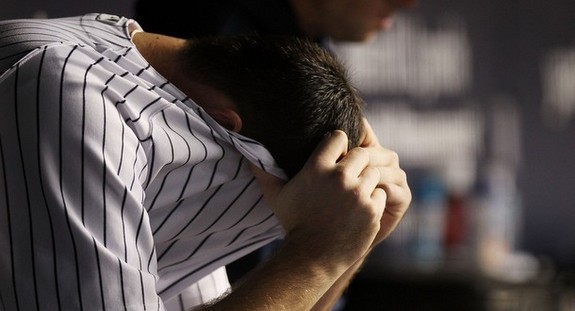 The Eighth
The eighth inning seems to have taken on a mind of its own in recent years, but on Tuesday we saw the Yankees preserve a one-run lead using three pitchers to get three outs, two of whom were plucked off the scrap heap in the last 12 months. Boone Logan started the inning by allowing an infield single to Eric Hosmer, in part because he didn't cover first. Looking at the replay, I'm not sure he would have beat him to the bag anyway. Hosmer was hustling out of the box and Logan falls off to the third base side as a lefty.
Anyway, the mixing and matching was underway. Joe Girardi called for Cody Eppley to face Billy Butler because the side-arming righty is a ground ball machine* and Butler leads the big leagues in double play balls over the last five seasons (97). So, naturally, Butler fly out to right field. Go figure. On came Clay Rapada to face Mike Moustakas, who lined into a double play at first base. Chances are that ball would have gone foul had Mark Teixeira not snagged it out of the air, but the double play is better. Considering that the middle of the order batted, those three outs were the three biggest of the game as far as I'm concerned. Big ups to Eppley and Rapada, they got those three outs on four total pitches.
* Seriously, Eppley had an 82% ground ball rate in Triple-A this season and is well over 60% in his minor league career. He's the go-to ground ball guy whenever there's a right-hander at the plate.
Leftovers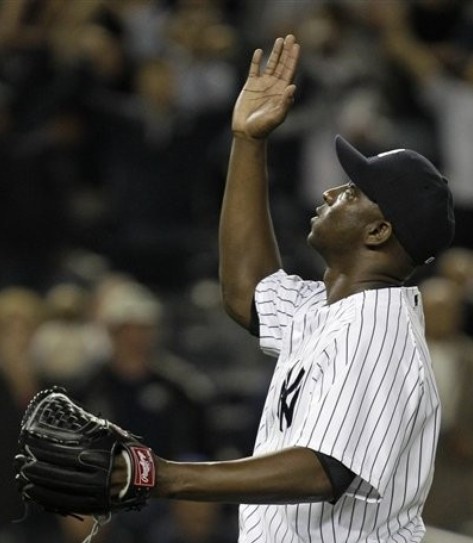 Rafael Soriano slammed the door in the ninth, but not before allowing a ground rule double to Alex Gordon. We're still waiting on that first 1-2-3 inning of the season. Alcides Escobar nearly tied the game on an infield single, but A-Rod showed off his arm to make the throw across the diamond just in time for the 27th out. This one really went down to the wire. Cory Wade (six pitches, two ground outs) and Logan (a strikeout to end the inning) did fine work in the seventh.
Not for nothing, but three runs in 6.2 innings against Luke Hochevar kinda stinks. That's a guy the Yankees should pound into submission when things are going right, but they obviously aren't at the moment. Jeter's game-tying single was their final hit of the night and last eleven men they sent to the plate made outs. A win is a win, but sheesh. You gotta start somewhere though, and this game was definitely a positive step forward.
No one in the lineup had multiple hits and only Cano (homer and the intentional walk) and Martin (walk and hit-by-pitch) reached base twice. Jeter, A-Rod, Ibanez, Teixeira, and Wise all have some kind of single. Alex also stole a base, his team-leading fifth of the season. Well, technically Eduardo Nunez leads the club with six steals, but he's in Triple-A (and on the DL).
The homer by Francoeur means Hughes has allowed at least one dinger in all nine starts this season, the longest season-opening homer-per-start streak since Runelvys Hernandez in 2006. It's the longest streak by a Yankee since Jack McDowell allowed a homer in ten straight in 1995. That's just who Phil is, he's going to give up a bunch of long balls and we just have to hope they're solo shots.
Raul Ibanez was left in to face a left-handed pitcher in the late innings yet again. I understand that he's been crushing the ball this year, but that doesn't change the fact that he can't hit lefties. Andruw Jones has to be given a chance to run into one in that spot, a one-run lead with two outs in the eighth.
The win coupled with the Red Sox's loss to the Orioles — big ups to former Yankee Wilson Betemit, he's still fightin' the good fight by hitting a big two-run homer late in that game — means the Yankees are no longer in last place. Hooray for that.
Box Score, WPA Graph & Standings
Finally, one where the green line ends up on the good side of the graph. MLB.com has the box score and video highlights, FanGraphs some additional statistics, and ESPN the updated standings.

Source: FanGraphs
Up Next
Ready for some bad news? The Royals are likely to call up 22-year-old left-hander Will Smith to start tomorrow instead of Luis Mendoza. It will be Smith's big league debut. They might as well be facing Cliff Lee. Ivan Nova Andy Pettitte will be on the bump for New York. Check out RAB Tickets if you want to catch the game before the Yankees head to the West Coast as part of a nine-game road trip later this week.