It's never easy with the Yankees these days, but hey, they've now won five straight and ten of their last 14 overall. Can't complain about the results of late, the wins are starting to pile up as the season draws to a close.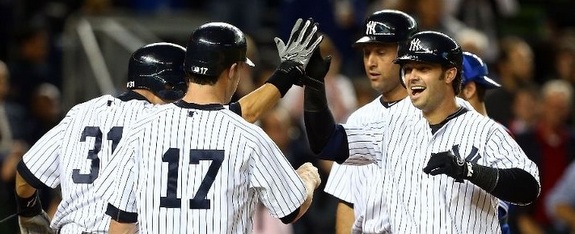 Broken Open (Or So We Thought)
The Yankees have been playing an awful lot of tight games lately, so it goes without saying that it felt like a huge relief when Nick Swisher hit his grand slam to cap off the seven-run fourth inning. The game went from feeling like another nail-biter to a laugher in an instant, something I think we all needed. Too bad it didn't last until the end of the game, but we'll get into that in a sec.
Swisher's slam was the big blow, but again the offensive storyline is the molten hot bat of Ichiro Suzuki. He hit a solo homer in the third inning and then doubled in a pair of runs in the fourth, extending his streak to seven straight at-bats with a hit. All told, he went 9-for-12 with three doubles, a homer, and four stolen bases in the three-game series. Six of those nine hits came against lefties, which is impressive for any left-handed hitter regardless of his platoon split. Ichiro came into the series with a .288/.311/.404 batting line as a Yankee and left at .321/.344/.464. Pretty good two days, eh?
Five-Inning Phil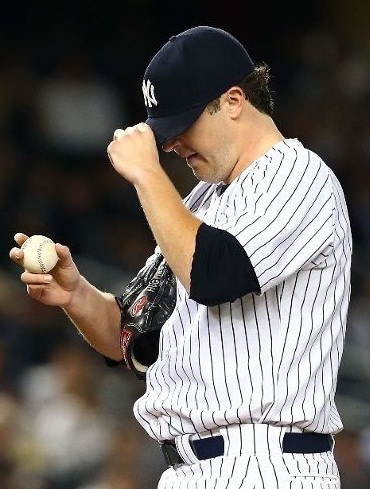 Phil Hughes has pitched well over the last four or five weeks, so he picked a pretty good time to have a clunker (when his team actually scored runs). He did strike out nine — including four in the fourth inning — in five innings, but he also allowed four runs on four hits, three walks, and two hit batsmen. Two of the four runs came on the #obligatoryhomer from Moises Sierra, another on a pair of back-to-back doubles by Adam Lind and Kelly Johnson, and the other when he hit Sierra with the bases loaded.
All told, Hughes threw 102 pitches in his five innings, so it was one of those real laborious outings. Toronto had men on-base in every inning but the first, including that frustrating bases loaded situation in the third. I say frustrating only because four of the five batters who reached base did so on walks or hit-by-pitches; there was only one hit mixed in. Not a great outing from Phil, who got let off the hook by his offense on the same day I praised his recent work. Go figure.
Not Safe
The Yankees have needed bullpen help pretty much since Mariano Rivera got hurt in May, but instead they opted to wait for Joba Chamberlain to get healthy rather than acquire real non-Chad Qualls/Derek Lowe relievers. Now the team's core relievers are overworked and no lead is safe, not even a six-run lead with six outs to play.
Cory Wade gets the majority of the blame for this one, as he was unable to record even two outs in the eighth before Joe Girardi had to go to one of his primary late-game guys. He surrendered a solo homer to Johnson and put three of the four men he faced on-base, giving way to Joba with five outs left in the game. Chamberlain got three weak ground balls but the first was an infield single (run scored), the second a fielder's choice (run scored), the third a ground ball single. Such is life. He eventually escaped the inning and David Robertson handled the ninth without a problem. Six-run lead with six outs to go. Can't even do that right.
Leftovers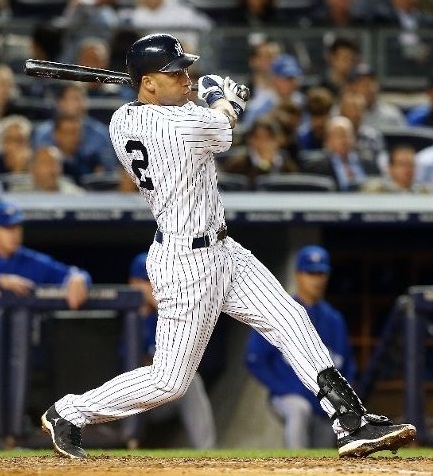 Derek Jeter tried to bunt for a hit in the third inning and there were two problems with that. One, he should just never bunt against a left-handed pitcher. The Cap'n destroys southpaws, you know that. Swing the bat and do some real damage. Secondly, he's got a bad ankle. Hard to run on that. Nitpicking, I know. Jeter did extend his hitting streak to 14 games though, so hooray for that.
The Yankees drew eight walks in addition to their eight hits, and an bunch of those free passes came around to score. Jeter (two singles), Swisher (homer, walk), Russell Martin (two walks), Curtis Granderson (double, walk), Ichiro (homer, double), and Jayson Nix (double, two walks) all reached base multiple times. They went 5-for-11 with runners in scoring position overall.
Mentioned this earlier, but Hughes did strike out four batters in the fourth inning with an assist from one of Martin's two passed balls. He's the 58th pitcher in history and only the second Yankee to accomplish to feat, joining A.J Burnett. He did it against the Rockies just last season.
The Yankees scored double-digit runs for the tenth time this season after doing it 17 times a year ago. Swisher's grand slam was his third of the season and the team's tenth overall, tying a franchise record.
Box Score, WPA Graph & Standings
MLB.com has the box score and video highlights while ESPN has the updated standings. The Orioles were idle on Thursday, so they remain one game back in the loss column. The Rays mounted a huge ninth inning comeback against the Red Sox, but they're still seven games back and a distant third in the AL East. The magic number is down to 13.

Source: FanGraphs
Up Next
Revenge! The Athletics are coming to the Bronx for three games this weekend, and the Yankees will surely look for some payback after getting swept in that four-game series in Oakland back in July. CC Sabathia starts things off against Jarrod Parker on Friday night. Check out RAB Tickets for any last-minute deals.