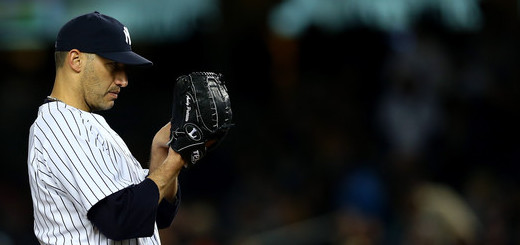 I can't believe I'm actually writing a season review post for Andy Pettitte. The 40-year-old left-hander was retired a little more than ten months ago, having thrown what we thought was his final big league pitch in Game Three of the 2010 ALCS against the Rangers. He spent all of last season at home and showed up to camp as a guest instructor this year, which is pretty routine for notable former players. Little did we know what was going on behind the scenes.
While in Spring Training as an instructor, Pettitte threw a bullpen session for Joe Girardi, Brian Cashman, pitching coach Larry Rothschild, the whole nine. The two sides actually discussed a substantial contract ($10-12M range) during the offseason, but Andy told the team to proceed without him because he wasn't sure he wanted to make a comeback. That money went to Hiroki Kuroda, then in camp Andy again broached the subject of coming back to pitch. On March 16th, halfway through the Grapefruit League schedule, he signed a one-year minor league contract worth $2.5M.
Pettitte was obviously behind the rest of the pitching staff, so his comeback attempt started in the minor leagues. He made one appearance at the end of Spring Training then progressively climbed the minor league ladder. First came three innings with High-A Tampa, then four innings with High-A Tampa, then five innings with Double-A Trenton, then another five innings with Triple-A Scranton. He was ready to go by early-May and the Yankees needed him — Michael Pineda just had shoulder surgery, Phil Hughes had a dreadful April, and Freddy Garcia was so bad that David Phelps took his spot in the rotation.
Andy's first start back came at home against the Mariners on May 13th. He allowed two two-run homers in 6.1 innings in the loss, but he looked like the Andy Pettitte of old. He was cutting his fastball, sweeping his slider, and inducing double plays at just the right time. Five days later he struck out nine Cincinnati Reds in eight shutout innings, officially putting an exclamation point on his comeback attempt. Through the end of June, his first nine starts back, Pettitte pitched to a 3.22 ERA (3.37 FIP) in 58.2 innings with ungodly peripherals: 9.05 K/9 (25.2 K%), 2.30 BB/9 (6.4 BB%), and 58.3% grounders. He wasn't just a solid veteran starter, he was pitching like an ace.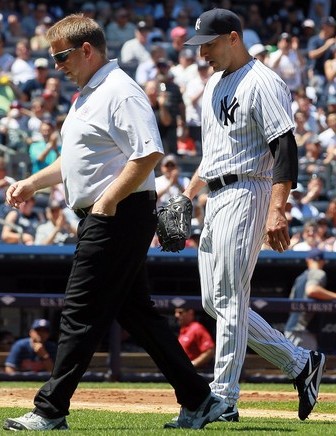 The comeback came to screeching halt in the fifth inning of a start against the Indians on June 27th, when a Casey Kotchman hard-hit ground ball clanked off Pettitte's left ankle. He went after the ball but crumbled to the ground, then was lifted one pitch later. Andy talked the training staff into leaving him in the game after some warm-up tosses, but it was obvious something was wrong. The diagnosis came down after the game: Pettitte had fractured his left ankle and would be out six weeks.
Those six weeks became seven weeks when Andy pushed his rehab a little too hard and suffered a setback, so he didn't return to the team until mid-September. He did all of his prep work in simulated games — no minor league rehab games at all — and returned to the rotation against the Blue Jays on September 19th. Limited to 75 pitches, Pettitte threw five scoreless innings and followed up with six scoreless innings on 88 pitches against the Twins five days later. Rain threw a wrench in the late-September plan, limiting Andy three starts instead of four. The Yankees lost both of Pettitte's playoff starts but they weren't hit fault — he allowed five total runs in 13.2 innings.
Andy's comeback featured a 2.87 ERA (3.48 FIP) in 75.1 innings across a dozen starts, plus some of the best peripherals of his career: 8.24 K/9 (22.8 K%), 2.51 BB/9 (6.9 BB%), and 56.3% grounders. There was legitimate concern about how the year-long layoff would impact Pettitte, but I joked that maybe it did his body good and gave him ample time to rest and heal up. That's exactly what appeared to happen, funny enough. Pettitte looked as good as ever when he was on the mound, though the ankle injury obviously took a little blush off the rose. Either way, the Yankees came into the season expecting to get literally nothing out of Andy, but he made a successful comeback and became a valuable and important member of the rotation.