I'm not sure when exactly it happened, but at some point recently the Baseball Hall of Fame partnered with the Scout of the Year Foundation to create a free and searchable online database of old scouting reports. The data is very incomplete — it doesn't include every player and it only goes back so far — and the database itself can be slow and a bit of a pain, but those are minor nuisances compared to the wealth of information available.
Thanks to the database, we can look back at what professional talent evaluators — people who do this for a living — had to say about our favorite players once upon a time. For example, here are some bits and pieces of reports from various teams about a young high school senior from Michigan named Derek Jeter back in 1992: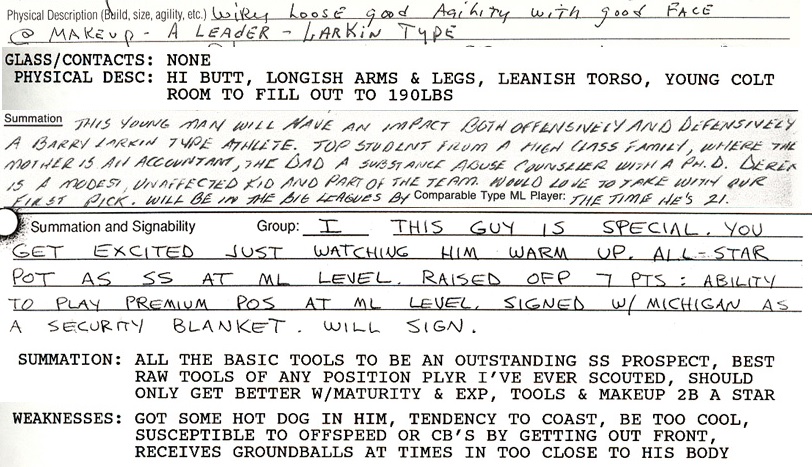 You can click every image in those post for a larger view, and I highly recommend you do just that.
Within those report snippets, future first ballot Hall of Famer Derek Jeter is described as having:
a good face
a hi butt
an impact both offensively and defensively
makeup 2b a star
some hot dog in him
Once upon a time, Jeter was a showoff. Wrap your head around that. All of the reports agreed he was a future star though, and in the end that is what was most important.
After the jump — lots of images and I don't want to cripple anyone's computer — are some opinions on Alex Rodriguez back from 1993, when he was a high school senior: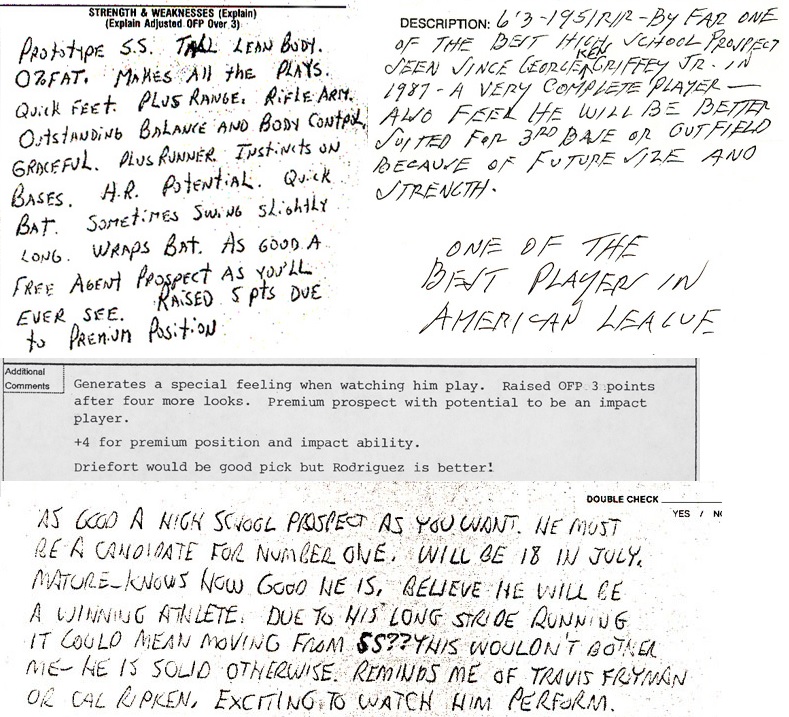 Typical best prospect I've ever seen stuff. I love that last line in the last report, "Reminds me of Travis Fryman or Cal Ripken." I don't know, I've always gotten a Joe Randa or Mike Schmidt vibe whenever I watched Alex. Too close to call.
The database only has one scouting report for Mariano Rivera, and it's dated July 8th, 1995. That's four days after Mo's fifth career big league start, which also happened to be his best. That eight-inning, two-hit, eleven-strikeout masterpiece against the White Sox. Here's an Orioles scout on Mo the starter:

"3/4 starter … Has a real good, live arm & should be a good ML pitcher in the future." That was a few weeks before Rivera was permanently moved to the bullpen and two years before the learned the cutter. That's all it took to go from 3/4 starter to future Hall of Famer.
A few days before that report on Mo was filed, another Orioles scout submitted this evaluation of a 22-year-old rookie left-hander who had just gotten his first taste of the big leagues, someone named Andy Pettitte: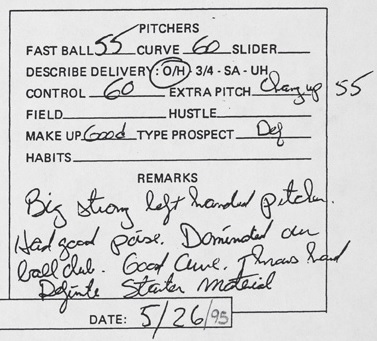 Three grade 55+ pitches with 60 control at age 22? It's no wonder why Baseball America ranked Andy as the 49th best prospect in the game before the 1995 season. Actually, looking back at that 1995 top 100 prospects list, it might be the best top 100 of all-time. A-Rod, Chipper Jones, Jeter, Johnny Damon, Billy Wagner, Andruw Jones, Nomar Garciaparra, Pettitte, Bobby Abreu, Derrek Lee, Vlad Guerrero, Chris Carpenter … that's an awful lot of All-Star/borderline Hall of Fame/no-doubt Hall of Fame talent right there. Wowza.
Much to my disappointment, the database has nothing on Jorge Posada. I really would have liked to see a report from his days as a second baseman. Here's the only info they have on Bernie Williams, circa 1990:

Not exactly the biggest or most informative blurb in the world, but it's better than nothing. The "Bat ?" remark, which I assume means his bat was a question, shows just how hard it is to evaluate hitting ability. For the most part pitching is cut and dry, you can read velocity off a radar gun and see how much breaking balls break. Did he hit the glove? It's a yes or no answer. On the other hand, no two swings are alike. Everyone has a different swing plane, a different hole to exploit, different amounts of plate coverage … it's not cookbook. Bernie went from "Bat ?" to a batting title and a nine-year stretch of .319/.404/.525.
Now I want to go back a little further and look at someone who never played for the Yankees but has ties to the club today: Ken Singleton. I've made it no secret that I love Singleton as a broadcaster, but he was also a damn good baseball player once upon a time. He was a career .282/.388/.436 hitter in parts of 15 big league seasons, most with the Orioles. Here's a report from 1972, his first full season in the show and third overall:

Free swinger! Singleton regularly walked more than he struck out in the minors and from 1970-1971, he drew 91 walks in 600 big league plate appearances (15.2%). The year after the report was written, he drew 123 walks in 692 plate appearances (17.8%). Singleton retired with 1,263 walks (14.8%) and 1,246 strikeouts (14.6%) in over 8,500 career plate appearance. This isn't even a "he was a free swinger earlier in his career before the light bulb went on" situation, he always showed big-time plate discipline. It's all he talks about on the air, it seems. Funny how inaccurate some these reports can be, like this one on Wade Boggs.
You can lose yourself for hours and hours in the scouting reports, but I'm only going to highlight one more player: Manny Ramirez. He has no connection to the Yankees other than destroying them as a member of the Red Sox, but he did grow up in Washington Heights and certainly has New York ties. In this 1991 report, scout Brian Collins went all-in on Manny, who was just a high school senior at the time:

Well, Collins was wrong. Ramirez didn't hit between 400-500 homers, he hit 555.
Can you imagine that though? A scout submitting a report predicting a player will hit 400+ homers as long as he stays healthy? I feel like that's one of those things you just don't do. Like, yeah, 400+ homer players are out there waiting to be drafted, but actually putting that tag on them out of high school is crazy. I don't even like saying a team will win more than 95 games in a given season. Kudos to Collins for a ballsy (and technically incorrect) prediction.
I don't know what the plan is for the database going forward, but I truly hope the Hall of Fame and Scout of the Year folks intend to add to the scouting report collection in the future. It's amazing looking at all the notes about a player's home life — notice the notes on Jeter's parents? — and other stuff like that. I can't imagine how hard that is to evaluate. If you've ever got some time to kill, the scouting report database is the spot to hot. It's a goldmine.