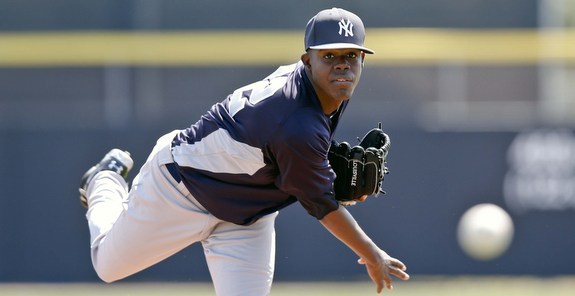 Earlier today we learned RHP Ty Hensley is likely to miss the rest of the season following hip surgery, and now it's time to get caught up on some other injured minor leaguers. Chad Jennings has all the updates…
RHP Angelo Gumbs (finger) is a couple of weeks away from return to High-A Tampa. He's playing in Extended Spring Training games now. Whenever he is ready, I have to think Rob Refsnyder will get bumped up to Double-A Trenton to make room.
RHP Jose Ramirez started the season on the DL with fatigue, there was no injury. He pitched in winter ball and overextended himself a bit in big league camp, so they held him back. Ramirez has since rejoined the Double-A rotation.
RHP Jose Campos (elbow) had a bone bruise last year according to VP of Baseball Ops Mark Newman. Campos said himself it was a small fracture. I don't know who to believe, but I suppose something could have been lost in translation.
RHP Chase Whitley (oblique) is about ten days away from being activated and returning to game action. He might have been called up instead of Preston Claiborne last week had he been healthy.
LHP Manny Banuelos (elbow) is on schedule as he rehabs from Tommy John surgery. He's expected to miss the rest of the year.
OF Adonis Garcia (wrist) is taking batting practice while OF Ravel Santana (ankle) is playing in ExST. The ankle injury has completed derailed his career.