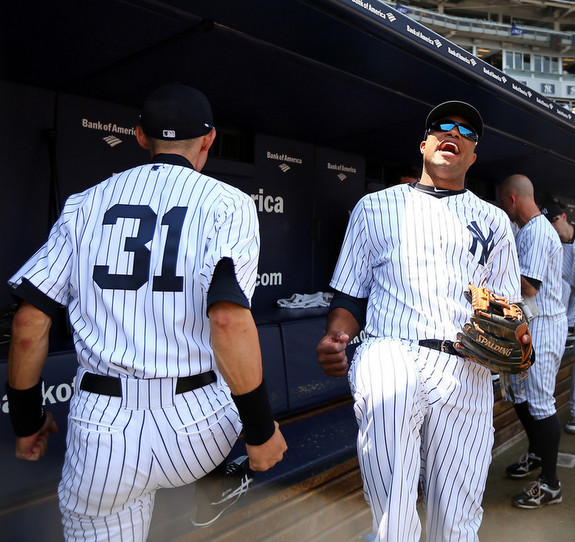 Last night's walk-off win was the Yankees' fifth win in their last eight games and their fourth win in the first seven games of this nine-game homestand. Another win tonight clinches a winning homestand, which is something the team desperately needs following that hideous West Coast swing. Taking care of that this evening and going for that sixth win of the homestand tomorrow night would be rather fantastic given their recent play. Here's the lineup that will face rookie right-hander Justin Grimm:
CF Brett Gardner
RF Ichiro Suzuki
2B Robinson Cano
DH Travis Hafner
1B Lyle Overbay
LF Zoilo Almonte
3B Jayson Nix
C Chris Stewart
SS Alberto Gonzalez
And on the mound is the Louisiana-born and Texas-raised left-hander, Andy Pettitte.
It has been cloudy (and hot) in New York almost all day, and it's supposed to start raining sometime around 9-10pm ET tonight. Not like a torrential downpour or anything, but a steady shower. Hopefully that holds off until they get the game in. First pitch is scheduled for a little after 7pm ET and can be seen on YES locally and ESPN nationally. Enjoy.
Injury Updates: Eduardo Nunez (ribcage) is starting a minor league rehab assignment with High-A Tampa tonight, so that's pretty cool. His 20-day rehab window expires during the All-Star break, and Joe Girardi said yesterday he doesn't expect any injured plays back until then … RHP Michael Pineda (shoulder) will stay with Double-A Trenton for his next rehab start … in case you missed it earlier, Mark Teixeira (wrist) will have season-ending surgery.