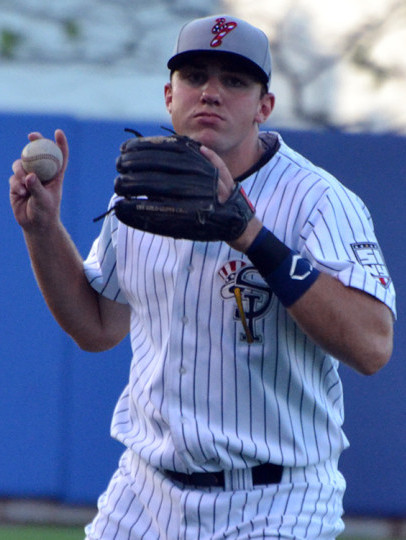 I don't know how many times I said last month's draft was extremely important for the Yankees considering the state of the organization, but it was a lot. Like, once a week since January. A lot. The team took advantage of its extra picks and landed three first round-caliber talents in the draft, which added some much-needed impact talent to the system.
Not a whole lot has changed in the six weeks since my last rankings, and that's not necessarily a good thing. Some of the team's top prospects continue to have disappointing years while there have only been a handful of breakout players. There's an awful lot of raw talent in the club's top ten prospects, but not many guys are putting it to good use right now. Hopefully that turns around in the second half.
Here are my pre-draft and preseason lists, for comparison. No one graduated to the big leagues between the pre-draft list and now, but the draft and a healthy crop of players fresh from the Dominican Republic means there's actually quite a bit of turnover. Fitting those new guys in is always fun. Ages listed are as of today.
C Gary Sanchez, 20, Hi-A: A promotion may not come this year, but Sanchez stays in the top spot because his defense is improving and he's hitting a healthy .270/.332/.467 with 13 homers in a pitcher's league.
RHSP Rafael DePaula, 22, Hi-A: The team's lone Futures Game representative was bumped up to High-A Tampa since the pre-draft list. DePaula has a 108/39 K/BB in 79 innings this year.
OF Slade Heathcott, 22, AA: Heathcott's power has yet to show up, but he's stayed healthy this year and has torn the cover off the ball in July. He's at .256/.322/.370 on the season.
OF Tyler Austin, 21, AA: Austin's performance has actually been trending downward in recent weeks and his power has been almost non-existent. This is a benefit of the doubt ranking.
3B Eric Jagielo, 21, SS: The team's first first round pick offers a very polished bat at a hard-to-fill position to the system. Jagielo's super-early performance has been encouraging (.311/.415/.467 in 13 games).
LHSP Ian Clarkin, 18, no level: The team's third first round pick has yet to make his pro debut and is currently sidelined with a minor ankle sprain. Clarkin adds a high-end left-handed pitching prospect to the organization.
OF Mason Williams, 21, Hi-A: Williams has had a very disappointing year and not only because he isn't hitting (.266/.341/.369). There have been problems with his … let's call it … energy level.
RHSP Jose Ramirez, 23, AAA: The Yankees aggressively pushed Ramirez — whose raw stuff rivals DePaula's — to Triple-A and he's held his own. He's got a 73/33 K/BB in 65.2 innings.
C J.R. Murphy, 22, AAA: The system's biggest breakout non-pitcher prospect was promoted since the pre-draft list and continues to hit (.282/.361/.440) while improving behind the plate.
OF Aaron Judge, 21, no level: The team's second first round pick is the wildcard. Judge is physically huge and a good athlete with great power, but he's very risky. He just signed and has yet to make his pro debut.
OF Ramon Flores, 21, AA: I was high on Flores coming into the year but he hasn't exactly rewarded my faith by hitting .239/.333/.325. Questions about his long-term power potential persist.
LHSP Manny Banuelos, 22, no level: Banuelos is recovering from Tommy John surgery and will not pitch this year. Easy to forget he's still so young because he's been around forever.
RHSP Jose Campos, 20, Lo-A: His stuff and command are not back to their pre-elbow injury levels, but he has been improving as the season progress. Campos has a 55/12 K/BB in 60 innings.
2B Angelo Gumbs, 20, Lo-A: Gumbs missed a month with a finger injury and was demoted since the pre-draft list. He's hit just .229/.283/.355 with eleven steals on the season.
RHSP Ty Hensley, 19, no level: Like Banuelos, Hensley is out for the rest of the season. He had hip surgery in the spring and is due to return in Spring Training.
LHSP Nik Turley, 23, AA: Double-A Trenton is proving to be a challenge for Turley, who has finessed his way to 94/45 K/BB in 89 innings.
RHRP Mark Montgomery, 22, AAA: Walks (40/20 K/BB in 33.1 innings) were an issue for Montgomery before had two shoulder-related DL stints.
RHSP Corey Black, 21, Hi-A: The undersized Black has maintained his big fastball and lively stuff while starting every fifth day. He's got a 84/39 K/BB in 75.2 innings.
RHSP Bryan Mitchell, 22, Hi-A: Mitchell's performance never seems to change (85/42 K/BB in 97 innings) but he's a prospect list mainstay because of a nasty fastball/curveball combination.
1B Greg Bird, 20, Lo-A: Bird almost certainly would have been a top ten prospect in the system had he remained at catcher. At first, he's just an interesting guy. He's hitting .277/.400/.477.
C Austin Romine, 24, MLB: Romine, who has played sparingly, is failing his extended MLB opportunity rather miserably (.158/.179/.211). His defense remains strong.
RHRP Adam Warren, 25, MLB: Unlike Romine, Warren has made the most of his big league opportunity and carved out a niche as a reliable long reliever (35/12 K/BB in 43.2 innings).
SS Abi Avelino, 18, Rk: A torn quad delayed the start of his season, but Avelino is here because he's a very good defender whose hitting ability has developed much better and quicker than expected.
C Luis Torrens, 17, Rk: A recently converted infielder, Torrens has shown some offensive skills (.271/.358/.407) early in his pro debut while working out the kinks defensively.
LHSP Vidal Nuno, 25, AAA: Nuno suffered a groin injury two days after the pre-draft list was posted and remains sidelined. He's shown signs of being able to help at the big league level.
OF Zoilo Almonte, 24, MLB: He's cooled off since the hot start to his big league career (.267/.312/.349), but Almonte puts up quality at-bats and contributes on defense as well.
RHSP Luis Severino, 19, Rk: Thanks to an excellent fastball and improving slider, Severino has become one of the system's top sleepers. He's got a 22/5 K/BB in 16.1 innings so far.
2B Gosuke Katoh, 18, Rk: This year's second rounder has hit well in very limited time (.340/.466/.681 in 14 games), but he's here because of his all-around skills.
RHSP Brett Marshall, 23, AAA: It was been close to a nightmare year for Marshall, though he has settled down of late after getting clobbered earlier this year. He's got a mediocre 77/54 K/BB in 88.2 innings.
IF David Adams, 26, AAA: Adams won't be the last guy to struggle in his first shot at the show (.190/.260/.276). He's since been sent back to Triple-A so he could play everyday.