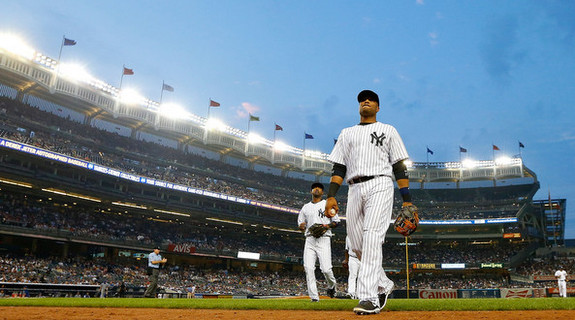 The Yankees are an unwatchable lot of offensive incompetence these days, struggling to score more than one run in a game or actually hit a ball into the gap for extra bases. Seriously, the Red Sox had more extra-base hits in the third inning last night (four) than the Yankees have had since Thursday (three). That is just flat out embarrassing. Injuries aren't an excuse either — the Marlins had three extra-base hits in the first four innings of their game this afternoon, and they're terrible. Here's the lineup that will hopefully score some damn runs against right-hander Wade Davis:
CF Brett Gardner
RF Ichiro Suzuki
2B Robinson Cano
DH Travis Hafner
LF Zoilo Almonte
1B Lyle Overbay
SS Eduardo Nunez
3B Luis Cruz
C Chris Stewart
And on the mound looking to build off his dynamite last start, right-hander Ivan Nova. Hopefully it won't require a miracle blown save to get him a win this time.
It's cloudy and grossly humid in New York today, and guess what? There's some rain in the forecast again tonight. It's expected to show up around the fourth or fifth inning, like the last two nights. First pitch is scheduled for 7:05pm ET and can be seen on YES. Try to enjoy.
Injury Updates: David Phelps (forearm) will head to Tampa on Monday to start a throwing program. He spent the last few days at home with his family since he'll be stuck rehabbing during the All-Star break. The team says the minor, but you can never be too sure when it comes to arm injuries.