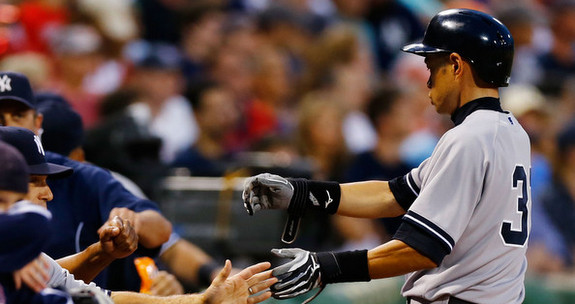 The schedule was not too kind to the Yankees these last 24 hours or so. Last night's series finale against the Red Sox started at 8pm and ended sometime after midnight, then the team had to travel to Dallas for tonight's series opener against the Rangers. Preston Claiborne tweeted everyone arrived sometime around 6am. Crummy schedule, but that's baseball life. Here's the lineup that will face right-hander Yu Darvish:
CF Brett Gardner
RF Ichiro Suzuki
2B Robinson Cano
1B Lyle Overbay
LF Vernon Wells
DH Travis Hafner
SS Eduardo Nunez
C Chris Stewart
3B Luis Cruz
And on the mound making his first start in 12 days, right-hander Ivan Nova.
Typical Texas weather for tonight's game, meaning it'll be freaking hot. No showers or anything though. First pitch is scheduled for 7:05pm ET and can be seen on YES locally and ESPN nationally. Try to enjoy.