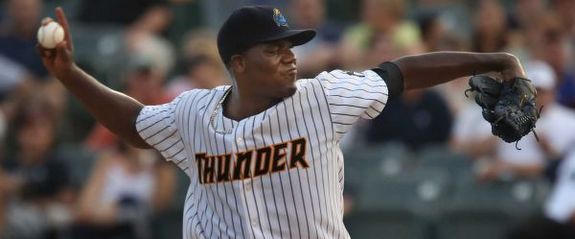 There will be no regular minor league update tonight — all of the box scores are here (3B Eric Jagielo hit his first pro homer) — but here are the all-important rehab updates:
Derek Jeter (ankle) went 0-for-2 with a walk for Triple-A Scranton. He grounded out to third and hit a line drive at the second baseman. The Cap'n played five innings at shortstop and only had to field one ground ball, which was hit right at him. He said his ankle felt fine afterwards, and the plan is to DH tomorrow then re-evaluate.
Alex Rodriguez (hip) went 1-for-2 with a hit-by-pitch and a run scored for High-A Tampa. He singled back up the middle and played six innings at third base, fielding two ground balls and one line drive. I assume A-Rod will remain with Tampa and just continue getting at-bats and innings in the field.
Michael Pineda (shoulder) allowed two runs on four hits and two walks in five innings for Triple-A Scranton. He struck out seven and threw 56 of 78 pitches for strikes (72%) while sitting right in that 92-93 mph range with his fastball. Pineda's minor league rehab window expires on Monday, so the Yankees have to activate him off the DL and either add him to the big league roster or option him to the minors. Hard to believe he won't remain with the Triple-A squad for another few weeks, especially after never throwing more than 80 pitches during the rehab assignment.