The 2013 season is over and now it's time to review all aspects of the year that was, continuing today with the up and down final season of an all-time Yankees great.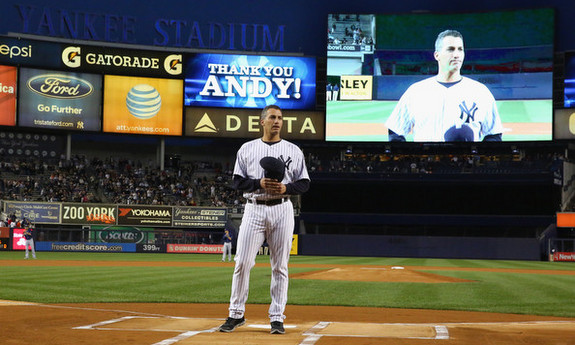 When the Yankees coaxed Andy Pettitte out of retirement last season, it was supposed to be one last ride off into the sunset. Pettitte was going to come back, give whatever he had left, then walk away after the season. Again. Instead, a fluke injury robbed him of three months at midseason. The competitive juices were still flowing, so Andy decided to give it another go in 2013.
Unlike last summer, Pettitte was more than just a fun, feel-good story this year. He was an integral part of the team and he was paid as such — the Yankees re-signed him to a one-year pact worth a hefty $12M and penciled him in as their number three starter behind CC Sabathia and Hiroki Kuroda. This wasn't "okay Andy, come back whenever you're ready and do what you can." This was "let's go Andy, if we're going to go anywhere you have to help carry us."
Pettitte was baseball's oldest starting pitcher come Opening Day and sometimes it was painfully obvious. Let's break his season down into four separate acts.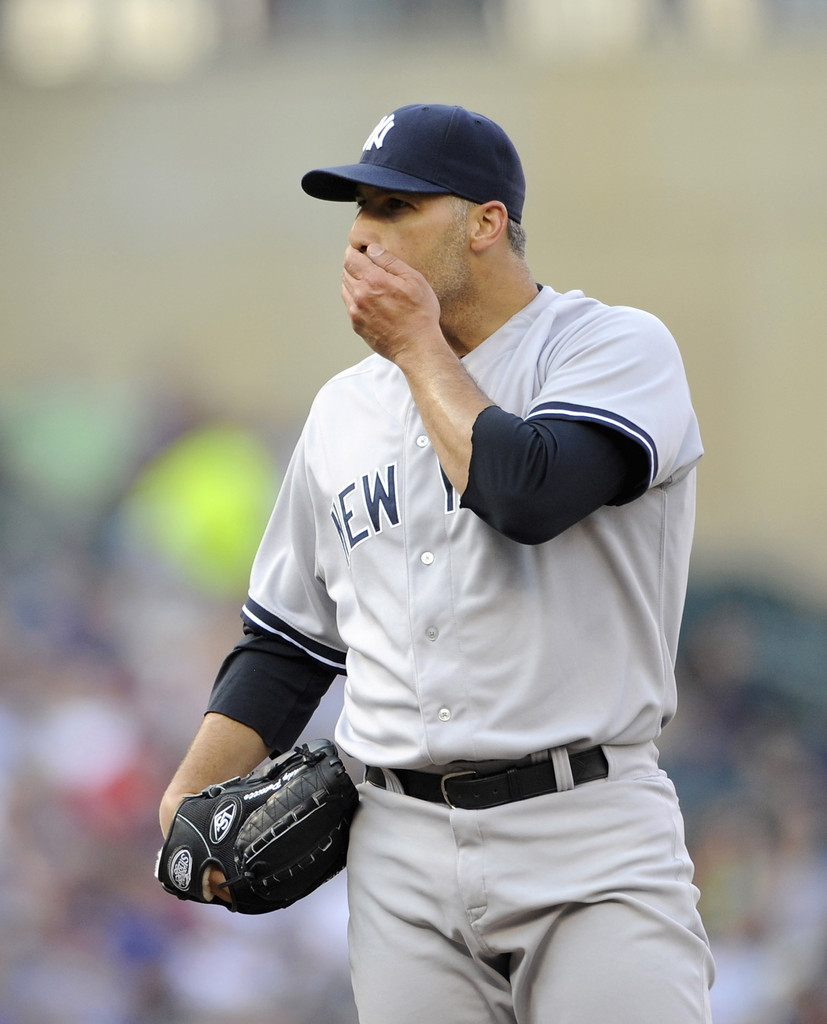 Act I: Early Awesomeness
When he wasn't hurt in 2012, Pettitte was pretty freakin' awesome. He pitched to a 2.87 ERA and 3.48 FIP in 75.1 innings, posting his best strikeout (8.24 K/9 and 22.8 K%), walk (2.51 BB/9 and 6.9 BB%), and ground ball (56.3%) rates in years. It was amazing and much-needed considering how close the AL East race was down the stretch.
Early on this past season, that same Andy was on the mound. He pitched the team to their first win of the year with eight innings of one-run ball against the Red Sox in the third game of the season, and he followed up by allowing six runs total in his next three starts while throwing at least six innings each time. The Astros (of all teams) pounded him to close out the month (seven runs in 4.1 innings), but Pettitte got right back on the horse and pitched well in early-May. Following seven innings of two-run ball against the Royals on May 11th, he was sitting on a 3.83 ERA and 4.08 FIP in 44.1 innings through seven starts. Dandy.
Act II: Injuries & Ineffectiveness
On May 16th, Pettitte was forced from a start against the Mariners due to a sore trap muscle after only 4.2 innings. He had missed one start in April due to a stiff back, but the trap injury landed him on the DL for a touch more than two weeks. That was the risk of relying on a 40-year-old starter — a 40-year-old starter who had not thrown more than 130 innings since 2009 at that — injuries and physical setbacks figured to pop-up at some point.
Andy returned to the mound on June 3rd and clearly was not himself. He allowed at least four runs in eight of his next nine starts (including seven straight at one point), a nine-start stretch that featured a 5.04 ERA despite a 3.62 FIP. Opponents hit .295/.329/.436 against him in those nine games and the Pettitte trademark, the ability to wiggle out of jams, had deserted him. Pettitte looked old and washed up. I'm not sure there is another way to put it. He looked like a guy who should have stayed retired, frankly. The team didn't have much of a chance to win on the days he pitched and through 17 starts, he had a 4.47 ERA and 3.78 FIP.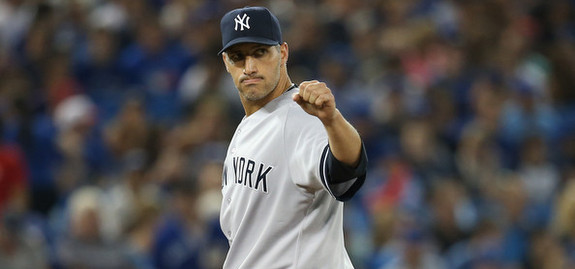 Act III: Empty The Tank
Something changed on June 24th. That ability to escape jams and keep the team in games had returned. Pettitte held the Rangers to two runs in six innings on that date, and five days later he held the Dodgers to two runs in seven innings. From June 24th through September 17th, a span of eleven starts, Andy allowed two earned runs or less eight times and only twice did he fail to complete six full innings of work. That works out to a 3.06 ERA and 3.54 FIP in 64.2 innings. He was back to being himself and not a moment too soon. The Yankees were fighting to stay in the playoff hunt and Pettitte had emerged as their best starter just as Kuroda began to fade.
Act IV: Blaze Of Glory
Following 6.1 innings of one-run ball against the Blue Jays on September 17th, Pettitte owned a 3.93 ERA and 3.69 FIP in 169.1 innings across 28 starts. Three days later, he announced his intention to retire (for the second time) after the season. "I've reached the point where I know that I've left everything I have out there on that field," he said. "The time is right. I've exhausted myself, mentally and physically, and that's exactly how I want to leave this game."
Andy's final start at Yankee Stadium came two days later, on Mariano Rivera Day. The Yankees honored Mo will a long and incredible pre-game ceremony before Pettitte took a perfect game into the fifth inning and a no-hitter into the sixth inning against the Giants. In that final home start, he surrendered two runs on two hits in seven innings against the defending World Champions. Andy walked off to the mound to a long and thunderous ovation after being removed from the game.
Four days later, Pettitte and long-time teammate Derek Jeter were sent out to the mound to remove Rivera from the final appearance of his career. Those few days were just unreal. Incredibly exciting and emotional and heartbreaking all at once. What a way to go out.
Andy made the final start of his season and career on September 28th, appropriately enough against the Astros in Houston, his hometown and the only other Major League team for which he played. Pettitte went out in style, allowing one run in the complete-game win. It was his first nine-inning complete-game since August 2006 and his first nine-inning complete-game for the Yankees since August 2003. It was the kind of start that seemed unthinkable as recently as mid-June, and yet, Andy did it. Remarkable.
* * *
All told, Pettitte pitched to a 3.74 ERA and 3.70 FIP in 185.1 innings this season, right in line with his career 3.85 ERA and 3.74 FIP. Same ol' Andy, basically. Steady and reliable. Yeah, the 2013 campaign was shaky at times but that was to be expected at his age and with the long recent layoffs. When it was all said and done, Pettitte was an obvious positive for the 2013 squad. He retires as the greatest Yankees pitcher in history — an argument can certainly be made for Whitey Ford, but I think Andy just edges him out — and one of the most beloved players in team history. Few rank above him.
It is sad to see Andy go again, but I think it's clear the time has come to call it a career. When he retired following the 2010 season, I thought it was obvious he still had something left in the tank and could continue pitching for another year or two. This time, I'm not so sure. He really labored for long stretches of time this summer and his usual start-to-start consistency just wasn't there. The nagging injuries, stiff backs and strained lats and the like, became more frequent as well. Pettitte is one of my all-time favorites and the Yankees wouldn't have hung around the postseason race as long as they did without him, but the tank looks to tapped out. Saying goodbye will be much easier for fans and Pettitte alike this time around.