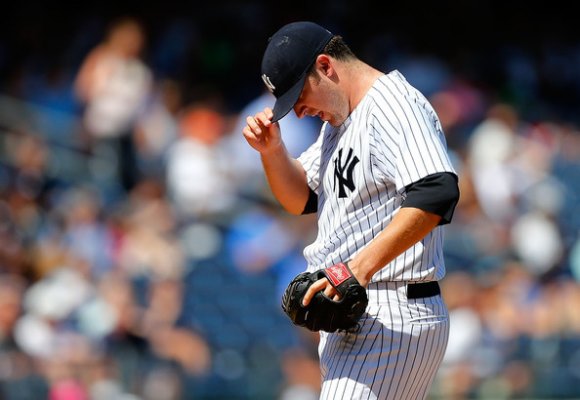 Trying something new today. People like to read on Sundays, right? So let's take a short look at a few stories that probably won't get full posts of their own, but are of interest to anyone who follows the Yankees daily.
Replacing Phil Hughes
When Brian Cashman said that he needed to find 400 innings this off-season, he mostly referred to the loss of Andy Pettitte and potential loss of Hiroki Kuroda. He'll also need to find a replacement, perhaps internal, for Phil Hughes, who signed with the Twins yesterday.
In his four years as a starter (since 2010) Hughes has averaged under 150 innings per year, and he failed to eclipse that mark in his walk year. Of the 96 pitchers who have recorded at least 500 innings since 2010, Hughes's 4.65 ERA ranks 89th. In that time he has produced 3.1 bWAR*, which ranks 80th.
*bWAR is chosen here, because it works on RA rather than FIP. Honestly, measuring a pitcher's value based on FIP seems silly to me. FIP can be a useful tool, but not as a measure of produced value. To me, RA is a much closer mark. It also helps that this is a multi-year sample.
While he's been a rotation mainstay, the Yankees should have no trouble at all replacing both his innings and his performances, almost certainly with someone better. Which asks the question, why didn't they seek a replacement for Hughes sooner?
Waiting for Beltran
For about a week now we've heard that the Yankees have prioritized signing Carlos Beltran, and that Beltran prefers the Yankees. So why haven't they come together on a contract yet? It appears that Beltran seeks three years while the Yankees, and most other teams in pursuit, prefer to keep the deal limited to two years.
Joel Sherman recently got an executive's take on the situation: "Beltran wants three years, so I think the Yankees will either go three years or give him a [bleep]-load more on a two-year deal. I think the feeling in the industry is if it comes down to a two-year deal because no one goes to three, then the Yankees will win."
Even though a three-year contract would come with a lower AAV, which would seem to help the luxury tax threshold, chances are it won't make a significant difference. It's difficult to see a difference of more than $2 million per year (e.g., $42 million for three years vs. $32 million for two years), so the Yankees definitely benefit by waiting out this situation and trying to get him on that two-year contract. I'd expect Beltran to sign by the winter meetings at the latest.
Connecting Cano and Rodriguez
Robinson Cano might have backed off his $300 million demand, but not by much. The latest reports have Cano seeking $250 to $260 million over nine years, including a vesting option for a tenth year. There is little to no chance the Yankees go this high, and in the wake of the Albert Pujols contract most teams have to be a bit cautious about this.
In a recent post I opined that a hardline stance could benefit both sides (while obviously benefitting the Yankees more). If Cano's camp is publicly talking about $250 to $260 million, they clearly have no intention of signing soon for less than that. While the Yankees might seem handcuffed in that case, they can afford to wait on Cano while stocking their team with players to help in 2014.
If they sign Beltran and Tanaka, that will go a long way in rebuilding the offense — but they might not have the budget to bring back Cano, who will make more of a difference than any other player on the free agent market. Yet the Yankees could open up budget later this off-season, when they learn the details of the Alex Rodriguez arbitration hearing. By that point Cano's market should be pretty clear.