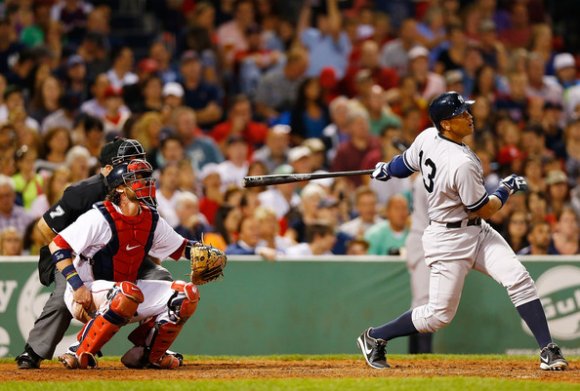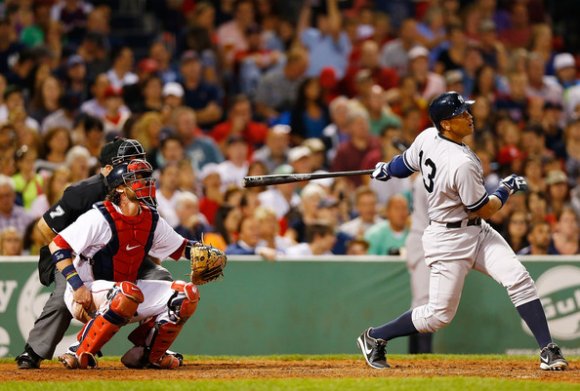 The Yankees are handcuffed. It's not as bad as feared earlier this off-season. They managed to add a number of players who will help in 2014 and beyond. But at the moment, despite their stated need for a right-handed infield bat, the Yankees will not make a move. The reason, once you break it down, is fairly obvious.
On the roster the Yankees have 11 position players under contract, though only one catcher. The backup catcher brings the total position players to 12, one short of the typical 13 they carry during the regular season. It might seem as though they have room for one more, but this projection doesn't account for the man in limbo, Alex Rodriguez. Given the roster numbers, the Yankees really can't do anything until they know his fate.
At this point, a complete overturning of the suspension is the best-case scenario. It didn't always feel that way; with the shackles of Plan 189 looming, a full-season suspension seemed like the only way the Yankees could spend this off-season. Yet they've spent plenty of money before knowing how Fredic Horowitz will rule in the A-Rod matter. If he overturns the suspension completely, or even reduces it to 50 games, the Yankees will soar past the $189 million luxury tax limit without making a single other move.
A-Rod remains far and away the best option at third base. Brian Cashman said so himself earlier this off-season:
"I think if people think there's some sort of benefit by losing that talent, I mean, you can't replace it. It's not like, all right, well, Alex is gone. If he winds up getting suspended and it's upheld, how do you replace that? It's not easy.

"It's not like, all right, we'll take that money and go in this direction. I think … our fan base saw when we lost significant players at various positions, it was not easy to plug holes because the talent just doesn't exist."
No infielder on the market comes close to even an aged and injury-prone A-Rod. Even Yankees fans who hate the man's guts should be rooting for him to stand at third base on Opening Day. We root for the laundry, right? Mark Reynolds or Jeff Baker might successfully play a role on the 2014 team with A-Rod suspended, but neither will match him in terms of overall production. Since they are role players, chances are they'll remain on the board until the decision. Even if not, missing out on them is no huge loss.
True, the Yankees also seem handcuffed by the Masahiro Tanaka situation, but that's another post for another day (or maybe today, who knows). That handcuffing seems a bit more damaging for a number of reasons, including the implications on spending. But with A-Rod, a complete overturn or even 50 games is a pure win for the 2014 team, while a full-season suspension leave them looking for an inferior right-handed-hitting infielder.