Ivan Nova's relatively short big league career has been a bit of a rollercoaster. He was okay during the first half of 2011 (4.12 ERA) and dominant in the second half (3.18 ERA). The 2012 season was atrocious from start to finish (5.02 ERA), and that carried over into early 2013 (5.16 ERA in April and May). But, after returning from a brief DL stint and a trip to the minors, he was again dominant and arguably the best pitcher on the staff the rest of the season (2.70 ERA). This graph tells the story: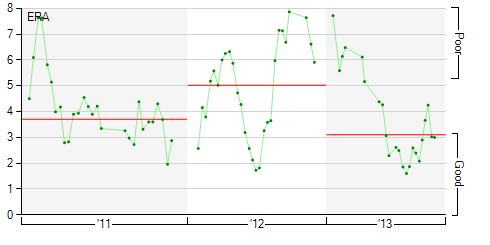 Yeah, these last three years have been pretty up and down for Nova, but that's okay. Not every young guy comes into the league and dominates right away like Jose Fernandez and Matt Harvey. Most young pitchers take their lumps before learning what works for them and how to make the necessary adjustments. Heck, some guys never learn that stuff. It's just the way it goes. Pitching is hard.
To his credit, Nova has already shown the ability to make some adjustments. That excellent second half in 2011 came after he started using his slider more often. When he was demoted to Triple-A last season, he focused on his curveball and rode that pitch to a successful second half. I don't think anyone would question the quality of Nova's stuff — he shows some nasty, nasty stuff when he's on — but learning how the command it well and get by on days when one or two pitches aren't working has been a challenge. Again, that's part of the learning process.
Now, that said, Nova turned 27 earlier this month and he's about to enter his fourth full season with the Yankees. He's also earning some decent money ($3.3M in 2014) now that he's gone through arbitration for the first time as well. The learning process never stops, but Nova is at the point where that rollercoaster ride should end and he puts together a consistent and productive season, from Opening Day through Game 162. The days of posting an ugly first half and going to Triple-A for a wake-up call before finding success down the stretch should be in the past. They have to be — Nova is out of minor league options and can't go to Triple-A without passing through waivers.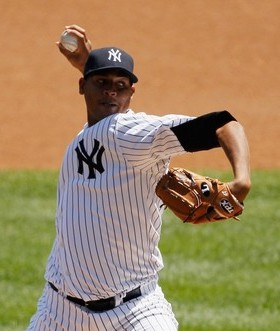 "When I got hurt and went to Tampa [for rehabilitation], I really thought about what I want to do and what I want to be. I forgot about the past and focused on doing what I have to do," said Nova to Ken Davidoff last September, after his complete-game shutout against the Orioles. It certainly appeared as though the figurative light bulb had turned on late last year, but I felt the same way in the second half of 2011. Maybe I'm being overly harsh, but Nova has given me some reason to doubt whether that success last year will carry over into this coming season.
At this point, three full years into his big league career, we still don't know what Nova is. Is he the guy who's slung to a 3.00 ERA for a half-season on two occasions? Or the guy with a 5.something ERA for the season and a half in between? Reality is probably somewhere in the middle and that's fine. He has shown he can get ground balls and strikeouts, two skills that are a pretty good recipe for success. Chris Moran took an in-depth look at why Nova might be ready to emerge as a steady rotation presence earlier this winter, but we need to see that emergence actually happen.
The Yankees spend a boatload of money to make Masahiro Tanaka the centerpiece of their rotation going forward, and now they need Nova to shed the "enigma" label and become Tanaka's running mate as CC Sabathia declines. I wouldn't call this a make-or-break year, but the time has come for Nova to stop being an interesting young pitcher and become a reliable member of the rotation. This is the year for him to show the team he is a building block and not just more back-end fodder.