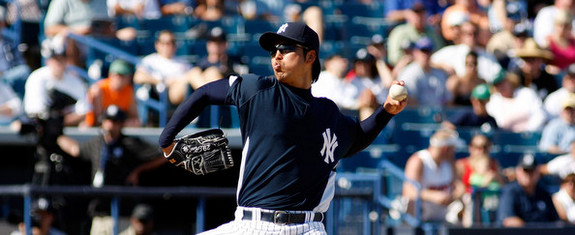 By any measure, Kei Igawa was one of the biggest busts in Yankees history. The team spent a total of $46M to acquire him ($26M posting fee and then a five-year, $20M contract) during the 2006-07 offseason, and in return they received a 68 ERA+ in 71.2 big league innings. Igawa made his final appearance in pinstripes in June 2008 and spent most of those five years in the minors.
"It was a disaster. We failed," said Brian Cashman to Bill Pennington in July 2011 when asked to evaluated the southpaw's tenure with the team. According to NPB Tracker, Igawa told the Japanese version of the Wall Street Journal that Cashman and the team's coaching staff had to ask him what his best pitch was during their first meeting. It became clear then and is obvious now the Yankees didn't do their homework before investing $46M in the lefty. Failed might be an understatement.
For the first time since the Igawa fiasco, the Yankees finally dipped back into the Japanese talent pool last week, signing right-hander Masahiro Tanaka to a seven-year contract worth $155M. The $20M release fee means the total investment is $175M, or nearly four times what they put into Igawa. Tanaka is younger and has been statistically better than Igawa was when the team signed him, but, more importantly, the Yankees made sure not to repeat their mistake and actually did their homework this time.
"We started evaluating [Tanaka] back in 2007," said Cashman to reporters (including Andy McCullough) during a conference call last week. "So clearly we've been scouting over in Japan for quite some time. The evaluations on him started on him back in 2007. Certainly paid attention to him back in the 2009 WBC, when we were first able to evaluate him with a Major League baseball, against Major League hitters. This year we were at 15 of his games, including the WBC, and we sent a Major League scout from the U.S. to evaluate him in the playoffs as well."
Tanaka was an 18-year-old rookie with the Rakuten Golden Eagles in 2007, so the Yankees have essentially watched him grow from a just-graduated high schooler into the best pitcher in the world who wasn't employed by a Major League team. "By 2009, the Yankees were drooling over Tanaka and imagining what it would be like to have him in their rotation," wrote Jack Curry following the deal. Here's some more from his post:
Across the last few seasons, the Yankees have studied Tanaka's impressive exploits on the mound and have seen a fierce competitor, someone that reminds them of CC Sabathia. The Yankees interviewed Andruw Jones, Casey McGehee and Darrell Rasner, former Yankees who all were teammates with Tanaka, and heard superb reports about his demeanor and toughness. By the time the Yankees made their offer to Tanaka, they had 11 different scouting evaluations from members of their organization.
When that many people evaluate a player, there are bound to be differences of opinion. It's no surprise then that we heard one unnamed team official recently say: "Just because he had great success over there doesn't mean he's going to be lights out here. We'll find out soon enough, but it's not like he's a sure-fire thing. I'd like to think so, but I'm not convinced." Those differences of opinion are a good thing. There should always be someone challenging the popular opinion and forcing them to look deeper, especially when talking about a deal of this magnitude.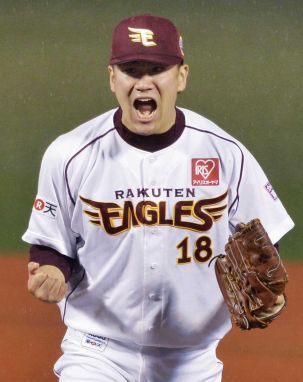 "We made a determined effort to put ourselves in the position to know as much as we possibly could, in the event that he was ever posted," added Cashman. "So this has been a long, drawn-out process, not just from the financial negotiating standpoint that's taken since he was posted. But obviously making sure that we were in a position that in the event a talent such as his became available that we were able to make recommendations accordingly, based on the scouting assessments."
Based on various reports, several other clubs had interest in Tanaka and were offering contracts in excess of $100M, including the pitching-wise Dodgers, White Sox and Diamondbacks. The Cubs supposedly made an offer similar to the Yankees' but refused to include the opt-out clause after the fourth year, which is why they lost out. They aren't ready to contend immediately and didn't want to lose him right as their window opened. Those teams all spent time scouting Tanaka and thought enough of him to make significant offers, so the Yankees aren't the only team to consider him an impact starter. (Just FYI: The next highest bid for Igawa was $15M by the Mets.)
It's entirely possible Tanaka will be a bust like Igawa, just way more expensive. No one can truly know how he will handle the big leagues until he gets up on a mound in games that mean something. If Tanaka does flame out or merely settles in as a number four or five starter rather than the number two he is widely considered, it won't be because the Yankees didn't do their homework. They've been on him for years and were one of several teams to think highly of his combination or age, ability, and stuff. Igawa was a disaster, no doubt about it, but the Yankees seem to have learned from that experience. They won't be caught with too little information again.