The more deeply you examine the 2013 New York Yankees, the more unbelievable their win total seems. On the whole they did nothing well. The putrid offense, which ranked 28th in wRC+, was on display daily. Pitching? They ranked 18th in the league in ERA.
You'd think that if they couldn't put together a decent offense that they'd compensate with a solid defense. You'd be wrong. They ranked 24th in team defensive efficiency. The guys who couldn't hit apparently also couldn't field well.
The 2014 Yankees figure to perform a bit better on defense. They not only brought in an upgrade in Jacoby Ellsbury, but they get back Mark Teixeira. There are a couple of other subtle upgrades, too, that could add up to at least an average defense.
Derek Jeter and Brendan Ryan
Derek Jeter as a defensive upgrade? Surely I'm just pulling your chain. Sadly, I'm not. Jeter did improve his defense for a few years starting in 2008, but by 2012 it had again declined. How can we expect he'll provide any value in 2014, at age 40?
Defensive statistics have enough shortcomings that they're hardly worth bringing into serious discussions. In fact, once the new fielding system becomes public, I think we'll look back at UZR and laugh. Yet it's troubling when not just UZR, but essentially every publicly available defensive metric says that Eduardo Nunez absolutely killed the Yankees at SS.
DRS: -28
UZR: -20.6 (-40.7/150!)
TZ: -17
FRAA: -11.4*
* This includes all defense, while the others are at SS only
Given Nunez's deficiencies, Jeter could actually be an upgrade. Furthering the upgrade is a full year of Brendan Ryan on the bench. He'll provide value as a late-inning defensive replacement and as an occasional starter when Jeter needs a day off. His high level of play could even offset Jeter's to an extent, even in a fraction of the time.
There is little doubt that the 2014 Yankees will provide better defense at short than the 2013 Yankees. It's no wonder the Yankees moved quickly to get Ryan into the fold.
Mark Teixeira
To be fair, the Yankees did find an adequate defensive first baseman in Lyle Overbay. He came nowhere near Teixeira's offensive production, even if you erase his late-season slump. But on defense he held his own.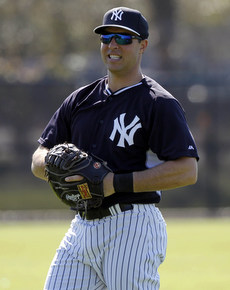 At the same time, Mark Teixeira is on another level. If we could precisely quantify everything a first baseman does on defense, I have to imagine Teixeira would consistently rank among the league's top five. He might not be the quickest or most athletic guy on the diamond, but his instincts and reflexes at first more than compensate.
Just because first base is all the way at the end of the defensive spectrum does not mean it lacks importance. Sure, plenty of big lumbering power hitters can stand at first base, but few play the position well. As Ron Washington so aptly put it, "It's incredibly hard."
Teixeira handles it with agility and grace. It's easy to forget the days of Jason Giambi playing first.
Jacoby Ellsbury and Brett Gardner
In the last few years Ellsbury has improved his game in center field. A few years ago the Red Sox signed Mike Cameron and moved Ellsbury to left. Perhaps that was the kick in the ass he needed. Whatever the case, he tracks balls well and has plenty of speed, making him a high quality center fielder.
The Yankees had a very good center fielder last year in Brett Gardner. Speed takes center stage in Gardner's game. He doesn't always get the best read, nor does he always take the best route. But he makes a lot of plays, because he can compensate with his legs. This year he'll play center a bit, but not on a day-to-day basis. This helps the Yankees outfield tremendously.
Again taking defensive metrics with a grain of salt (to the point where I won't quote actual numbers), Gardner produced insane numbers playing left field in 2010 and 2011. Yes, he's good, but multiple wins good? Here's the thing with defensive numbers: they compare players at the same position. Since left field is reserved for those lumbering sluggers who don't have much of an arm, they typically don't play high-caliber defense. Gardner runs laps around them.
So the Yankees marginally upgrade in center, going from Gardner to Ellsbury. But they upgrade insanely in left field, relative to the league, because Gardner will track down so many more fly balls than his peers.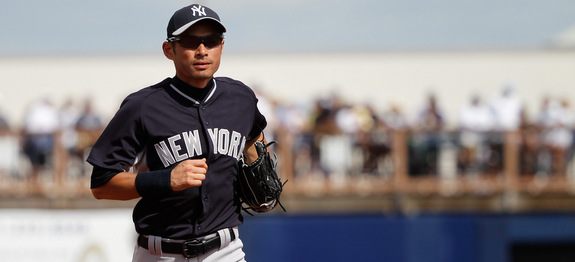 Ichiro
His bat might not have much left in it, but Ichiro can still run down balls in the outfield. This will come in handy at various points during the 2014 season. He's the obvious defensive replacement on the bench, giving the Yankees a lockdown outfield in later innings. But that's not his only role.
If everyone stays healthy – and given Ellsbury's current injury that's far from a given – Ichiro wouldn't get many starts. But guys get bumps and bruises. Carlos Beltran could need days off to rest his knees. Ellsbury and Gardner will need days off here and there even if they do stay healthy. In each instance, playing Ichiro in right makes a degree of sense.
In the the case of longer-term injuries I'd like to see them call up Zoilo Almonte to take more reps, since he still has at least a modicum of big league potential. Ichiro is almost certainly gone after this season, and could be gone before that under the right circumstances. But as long as he's on the roster, he'll provide a good defensive option in right field when the Yankees need it.