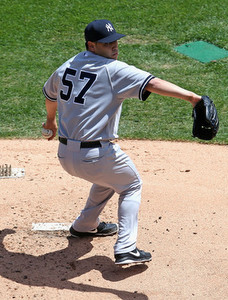 With the amateur draft less than one week away — international free agency is a month away and the Yankees will reportedly spend some serious money — it's time to check in on the current state of the farm system. The top 30 prospects, specifically. The system overall has bounced back well from that nightmare last year, when almost everything that could go wrong did go wrong. All three 2013 first round picks hit the disabled list before playing their first pro games, for example.
Anyway, because the minor league season is only two months old, there isn't a ton of difference between this list and my Preseason Top 30 Prospects List. Players may move a spot or two, but that's nothing really. There aren't many big climbers or fallers, though I will say there is more movement in this year's pre-draft list than there has been other years for a few reasons, including injuries. As always, this list is my personal preference and you are very welcome to disagree. The cool thing about prospects is that there is no right way to rank them, so no one's wrong. It's a balance between potential and probability, and people value those things differently.
The only player to graduate to the big leagues from the preseason list is LHP Vidal Nuno. The rookie limits are 50 innings or 130 at-bats, so if you're above that, I don't consider you a prospect. That's a convenient enough cutoff point. Several other players dropped off the preseason list for different reasons, including OF Zoilo Almonte (numbers crunch), RHP Jose Campos (another elbow injury), and LHP Nik Turley (arm problems). The ages listed are as of today, and the levels listed are the player's current level. Away we go:

C Gary Sanchez, AA, 21: Sanchez is not tearing it up in Trenton right now, but he is still the team's top prospect because of his big time offensive potential and improving defense. I think the chances of Sanchez being traded are higher right now than ever before.
C John Ryan Murphy, MLB, 23: With an assist to Frankie Cervelli's latest injury, Murphy has taken over as the team's backup catcher and it doesn't look like he is giving the job back anytime soon. He'll be a solid catcher for a long time, the only question is whether it's for the Yankees or someone else.
OF Aaron Judge, Lo-A, 22: Judge climbs into the top three because reports indicate he is a way better contact hitter with a better approach than expected. He was believed to be a future .250 hitter with 30+ homers and 150+ strikeouts, and while that still may be true, he is consistently getting the barrel on the ball as a pro.
LHP Manny Banuelos, AA, 23: Aside from a recent bout with arm fatigue, the return from Tommy John surgery has gone well. Banuelos is being brought along slowly, but his stuff has returned all the way. It's about shaking off the rust and gaining experience now.
RHP Dellin Betances, MLB, 26: Yes, Betances still qualifies for the list (38.1 innings). He has emerged as a bullpen force for the Yankees, pitching in high-leverage innings and piling up strikeouts. I've never done a prospect list at RAB without Betances. This will be his last. /tear
3B Eric Jagielo, Hi-A, 22: The first of the team's three first rounders has not torn the cover off the ball as expected, but he's been solid and the hitting tools are still there. His defense is reportedly a bigger concern than initially anticipated, however.
LHP Ian Clarkin, Lo-A, 19: The Yankees haven't had much luck with their first round pitchers since 2006 and it looks like Clarkin will break the trend. He has been missing bats and showing impressive command since joining the River Dogs a few weeks ago.
OF Slade Heathcott, AA, 23: Heathcott has barely played this season due to a slow recovery from offseason knee surgery. He has the best package of raw tools in the organization and he simply can't stay on the field to develop them.
RHP Luis Severino, Lo-A, 20: Severino has taken over as the hardest thrower in the system after touching 99 in recent weeks. He's been a little more hittable than expected with Charleston, but that's not a huge concern at this point. The stuff is excellent.
1B Greg Bird, Hi-A, 21: After being slowed by a back injury during Spring Training, Bird joined High-A Tampa a few weeks ago and has picked up right where he left off last season. Great approach, good power, and contact skills. Dude can rake.
C Peter O'Brien, AA, 23: O'Brien's a one-tool guy but man is his power impressive — he has a legitimate chance to hit 40 homers in the minors this year. Will his aggressive approach allow him to tap into that power at the next level? Who knows. We'll find out soon enough.
OF Tyler Austin, AA, 22: Last season's wrist injury has carried over into this year. Austin has been okay when on the field though we've yet to see his power return, and, given the history of wrist injuries, it might not return for another few months.
SS Abi Avelino, Lo-A, 19: Avelino's tools are not the sexiest in the system, not even close really, but everything plays up because he's a very intelligent and instinctual player. The whole is greater than the sum of the parts.
RHP Jose Ramirez, AAA, 24: Another oblique injury kept Ramirez on the shelf early this season, and the Yankees moved him into the bullpen full-time due to continued injury problems. He's a hard-thrower with a nasty changeup and slider, and could help very soon.
OF Mason Williams, AA, 22: The tools and athleticism are there! But at some point they have to turn into baseball skills and he has to produce. Williams was excellent in 2012 but has been overmatched since.
RHP Bryan Mitchell, AA, 23: Could Mitchell be the next Betances? He's got a nasty fastball/curveball combination but has battled command his entire career. A move into the bullpen is not imminent though. No reason to make the change just yet.
OF Ramon Flores, AAA, 22: Flores has bounced back from a disappointing 2013 season and is even flashing some power to go along with his typically strong approach. The big league right field job figures to be open next year and he's putting himself in position for consideration.
RHP Shane Greene, AAA, 25: His MLB debut was awful and his first few weeks in Triple-A haven't gone well, but Greene's a power three-pitch guy who appeared to figure out to how to command everything last year.
OF Jake Cave, Hi-A, 21: Cave has done nothing but hit as a pro and he projects to stay in center field long-term, so I might be underrating him here. Very nice get for the Yankees in the sixth round of the 2011 draft.
RHP Rafael DePaula, Hi-A, 22: The second go round with Tampa has gone much better, though throwing strikes is still a challenge. That's the downside of his long identity falsification suspension/visa issues, lots of lost development time.
2B Gosuke Katoh, Lo-A, 19: Katoh pulled a Dante Bichette Jr., dominating the Rookie Gulf Coast League before getting overmatched in Low-A. So maybe he isn't as advanced as we thought. These last few weeks are just a speed bump at this point of his career.
RHP Ty Hensley, N/A, 20: It sounds like Hensley might actually pitch in a game soon. He missed all of last year with hip surgery and the start of this season with a hernia, but he recently pitched in an Extended Spring Training. Hensley has thrown 12 innings since being the team's first rounder in 2012.
C Luis Torrens, Lo-A, 18: The Yankees aggressively pushed Torrens to Low-A Charleston and he's shown a strong approach despite being somewhat overmatched. He's currently out with a shoulder injury and is expected to return in the coming weeks.
2B Rob Refsnyder, AA, 23: Refsnyder rebounded very well from a brutal start with Double-A Trenton. The second base position is wide open and he figures to get the first opportunity to keep it long-term with his solid all-around game.
RHP Mark Montgomery, AAA, 23: Montgomery still has that nasty slider and he misses bats with ease, but his control has gone missing this year (16 BB in 23 IP ). He has to iron that out to earn a call up in the second half.
3B Miguel Andujar, Lo-A, 19: This is a pure tools ranking because the performance has not been there yet. Andujar has everything except a sound approach at the plate, which limits how much he gets out of his ability. Plenty of time to work on that.
RHP Brady Lail, Lo-A, 20: Lail, the team's 18th rounder in 2012, has made the jump from sleeper to legit prospect this year. He gained a few ticks on his fastball after signing and commands the zone like a veteran with his heater, changeup, and curveball.
RHP Nick Goody, Hi-A, 22: Goody has returned well following Tommy John surgery and should shoot up the ladder once the team gives him the green light. His fastball/slider combination is allergic to bats.
RHP Danny Burawa, AAA, 25: Burawa might have the nastiest pure stuff among the team's bullpen prospects (high-90s fastball with a vicious slider), but his control still comes and goes. He could be a big league factor in the second half.
RHP Chase Whitley, MLB, 24: After spending most of his career as a reliever, Whitley is having success in the big league rotation right now because baseball is weird like that. Is he a long-term starter? Maybe not. But he can clearly help the MLB club in some capacity.