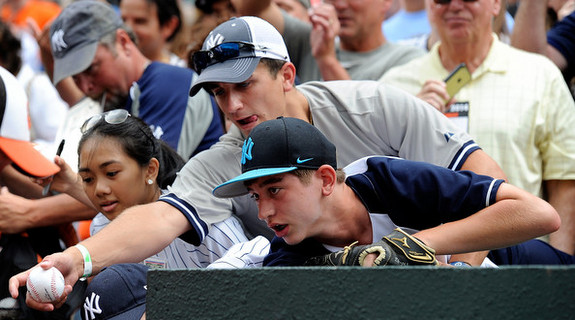 One more game. One more game until the Yankees can rest and regroup over the All-Star break after being in what felt like survival mode for the last few weeks. Players are getting hurt, the bullpen has been taxed, the offense is moseying along … this has not been the easiest first half for the Yankees. Not at all.
Chase Whitley is making his return to the rotation tonight thanks to Masahiro Tanaka's injury, and hopefully his short stint in the bullpen will help him get over whatever was troubling him his last three starts. He was pretty brutal. Joe Girardi is in position to be aggressive with his key relievers with the four-day rest coming up, so Dellin Betances and Adam Warren could both be asked to throw two innings. Two innings for David Robertson might not be off the table. A four-out save seems very likely, if necessary. Here is the Orioles lineup and here is the Yankees lineup:
CF Brett Gardner
SS Derek Jeter
DH Jacoby Ellsbury
1B Mark Teixeira
C Brian McCann
2B Brian Roberts
RF Ichiro Suzuki
LF Kelly Johnson
3B Yangervis Solarte
RHP Chase Whitley
It's very hot, very humid, and kinda cloudy in Baltimore. There is also rain in the forecast later tonight, which might interfere with the game in some way. We'll have to see. The game is scheduled to begin at 8pm ET and you can watch on YES. Enjoy.
Roster Move: The Yankees have called up right-hander Bryan Mitchell as an extra just in case long man. He was scratched from his scheduled start for Double-A Trenton yesterday and is good for 100 pitches tonight if need be. Zoilo Almonte was sent down in a corresponding move. I assume Mitchell will be sent down and Carlos Beltran will be activated off the 7-day concussion disabled list after the break.
Rotation Update: David Phelps, Brandon McCarthy, and Hiroki Kuroda will start the first three games after the All-Star break, Joe Girardi announced. I would bet on Shane Greene getting the ball in the fourth game.