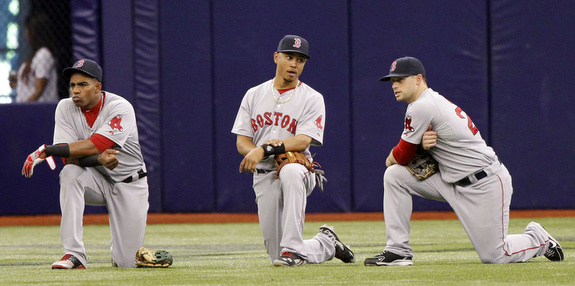 Labor Day weekend is over and it's time for another surprisingly unimportant Yankees-Red Sox series. I mean, it's not totally meaningless, the Yankees aren't completely out of the second wildcard race, but the Red Sox are. In fact, they're on pace to finish with the second worst record by a defending World Series champion in baseball history, behind only the ain't even tryin' 1998 Marlins. The Yankees are 8-5 against Boston this season, including 4-3 in the Bronx.
What Have They Done Lately?
The Sawx split four games with the Rays in Tampa over the holiday weekend and they've lost eleven of their last 15 games overall. Boston is 12-17 since trading away all their good pitchers at the deadline and they currently sit in last place in the AL East at 60-77 with a -73 run differential. That is the fifth worst record in all of baseball.
Offense
The Red Sox have averaged 3.84 runs per game with a team 89 wRC+ this year, giving them a comfortably below-average offense overall. Since the trade deadline they are averaging 3.83 runs per game with a 101 wRC+. So they're hitting better without scoring more runs, if that makes sense. 2B Dustin Pedroia (101 wRC+) is unlikely to play this series due to concussion symptoms after getting elbowed in the head during a play at second base. OF Shane Victorino (87 wRC+) is done for the year following back surgery.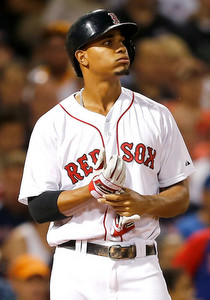 Manager John Farrell's new-look lineup is built around the power bats of OF Yoenis Cespedes (112 wRC+), DH David Ortiz (135 wRC+), and 1B Mike Napoli (127 wRC+). Ortiz and Napoli always kill the Yankees, but you knew that already. New pickup 1B/OF Allen Craig (78 wRC+) hasn't hit since hurting his foot last year and SS Xander Bogaerts (74 wRC+) has been a colossal disappointment this season. That guy was supposed to be well on his way to superstardom by now.
The rest of the regular lineup includes UTIL Brock Holt (101 wRC+), who has slowed down quite a bit in recent weeks, and platoon OF Daniel Nava (87 wRC+). 3B Will Middlebrooks (47 wRC+) still plays regularly for whatever reason. C Christian Vazquez (52 wRC+) and C David Ross (67 wRC+) split time behind the plate. 2B/OF Mookie Betts (119 wRC+ in limited time) is getting an extended audition this month and the bench includes September call-ups IF Jemile Weeks and IF Carlos Rivero.
Pitching Matchups
Tuesday: RHP Shane Greene (vs. BOS) vs. RHP Joe Kelly (vs. NYY)
Boston acquired the 26-year-old Kelly from the Cardinals in the John Lackey trade and so far he has the same number of walks as strikeouts (18) with the Red Sox. He has a 4.14 ERA (4.57 FIP) in 12 starts and 63 innings overall this year, pairing mediocre strikeout (6.14 K/9 and 15.8 K%) and walk (4.00 BB/9 and 10.3 BB%) rates with an excellent grounder rate (53.1%). Kelly has done an okay job keeping the ball in the park (0.86 HR/9 and 12.5 HR/FB%) and his platoon split is tiny. A mid-90s two-seamer is his main pitch, which he'll use to set up low-80s changeups and upper-70s curveballs. He'll throw a handful of mid-90s four-seamers and mid-80s sliders per start as well. The Yankees did not see Kelly when they played the Cardinals earlier this year or the Red Sox last month.
Wednesday: RHP Hiroki Kuroda (vs. BOS) vs. RHP Anthony Ranaudo (vs. NYY)
Ranaudo, 24, has three big league starts (18 innings) are under his belt, and he's won them all despite a 4.50 ERA (6.57 FIP). He has more walks (4.00 BB/9 and 10.3 BB%) than strikeouts (3.50 K/9 and 9.0 K%) and gives up a ton of homers (2.00 HR/9 and 12.9 HR/FB%) because he gets so few grounders (31.1%). Righties (.356 wOBA) have hit him harder than lefties (.332 wOBA) in a small sample. Ranaudo is primarily a two-pitch pitcher who has thrown his low-90s four-seamer more than 75% of the time in the big leagues. An upper-70s curveball is his top secondary pitch, though he'll also throw a handful of low-80s changeups per start. Ranaudo held New York to two runs in six innings in his first career start a few weeks ago.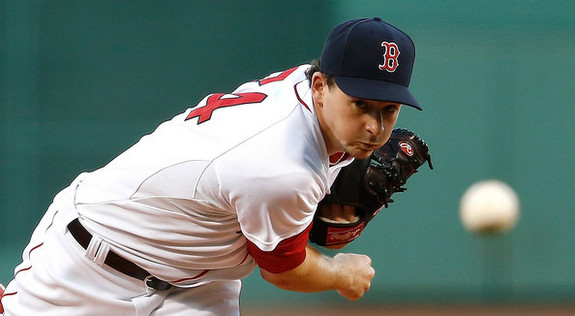 Thursday: LHP Chris Capuano (vs. BOS) vs. RHP Allen Webster (vs. NYY)
The 24-year-old Webster, who was part of the big blockbuster trade with the Dodgers a few years ago, was the first young pitcher to get the call when the Red Sox started trading away their veteran hurlers earlier this year. He's been awful, pitching to a 6.69 ERA (4.70 FIP) in seven starts and 35 innings, with more walks (5.91 BB/9 and 14.4 BB%) than strikeouts (5.40 K/9 and 14.4 K%). The only thing he's done exceptionally well is limit homers (0.26 HR/9 and 2.8 HR/FB%), and that is an unsustainably low homerun rate. Webster has done a good job keeping the ball on the ground (45.9%) and his platoon split is nonexistent (.353 vs. .352 wOBAs). He'll sit in the low-to-mid-90s with two and four-seam fastballs, backing them up with low-80s sliders and changeups. The Yankees hammered him for four runs and six walks in only two innings a few weeks ago.
Bullpen Status
Since they're out of it, the Red Sox have said they will ease up on closer RHP Koji Uehara (2.66 FIP) and setup man RHP Junichi Tazawa (3.09 FIP) these last few weeks to control their workload. Both pitched a ton the first five months of the season. RHP Edward Mujica (3.77 FIP) is going to see some save opportunities in the meantime.
RHP Burke Badenhop (3.22 FIP) and LHP Craig Breslow (5.18 FIP) are Farrell's other bullpen regulars while guys like LHP Tommy Layne (3.13 FIP) and RHP Alex Wilson (3.89 FIP) were called up in recent weeks. Knuckleballer RHP Steven Wright was the club's only pitching call-up when rosters expanded yesterday. Badenhop, Breslow, Tazawa, Mujica, and Layne all pitched yesterday, none more than an inning. Our Bullpen Workload page has details on Joe Girardi's relievers. Head over to Over The Monster for everything you need to know about the Red Sox.