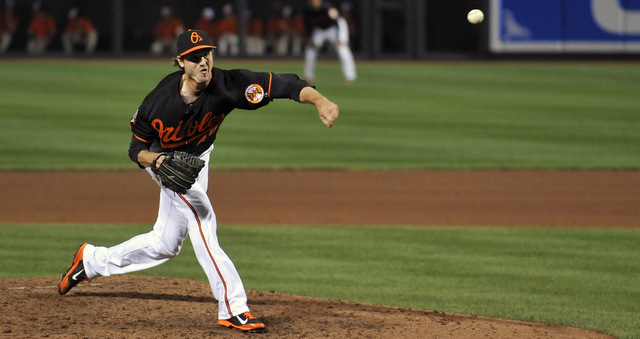 11:12pm: The Astros are not expected to sign Miller, according to Evan Drellich. That isn't surprising. Strange stuff happens, but when push comes to shove, Houston probably isn't going to win a free agent bidding war against the Yankees or any other team seriously in on someone like Miller.
9:09pm: Heyman has updated his story to say it's basically the Yankees against one or two other teams right now. The Red Sox are out of the running and the Dodgers are only considered a possibility for Miller, not a finalist because they aren't all that interested in a huge deal for a reliever. The Astros appear to be New York's main competition. Heyman also says the Yankees are more willing to go four years for Miller than Robertson because of the difference in money.
5:00pm: According to Jon Heyman, the Yankees and Dodgers appear to be among the finalists for free agent left-hander Andrew Miller, and a deal could be done in a day or two. I'd be surprised if new Dodgers president of baseball operations Andrew Friedman gave a reliever a huge deal, then again what do I know. Heyman says the Red Sox are bowing out of the race.
Ken Rosenthal hears New York's interest is sincere and they aren't just using the 29-year-old Miller as leverage against David Robertson, which is what I initially thought. New York could always bring Robertson back even if they sign Miller, it just seems hard to believe they would have two huge money relievers on the roster. Nearly two-thirds of RAB readers said they would prefer re-signing Robertson to signing Miller in yesterday's poll.
Miller is all but assured of getting a four-year deal at something close to $10M annually according to Heyman, but Joel Sherman says the Yankees are only willing to top out at three years. That could be posturing. The current record contract for a non-closer reliever is Jeremy Affeldt's three-year, $18M deal with the Giants from a few years back. The Yankees did give ex-Rays closer Rafael Soriano a three-year contract worth $35M to be a setup man a few years ago, so maybe they would be okay with two big money relievers after having both Soriano and Mariano Rivera from 2011-12.
The Yankees would get a supplemental first round pick if Robertson leaves — they won't have to give anything up to sign Miller — which would make it easier for them to swallow forfeiting their first rounder to sign a qualified free agent, specifically Max Scherzer. Of course, the team continues to insist they won't give out a huge long-term contract this winter. We'll see. Developing!