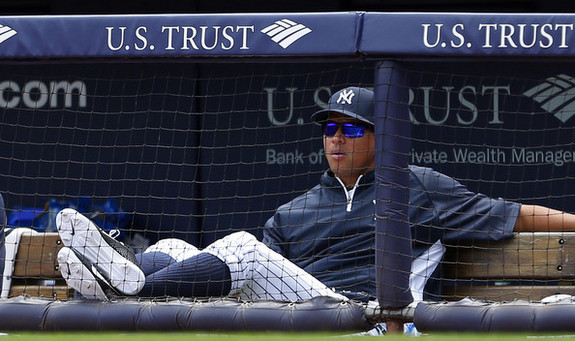 According to Ken Davidoff, Alex Rodriguez met with new commissioner Rob Manfred early last week to clear the air and attempt to create some goodwill. Manfred officially took over as commissioner on Saturday and spearheaded the league's investigation into Biogenesis two years ago.
A-Rod initiated the one-on-one meeting, which took place at the league's offices on Park Avenue. The logical next step would be for Alex to initiate a similar meeting with the Yankees, though Andrew Marchand says the Yankees have declined. Here's more from Marchand:
The Yankees have no plans to make owner Hal Steinbrenner, president Randy Levine or general manager Brian Cashman available for any similar Rodriguez make-up sessions, a source said. An official with knowledge of the team's thinking said that Rodriguez will not receive any special treatment during spring training and will be dealt with like any other member of the 40-man roster.
For what it's worth, Dan Martin makes it sound as though a meeting between A-Rod and the team's brass could happen once Spring Training begins. The Daily News — which, aside from Mark Feinsand, has been aggressively anti-A-Rod throughout this whole mess — says the Yankees will try to void the home run milestone bonuses in Rodriguez's contract, but good luck with that.
Davidoff says that as far as the league is concerned, Alex is a player in good standing who served his time. The only way he could face more trouble stemming from Biogenesis is if evidence is discovered showing he helped distribute banned substances. The only reason the Yankees haven't released A-Rod yet is money — they owe him over $60M these next three years and could recoup some via insurance (if he gets hurt) or if he gets suspended again.
I want to say it is a bit petty of the Yankees to not meet with A-Rod so they could clear the air, but I'm not sure how much it would actually help. Their relationship is clearly (very) contentious and a hug and a handshake won't change that. These two are stuck with each other though. A-Rod ain't going anywhere, so if there's something the Yankees could do to make the best out of an awful situation, they should do it. Publicly feuding with Alex is only going to add fuel to the fire.