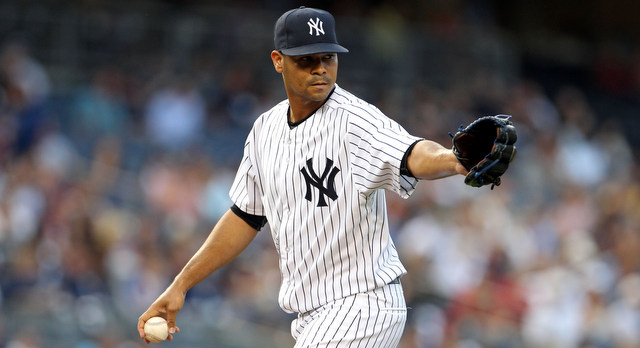 This isn't surprising: assistant GM Billy Eppler has confirmed right-hander Esmil Rogers will report to Spring Training stretched out and prepared to work as a starting pitcher. "I don't know, I think you just walk into it with an open mind and just see. I think you just let it all play out. You usually don't have to end up making the call. Situations and the players will make the call for you," said Eppler to Chad Jennings.
Rogers, 29, worked as a starter in winter ball this offseason, allowing six runs in 11.2 innings (4.63 ERA) while striking out 18 and walking four. He has a 5.50 ERA (4.72 FIP) in 225.2 career innings as a starter at the MLB level, though most of that damage came when he was stuck pitching for the Rockies in Coors Field from 2019-12 (6.24 ERA and 4.87 FIP in 114 innings). Still, his track record as a big league starter isn't very good.
Rogers did make one fine spot start for the Yankees last season (one run in five innings) and there's really no reason not to bring him to camp as a starter. New York has a lot of injury risk in their rotation and it's better to have Rogers stretched out and ready to go just in case. He can always slide back into the bullpen if need be. At best, I think Esmil is the team's seventh starter behind the regular five and Adam Warren.
Eppler also reiterated Warren is coming to camp as a starter as well. David Phelps was scheduled to come to camp as a starter before he was traded to the Marlins in the Martin Prado/Nathan Eovaldi swap. Minor league righty Bryan Mitchell is another rotation candidate and the Yankees recently signed veteran righties Scott Baker and Kyle Davies to add some extra rotation depth.