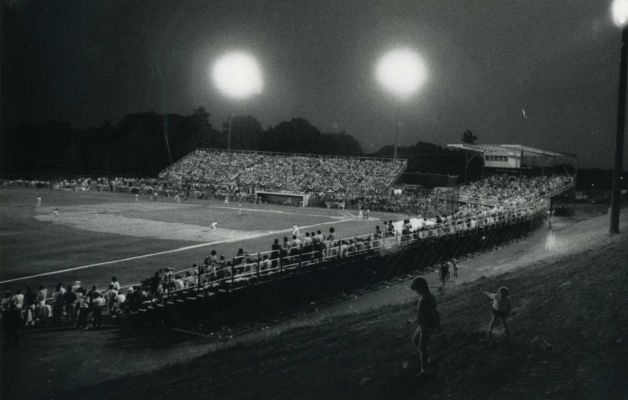 Just as the Yankees entered their darkest period since the mid-60s, they saw a glimmer of hope for the future.
For a few years they'd been a franchise in decline, but 1989 represented the turning point. They'd won just 74 games, finishing fifth in the AL East for the second straight season. Dave Righetti was on his way out. Don Mattingly's back would start giving him issues the next season. Their best starter in 1989 was Clay Parker.
That is to say, while I wasn't quite as attuned to the Yankees then as I am now (I was seven in 1989), it seemed easy to predict some lean years ahead.
Yet there was reason in 1989 to believe that the lean years wouldn't last long, perhaps not longer than the 1990 season. While the major league squad lacked quality young players, the farm system appeared ready to deliver. The AA Albany-Colonie Yankees had just finished one of the most dominant seasons in minor league history.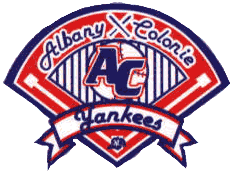 The 1989 Albany-Colonie Yankees won 92 games, 18 more than the big league squad in 22 fewer games. Even crazier: at one point in July they were 70-20, 23.5 games ahead of the second place Harrisburg Senators. While they wouldn't finish at such a torrid pace, they did win the league by 19 games.
Along the way they simply left other teams in the dust. They scored more than a third of a run per game more than the next-closest team, outscoring them by 58 runs in 140 games. On the other side of the ball they were similarly dominant, allowing a half run less per game than the next-closest team, a difference of 59 runs.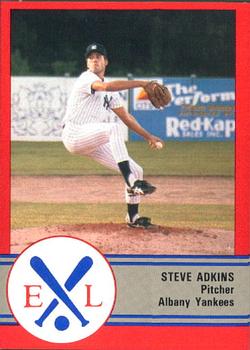 The pitching side was perhaps more impressive. As Norm Alster notes in his July article for the New York Times, the Albany-Colonie staff didn't exactly feature heat throwers. Their ace, 6-foot-6 lefty Steve Adkins might not have consistently hit 90 on the gun, but he struck out 10.1 per nine. That led Eastern League starters by a full strikeout per nine. Before that July article they'd promoted four pitchers to AAA Columbus, including Darrin Chapin and Kevin Mmahat, who is said to be a huge inspiration on Ben Kabak's 2013 season. (Jokes aside, he did make it to the show in '89, was rocked, and never appeared in the bigs again.)
Also impressive was 22-year-old Rodney Imes, who made 24 starts and produced a 2.73 ERA, his second straight phenomenal season. The 23-year-old Royal Clayton also built off his quality 1988 season to lead the Albany Yankees in innings pitched, producing a 2.98 ERA in 25 starts. (In his 175 innings he struck out just 74, which is pretty absurd.) To close out games the Albany Yankees turned to 25-year-old Tim Layana, who allowed 13 earned runs in 67.2 IP, allowing just two homers all season.
On offense Jim Leyritz led the way. He'd just made the conversion from third base to catcher and took well to his new position, leading the team in OPS while batting .315 with 10 homers. Leading the way with power was first baseman Rob Sepanek, who hit 25 homers after losing most of 1988 to injury.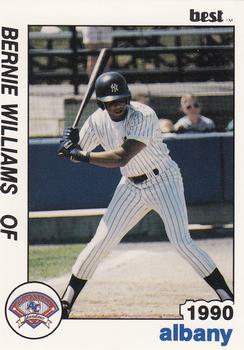 Both Leyritz and Sepanek were older, 25 and 26, and so probably ready to graduate from AA anyway. (Indeed, Leyritz mashed in AAA in 1990 before getting a promotion to the bigs and holding his own; he probably got stuck in AA because of his catching skills.) Most impressive was 20-year-old Bernie Williams, who hit .252/.381/.443 in 91 games before getting the call to Columbus. Hensley Meulens, still with his prospect shine at age 22, led the team with 21 doubles. Sideshow Deion Sanders and the lovable Andy Stankiewicz also produced on both sides of the ball.
One easy to overlook aspect of that team is its manager, Buck Showalter. He'd spent seven seasons toiling in the Yankees minor league system, starting at Class-A Fort Lauderdale in 1977 and topping out at AAA Columbus, bouncing between there and AA Nashville from 1981 through his last season, 1983. In 1985 he started managing at Low-A Oneonta, taking over High-A Fort Lauderdale in 1987 and finally AA Albany in 1989. He'd join the big league squad as their third base coach in 1990.
Even as the Yankees entered the 1990 season with a lean squad, the 1989 Albany team had to give them hope. Combined with a very good 1989 Columbus team that featured Hal Morris, Kevin Maas, and a number of kids promoted from AA (Williams, Meulens, Sanders, Oscar Azocar) it might have appeared as though the Yankees, at least on the offensive side of the ball, could weather a poor 1990 and recover in 1991.
That simply did not happen. While Williams's debut was decent enough, Meulens flopped and Leyritz took a huge step back in '91. Stankiewicz didn't get the call until 1992. The pitching staff was a tatters. While 19 of 35 players on that AA Albany squad appeared in the majors, and 15 with the Yankees, only two were any good: Leyritz and Williams. The only pitcher to make an even minute impact was Scott Kamienicki, who fell into a swingman role before losing effectiveness by 1996. He earned a ring, but was nowhere near the celebration.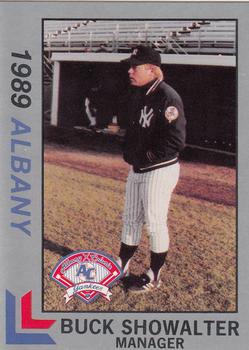 "This is a prospect-laden club," Showalter said of the Albany crew, but that just wasn't true. On Baseball America's list of 1989 Yankees prospects (found via The Baseball Cube), only Meulens, Sanders, and Williams were on the prospects list. Showalter wouldn't have any of them for much longer, as they all made the trip to AAA sometime in late July or early August. The 1990 list reveals just two players, Williams and Meulens, who appeared on the 1989 team.* So even with huge performances, the guys on the '89 Albany Yankees just weren't considered impact prospects.
*Which is weird, because I'm pretty sure Sanders didn't exhaust his rookie service time in 1989, but was off the list.
Adkins, the lefty with the big strikeout numbers, got promoted to AAA in 1990, where he was effective if a bit wild. The Yanks actually let him start five games in the bigs that year, but he stumbled hard, walking 29 in 24 innings. The stumble continued in AAA in 1991, and the Yanks traded him away for a guy who never reached the majors. Adkins didn't pitch any more innings there either.
In December 1989 the Yankees dished Imes, along with Hal Morris, to the Reds for Tim Leary. The former Met 2nd overall pick was OK in 1990 before completely dropping off a cliff in 1991, while Morris had a few damn fine seasons in '90 and '91, when the Yanks probably could have used him.
Clayton started 1990 in AA again, but graduated to AAA, where he toiled from 1991 through 1994. I presume he was a minor league free agent at that point and departed for San Fran's minor league system (there's a Brian Sabean tie there) before fizzling out. Mmahat (mmm, a hat) never made it back to the bigs after his cup of coffee in '89. He hurt his shoulder in 1990 and tried to pitch through it. The result, a torn rotator cuff, effectively ended his career. Chapin was dealt in the first Charlie Hayes deal. Azocar was generally terrible and best known for these two baseball cards.
It seems insane that a team so dominant could produce so few standout major leaguers. We're not talking a very good farm team, either. Only when Williams, Meulens, and Sanders were promoted did the opposition stand even a chance. While they were on the squad, they were 50 — FIFTY — games over .500 in July. You'd be hard pressed to find a team that so thoroughly trounced opponents.