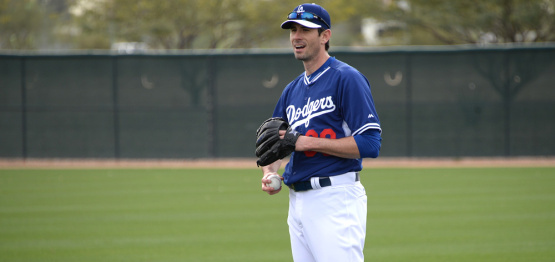 At the start of the offseason, it seemed like the most sensible moves for the Yankees were to bring back the guys they acquired at the trade deadline last year, specifically Chase Headley and Brandon McCarthy. Stephen Drew on a cheap one-year deal is fine but those other two made the most sense. They filled pressing needs and weren't going to require a massive long-term deal.
The Yankees eventually did re-sign Headley, and while they expressed interest in re-signing McCarthy, it didn't happen and he signed with the Dodgers. Brian Cashman confirmed the team never made him an offer back in December, saying he "figured the market would take him at a level that we couldn't play on." That's sort of a silly thing for a Yankees executive to say but whatever.
McCarthy made it no secret he enjoyed playing in New York at the end of last season, enough that returning to the Yankees was his top priority going into the winter. Here's what McCarthy told Andy Martino a few days ago:
"In my mind, I thought (re-signing with the Yankees) definitely was going to be the case," he says, sitting at his locker at the Dodgers' complex. "At least that's where I was saying I wanted to go. At that point, I wasn't considering anywhere else. It was perfect. It's the Yankees. You don't think money is going to be an issue. This is just going to be, 'we'll just find a way to make this fit.'"

…

"That was my hope, in that five-day window after the postseason before everybody becomes free — I was really hoping, this is where something gets done."
Not only did McCarthy want to return to New York, he was willing to re-sign during the five-day exclusive negotiating period before free agency to make it happen. That no doubt made his agent cringe. McCarthy had just completed his first 200-inning season and finished strong in pinstripes. His agent surely wanted to get him out onto the open market to create a bidding war. Ultimately, that's what happened.
Going into the offseason, I thought a three-year contract would get it done with McCarthy — regardless of whether he re-signed with the Yankees or not — but he ended up with a four-year deal from the Dodgers. McCarthy did tell Martino he would have at least considered a three-year contract with the Yankees.
"That's a good question (whether he would have taken a three-year deal)," he says. "At that point, probably … (My agent) knew full well going in that 'I want to go to the Yankees, and we need to make it work.' And I think that five-day window just passed, and it became — It wasn't like 'you're priority one, let's do this.' That's where we started to open up and say, 'Ok, what are plans B and C?'"

…

"It's hard to say (if I would have taken it) for sure, but I certainly would have had a long discussion about it," he said.
It's unclear whether the Yankees engaged McCarthy in any serious contract talks during the exclusive negotiating period — his comments make it sound like they didn't — but obviously he was open to doing so, and this may have been a missed opportunity for New York. Potentially keeping him off the open market and away from a bidding war is a pretty significant piece of news. He would have had less leverage and the Yankees might have been able to strike a favorable deal to shore up the rotation.
McCarthy ended up with four years and $48M. Let's say the Yankees would have been able to retain him with a strong three-year offer, say three years and $39M. With both Headley and Andrew Miller, the Yankees ultimately caved and added the fourth year in exchange for a lower average annual value, suggesting they would have been open to paying more per year if the deal was shorter. Three years and $39M seems realistic to me give McCarthy's desire to return to New York.
How would re-signing McCarthy have affected the rest of the offseason? That's a complicated question we can't really answer. Re-signing McCarthy could have meant no Headley since the money had been spent. (I think the Yankees would have signed Miller anyway, it seems like a high-end reliever was a priority.) No Headley means Martin Prado is probably the third baseman, and that means no Nathan Eovaldi. Or maybe it makes no difference whatsoever and the Yankees re-sign Headley anyway and still trade Prado. Re-signing McCarthy during the exclusive negotiating period changes the entire offseason dynamic.
With the obvious caveat that we don't know how the rest of the offseason would have shaken out, the Yankees' rotation would look much sturdier with McCarthy than it does without it. I mean, duh. A four-year deal for someone with his injury history is bonkers in my opinion — McCarthy did change his offseason workout routine last winter and believes it led to staying healthy for a full season the first time in his career, for what it's worth — but three years would have been much easier to swallow. That's the market these days.
If nothing else, I think the Yankees should have been a little more aggressive during the exclusive negotiating period. The injury concerns in the rotation were no secret, we all knew about Masahiro Tanaka's elbow and CC Sabathia's knee in October, so trying to get out in front of the market and seeing if McCarthy would return on favorable terms would have been a smart move. I also don't think letting him go was a catastrophic decision either. At the end of the day, he would have another injury concern in a rotation full of 'em, albeit a very talented one.