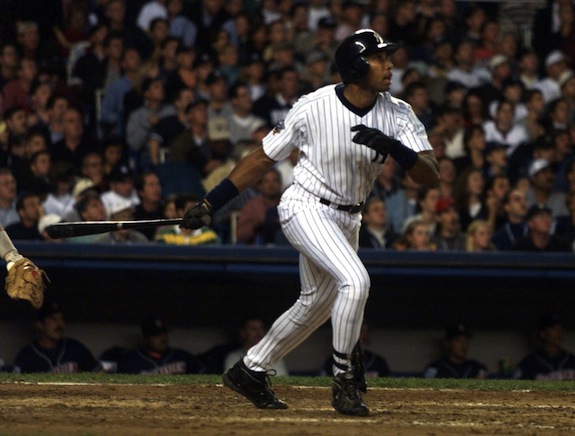 More than eight years after playing in his final MLB game, Bernie Williams is finally ready to call it a career. Bernie will officially sign his retirement papers at a press conference at Yankee Stadium this Friday, the Yankees announced. It would be cool if he signs a one-day contract to retire as a member of the team, but I'm not sure if that will happen. He will throw out the ceremonial first pitch though.
The Yankees are set to retire No. 51 in Bernie's honor later this season, on May 24th. The team will unveil a logo related to the number retirement at Friday's press conference. There will also be an on-field ceremony to debut a souvenir pin honoring Williams this Friday, which will be sold by Hard Rock Cafe and benefit Hillside Food Outreach.
Williams, now 46, never did officially retire after last playing in 2006. He's been back at Yankee Stadium a whole bunch of times over the years, for Old Timers' Day, Mariano Rivera's and Derek Jeter's retirement ceremonies, all sorts of stuff. Signing the retirement papers is really just a formality at this point.
Bernie hit .297/.381/.477 (125 OPS+) with 449 doubles, 287 home runs, and 147 stolen bases in his 16-year career, all with the Yankees, and he helped them to four World Series titles. He was the fifth member of the Core Four and the first of the bunch to make his MLB debut. Williams was on the Hall of Fame ballot in 2012 and 2013 but didn't receive enough votes to stay on the ballot.