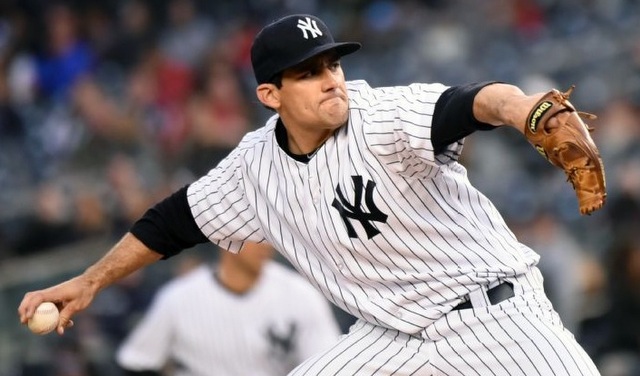 The Yankees tried and failed to win their first series of 2015 last night, but they have another chance in the rubber game against the Orioles tonight. The last time the Yankees lost three straight series to start the season was that awful 1991 season, when they didn't win their first series of the year until mid-May. I feel like we've said "this is the first time the Yankees have done that since 1991" an awful lot the last few years.
Anyway, Nathan Eovaldi will be on the mound tonight, making his second start in pinstripes. The first was uneven — Eovaldi showed a big fastball and promising offspeed pitches, but struggled to put hitters away. Then again, everyone's struggled to put the Red Sox away this year it seems. Hopefully the free swinging O's have a tougher time with Eovaldi tonight. Here's the starting lineup:
CF Jacoby Ellsbury
3B Chase Headley
RF Carlos Beltran
1B Mark Teixeira
C Brian McCann
DH Alex Rodriguez
2B Stephen Drew
LF Chris Young
SS Didi Gregorius
RHP Nathan Eovaldi
The Orioles are sending right-hander Bud Norris to the mound. He got clobbered in his first start of the season by the Rays, allowing eight runs in three innings. Here is Baltimore's lineup.
There's no threat of rain at Camden Yards like last night. It's cool and cloudy without only a slight breeze. Tonight's game will begin a little after 7pm ET and you can watch on YES locally and MLB Network nationally. Enjoy the game.
Injury Update: Brett Gardner (wrist) told Chad Jennings he feels "much better today" and expects to return to the lineup Friday. He is available pinch-run and play defense tonight … Joe Girardi told reporters both Chris Capuano (quad) and Ivan Nova (elbow) are progressing well in their rehab. Capuano could be back within a month.
Roster Moves: The Yankees have called up RHP Branden Pinder for tonight's game, the team announced. RHP Joel De La Cruz was optioned to Double-A Trenton to clear a roster spot. Also, RHP Kyle Davies was outrighted to Triple-A Scranton after being designated for assignment the other day.