The Yankees came into the season with a ton — and I mean a ton — of questions on the roster. Every team has questions each year, but the Yankees had more than usual. The rotation was littered with injury concerns, the new-look middle infield was somewhat dubious, the bullpen had been overhauled, and the middle of the order was suspect for many reasons. Among those reasons: the uncertainty surrounding Mark Teixeira and Alex Rodriguez.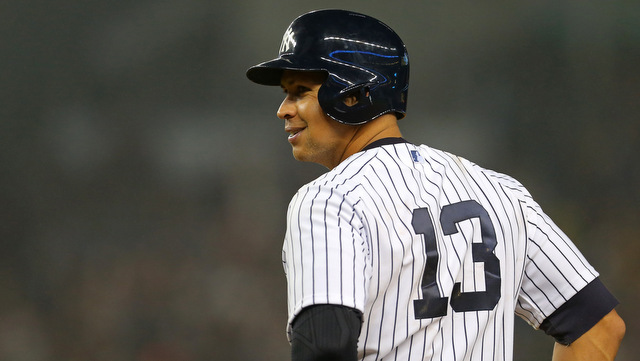 Al From Miami
Last season Rodriguez served the longest performance-enhancing drug suspension in baseball history, a 162-game ban that was reduced from 211 games after an arduous appeals process that included all sorts of lawsuits. He was 39 years old, he had two surgically repaired hips — Alex only played 44 games in 2013 following hip surgery — and the Yankees wanted pretty much nothing to do with him. The only reason A-Rod remained with the team is the three years and $60M+ left on his contract.
So, when Spring Training opened, there was Alex, in pinstripes and with the Yankees. He offered a handwritten apology to fans, held a press conference to smooth things over with the media, then went about his business to prepare for the season, a season in which no one had any idea what to expect from him. Again, 39 years old! Two bad hips! Almost two full years away from the game! Attempting to predict Rodriguez's season was futile.
Spring Training was almost too good to be true. A-Rod hit three long home runs in camp, showed a discerning eye at the plate, and even worked out at first base when the team asked. "It doesn't matter, I am here to play baseball. Whatever (Joe Girardi) wants to do I will do," said Alex to George King in camp, which wasn't the first indication he was going to take a team first approach and say all the right things in his return from the suspension.
As good as A-Rod looked in camp, the regular season was going to be a different story. Pitchers weren't going to be working on things anymore. There weren't going to be a bunch of minor leaguers pitching in each game. It was time to face big league arms consistently for the first time in close to 20 months. Girardi wasn't expecting much, so Alex batted seventh on Opening Day. He went 1-for-2 with a single and a walk. Rodriguez batted seventh the next game as well and went 0-for-4 with two strikeouts. Some good, some bad.
The Yankees faced the left-handed Daniel Norris in the third game of the season, so Girardi decided to bump A-Rod up to second in the order, and he responded with a solo homer, his first of the season. Rodriguez batted third against a lefty the next day, went 2-for-5 with a double, and before you knew it, he was the regular No. 3 hitter. Ten games. That's how long it took Alex to show Girardi he was one of the best hitters on the team and deserved to bat in the middle of the order. Of course, it helps when you do this in the tenth game:
That monster game against the Rays was the "okay, A-Rod's back" moment. That was the game that, in hindsight, confirmed to everyone Rodriguez still had plenty to offer at the plate and wasn't going to be a liability, someone the Yankees would have to grit their teeth and live with because the contract left them no choice. A-Rod showed he is an asset.
The A-Bombs have kept coming, 18 of them so far this year, and Rodriguez also climbed into sole possession of fourth place on the all-time home run list. He tied Willie Mays with a game-winning pinch-hit solo home run at Fenway Park on May 1st and passed Mays with a go-ahead solo home run at home against the Orioles six days later. The Yankees declined to pay Rodriguez the $6M milestone bonus they owed him for tying Mays, claiming his PED ties rendered it unmarketable, but eventually the two sides worked out an agreement with a bunch of money going to charity. It was a messy situation that was settled peacefully, thankfully.
At the plate, Rodriguez put up a .278/.382/.515 (148 wRC+) batting line in the first half and has probably been the team's most consistent hitter. He's been hovering around the .280/.380/.510 mark since mid-May, and every time it looked like he was about to fall into a slump, Alex climbed out of it relatively quickly. Regular off-days have helped. Opponents have tried throwing fastballs by Rodriguez, which is understandable, but that didn't work. They tried to get him with breaking balls next, and that didn't work either.
| | AVG | ISO | K% |
| --- | --- | --- | --- |
| vs. All Fastballs | .307 (.271 MLB avg) | .273 (.152 MLB avg) | 17.8% (15.9% MLB avg) |
| vs. 94+ mph Fastballs | .267 (.249) | .289 (.129) | 20.7% (22.1%) |
| vs. Breaking Balls | .217 (.218) | .145 (.127) | 23.1% (30.5%) |
A-Rod is still an all-around hitter who hits for average, draws walks, hits for power, and can handle both the hard and soft stuff. What he is not, however, is a fielder. Those days are over. Rodriguez started two games at third base and one at first base back in April — the start at first base was really awkward, which is understandable for someone who never played the right side of the infield before — and that was it. The Yankees pulled the plug and decided it was best to use Alex as the full-time DH going forward. He's played 1.2 innings in the field in the last 66 games. That's all.
Limiting A-Rod to DH has hurt the team's flexibility, no doubt about it — it would be nice to start him at third base once in a while so Carlos Beltran could serve as the DH — though it has helped keep him fresh and in the lineup, and that's most important. Is it fair to question his production given his past PED ties? Oh yeah. Alex forfeited the benefit of the doubt a while ago. Either way, he's gone from question mark to indispensable in the first half. Rodriguez's surprisingly great first half is a huge reason why the Yankees are in first place.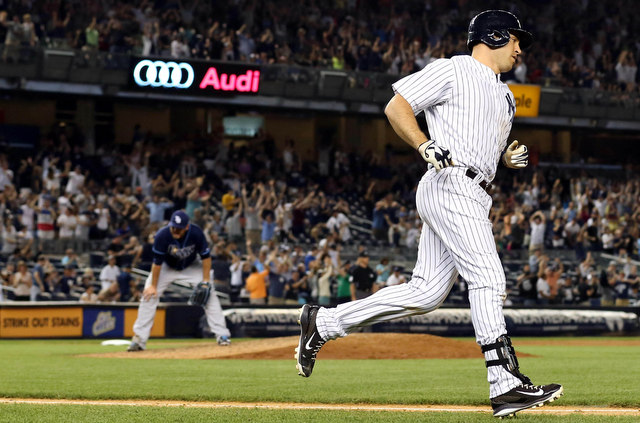 Gluten-Free For Punishment
It's easy to forget Teixeira was pretty excellent in the first half last season, hitting .241/.341/.464 (125 wRC+) with 17 home runs before the All-Star break before collapsing to .179/.271/.302 (62 wRC+) with five home runs in the second half. Teixeira was a year removed from wrist surgery and considering how long it took other sluggers like David Ortiz and Jose Bautista to get back to normal following similar injuries in recent years, it sure seemed like Teixeira was still dealing with the lingering effects of surgery.
Of course, no one wanted to hear that excuse, especially since Teixeira's production and durability had been trending downward since his monster inaugural season in pinstripes back in 2009. Teixeira vowed to get stronger in the offseason — he often said he simply didn't feel strong at times last year — and adopted a gluten-free diet to make it happen. It sounded like lip service. Players say they're going to try new things, adopt a new training regime, all that stuff at the end of every season and it rarely amounts to something.
The early returns in Spring Training were unimpressive — Teixeira hit one homer during Grapefruit League play — but it was only Spring Training, so who knows. As soon as the season started though, Teixeira turned into a power-hitting machine, going deep in the team's third game of the season, then again in their fourth, seventh, 13th, 15th, twice in the 17th, and again in the 18th game. The homers kept coming, and so did the walks — Teixeira hit 14 home runs with 28 walks and 22 strikeouts in his first 44 games of 2015.
The home run pace has slowed — that was inevitable, Teixeira was on pace for 59 homers at the end of April — but Teixeira's general awesomeness has not. He came into the All-Star break hitting .240/.350/.526 (137 wRC+) with 22 homers, 46 walks, and 56 strikeouts in 82 games, equaling his dinger output for the entire 2014 season. That 137 wRC+ is his best at the break since putting up a 145 wRC+ in the first half of 2007. This is only the second time he's hit 22+ homers in the first half too, joining 2005 and 2011 (he hit 25 first half homers those years).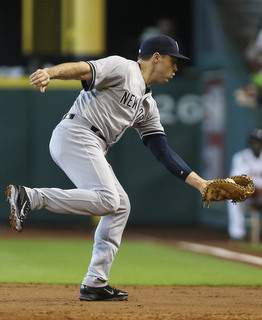 On top of the offense, Teixeira is also back to playing all-world defense at first base. His defense was good last year but I didn't think it was as good as it had been in the past, maybe because he was rusty after missing most of 2013. Teixeira appeared tentative at times making throws and it seemed like he bobbled more ground balls than ever before. The numbers kinda back it up too: Teixeira made only 15 out-of-zone plays last year, a career-low in a full season by a mile. (His previous career low was 32 in 2007 and 2012.) This year? He's at 18 out-of-zone plays already. It's not just the bat, Teixeira's glove has rebounded too.
Teixeira was named to the AL All-Star team for his efforts, something that seemed damn near unthinkable the last few years. His production was slipping each year and the injuries continued to mount, so the thought of getting All-Star production from Teixeira was fading by the season. Maybe the gluten-free diet did the trick. I happen to think getting further away from wrist surgery is the biggest factor for Teixeira. He's just healthier now than he has been in years.
"I've had knee surgery, I've had ankle surgery, you have little things here and there, shoulders and low back. You can play through all that. The wrist is the hardest thing, by far, I've ever had to go through," said Teixeira to Tyler Kepner recently. Ortiz and Bautista showed how long it can take to return to normal after a tendon sheath injury — it took more than a full year for both of those guys as well. Teixeira is on a similar timetable. The wrist is healthy, his power is back, and Teixeira is once again a middle of the order force for New York.
* * *
A-Rod and Teixeira both far exceeded expectations in the first half, so much so that it's fair to say both are performing at or close to the best case scenario. Good health, lots of homers, 135+ wRC+s for both guys? Even the most optimistic of fans couldn't have predicted this. The Summer of Al (and Mark) has given the Yankees the dominant middle of the order they've lacked in recent years. Their performances are a major reason why New York has scored the second more runs in baseball in 2015.