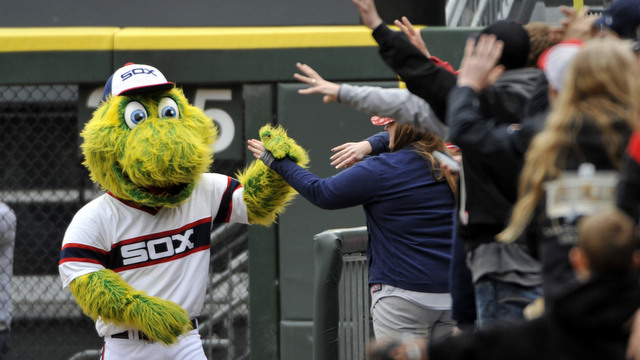 The Yankees are on Chicago's south side for the final three games of this ten-game, three-city road trip. It's almost August and yet this is the first meeting of the season between the Yankees and White Sox. The only other AL team the Yankees have yet to face this season is the Indians. They'll see them in a week and a half.
What Have The White Sox Done Lately?
The ChiSox got off to a miserable start to the season, one that had them looking like a seller at the trade deadline, but they've been hot of late, winning seven of their last eight and 17 of their last 26 games. Suddenly they're being talked about as buyers, or at least not sellers. Chicago is 49-51 with a -52 run differential overall, and somehow they're only 3.5 games out of the second wildcard spot. Welcome to MLB in the year 2015.
Offense & Defense
Despite their strong recent play, the White Sox are still one of the worst offensive teams in baseball, averaging only 3.66 runs per game with a team 84 wRC+. They are managed by ex-Yankee Robin Ventura and, aside from UTIL Emilio Bonifacio, they are healthy on the position player side. Bonifacio was placed on the DL with an oblique strain earlier this week.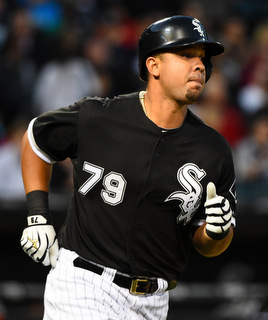 Ventura's lineup has exactly two above-average everyday hitters: 1B Jose Abreu (129 wRC+) and OF Adam Eaton (109 wRC+). Abreu is having a fine season that is a notch below his Rookie of the Year winning campaign of a year ago. That won't make me any less terrified whenever he is at the plate this weekend. Former Yankees OF Melky Cabrera (94 wRC+) has been hitting much better of late but DH Adam LaRoche (80 wRC+) has not. Stalwart SS Alexei Ramirez (55 wRC+) is having the worst season of his career.
3B Tyler Saladino (99 wRC+ in very limited time) was just called up and 2B Carlos Sanchez (59 wRC+) is now playing second everyday. C Tyler Flowers (63 wRC+) and C Geovany Soto (125 wRC+) are the catching tandem and OF Avisail Garcia (87 wRC+) plays right. IF Gordon Beckham (49 wRC+), OF J.B. Shuck (85 wRC+), and UTIL Leury Garcia (two plate appearances) round out the bench. The ChiSox have a strong defense up the middle but not so much on the corners. Melky and Avisail sure do make it interesting in left and right, respectively.
Pitching Matchups
Friday (8pm ET): RHP Nathan Eovaldi (vs. CWS) vs. LHP Carlos Rodon (No vs. NYY)
Rodon, 22, was the third overall pick in last year's draft. The White Sox wasted no time calling him up. He has a 4.09 ERA (3.63 FIP) in 77 innings spread across 13 starts and three relief appearances this year, and he has the kind of peripherals you'd expect from such a young kid: 24.1 K%, 12.8 BB%, 47.1 GB%, and 0.58 HR/9. You don't get to the big leagues this quickly without good stuff (strikeouts and grounders!), but, you know, young pitchers are rough around the edges (walks). Rodon has a big platoon split — righties have a .363 wOBA and lefties a .267 wOBA — which isn't unexpected. His mid-80s changeup lags behind his mid-90s two and four-seamer and wipeout upper-80s slider. Rodon's slider is filthy. It's Andrew Miller-esque. That's the pitch that got him drafted third overall.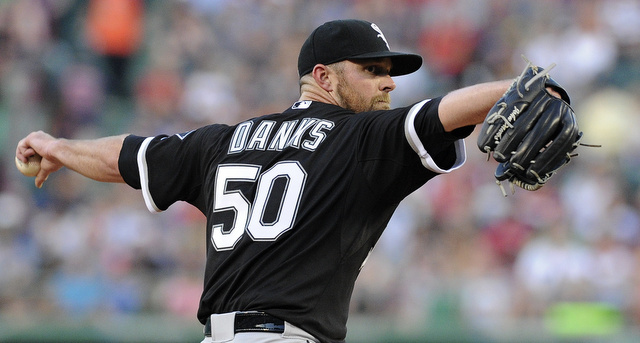 Saturday (7pm ET): TBA vs. LHP John Danks (vs. NYY)
Boy, last year around this time there were a lot of trade rumors connecting the Yankees to Danks, but thankfully that didn't happen. The 30-year-old has a 4.97 ERA (4.37 FIP) in 108.2 innings this year and a 4.80 ERA (4.76 FIP) in 440.2 innings since coming back from shoulder capsule surgery in 2013. He's simply no longer the guy he was before surgery. That's not uncommon for pitchers with a torn capsule. Anyway, the only thing Danks does well is limit walks (6.3%). His strikeout (15.7%), grounder (36.4%), and homer (1.24 HR/9) rates are not good and righties have crushed him (.380 wOBA). Danks has held his own against lefties though (.271 wOBA). Post-shoulder surgery Danks sits in the upper-80s with his two and four-seamer and a tick below that with his cutter. A low-80s changeup is his go-to secondary pitch and he'll also throw a few mid-70s curveballs per start. But mostly Danks mixes the changeup in with the fastballs and that's it.
The Yankees do not have a starter for tomorrow right now because Michael Pineda landed on the DL yesterday with an elbow injury. Adam Warren, Bryan Mitchell, and Diego Moreno are all candidates to start — I suppose Warren and Moreno could tag team the start similar to earlier this week — though Joe Girardi said all those guys are available in the bullpen tonight if necessary. Esmil Rogers is scheduled to start for Triple-A Scranton tomorrow and I suppose that makes him a candidate too. And, you know, they could also always trade for a starter before the trade deadline today. That'd be neat.
Sunday (2pm ET): RHP Ivan Nova (vs. CWS) vs. RHP Jeff Samardzija (vs. NYY)
Thanks to their recent surge, the ChiSox are leaning towards keeping the 30-year-old Samardzija at today's trade deadline. That's a shame. He'd look great in pinstripes. Samardzija has a 3.94 ERA (3.58 FIP) in 148.1 innings this year with a tiny walk rate (4.4%) and slightly lower than league average strikeout (18.2%), grounder (41.3%), and homer (0.91 HR/9) numbers. Left-handed hitters (.322 wOBA) have had a little more success against him than righties (.289 wOBA). Samardzija sits in the mid-90s with his four-seam fastball and low-90s with his cutter, and in the mid-80s with his splitter. He also throws a mid-80s slider. Samardzija's a no nonsense guy. He goes right at hitters with power stuff.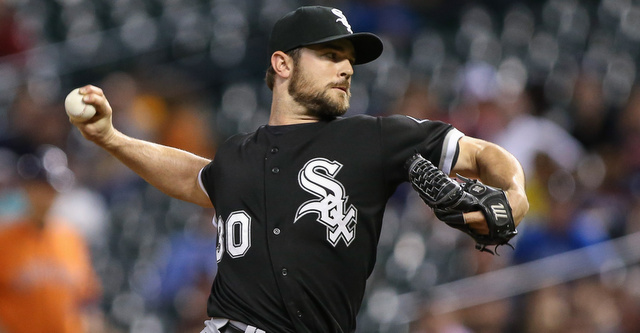 Bullpen Status
Overall, the White Sox have a middle of the pack bullpen (3.50 ERA/3.77 FIP) that is top heavy. Former Yankee RHP David Robertson (2.63/2.00) is the closer and former Yankees draft pick RHP Jake Petricka (3.06/3.36) joins LHP Zach Duke (3.32/4.77) as his primary setup men. Robertson is having another fantastic season with a career-best walk rate (6.1%), a career-best swing-and-miss rate (15.7%), and his typically awesome strikeout rate (35.6%). Nothing but love for D-Rob.
RHP Matt Albers (1.38/4.31 in limited time), LHP Dan Jennings (5.97/4.08), RHP Zach Putnam (3.21/3.64), and RHP Daniel Webb (1.47/4.06) round out the rest of the bullpen. Albers and Jennings both pitched yesterday. The middle relief is a little shaky. You can get to them in the sixth and seventh. The eighth and ninth? Not so much. Our Bullpen Workload page has everything you need to know about Girardi's bullpen and South Side Sox has everything you need to know about the White Sox.