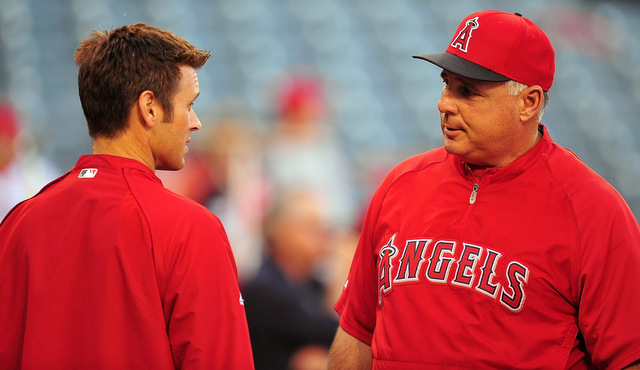 The Angels have won four straight games, including the last two against the Yankees, yet the team is mired in dysfunction at the moment. According to multiple reports, GM Jerry Dipoto either resigned or was fired yesterday following an ongoing power struggle with manager Mike Scioscia. Ken Rosenthal detailed their problems earlier this week. It's unclear what exactly happened. Dipoto is apparently out of the picture, however.
The friction between Dipoto and Scioscia has been going on for several years now. It appeared things were coming to a head back in 2013, but they were able to smooth things over, and those 98 wins last year helped keep everyone happy. This year, the Halos are falling short of expectations (41-37 with a +0 run differential) and their offense has struggled (3.87 runs per game), so the Dipoto-Scioscia feud rekindled.
I'm not surprised Dipoto lost the latest battle and the war — Scioscia is an iconic manager and it just doesn't seem like he will lose any sort of power struggle at this point. Someone else in the front office will presumably take over as interim GM and the Halos will begin a search for a permanent GM. It's an ugly situation with implications leading up to the trade deadline, implications that could affect the Yankees in more ways than one.
The Angels are going to replace Dipoto with a newbie GM, at least initially, and the new GM will inevitably look to impress his bosses. It's human nature. Got a new job? Work hard to show your new bosses they hired the right person. I think the likelihood of the Halos being ultra-aggressive at the trade deadline just went up, which means more competition for the Yankees. The Angels were going to look for upgrades anyway. Not they might be looking for those upgrades with a crazy new GM willing to pay big.
Reportedly, Dipoto was seeking a veteran middle of the order bat in recent weeks, specifically in left field or at DH. (Turns out they could have used Josh Hamilton, huh?) The Yankees don't need a player like that but they do have one to offer! At least in theory. Carlos Beltran would be a fit for that role with the Halos and it would allow the Yankees to clear an outfield spot for a younger player like Mason Williams or Ramon Flores or Aaron Judge. Win-win!
Except it won't happen. Probably not. Beltran has a full no-trade clause and has wanted to wear pinstripes for years and years. I doubt he'd accept a trade to a team far away from home and in a worse position to contend than the Yankees. (The Yankees and Angels are both a half-game back of a wildcard spot, but the AL East is way more winnable than the AL West right now.) Still, it's a thought that crossed my mind, and I guess there's a chance the front office situation in Anaheim could impact things.
The Angels are also looking for pitching depth (who isn't?) and, like Beltran, the Yankees are at the point where they're probably better off paying CC Sabathia to pitch elsewhere, a la A.J. Burnett. Sabathia has ten-and-five no-trade protection but maybe the Yankees could sell him on the idea of moving to a bigger ballpark in a division with several other big ballparks at this point of his career. Plus Sabathia would be going home to California. (Not really though, he's from Northern California. It's like saying playing for the Braves is a homecoming for someone from North Carolina.)
Angels owner Arte Moreno has a history of doing wacky things (the Hamilton and Albert Pujols contracts!), so it's easy to dream about the Yankees getting a "get out of jail free" card with Beltran and Sabathia. Even if the Yankees were willing to eat money  — how about eating, say, $30M of the guaranteed $64M or so still owed to Beltran or Sabathia? — and take less than interesting prospects in return, the no-trade clauses are an obstacle. Moreno might be crazy and the new GM might want to impress — what better way is there to impress than by reeling in big names? — but file this under things that have maybe a 1% chance of happening. Maybe.
Dream about unloading Beltran and Sabathia if you want. In reality, the front office turmoil in Anaheim hurts the Yankees most at the trade deadline by adding a likely-to-be-aggressive bidder to the market. Both teams need pitching, so they'll be in competition there, and the Angels could also go after Ben Zobrist to bolster their lineup. The Yankees could use Zobrist at second base, the Angels could use him in the outfield. There figures to be a little more competition at the trade deadline now, so the Dipoto-Scioscia feud may have made life more difficult for New York this summer.