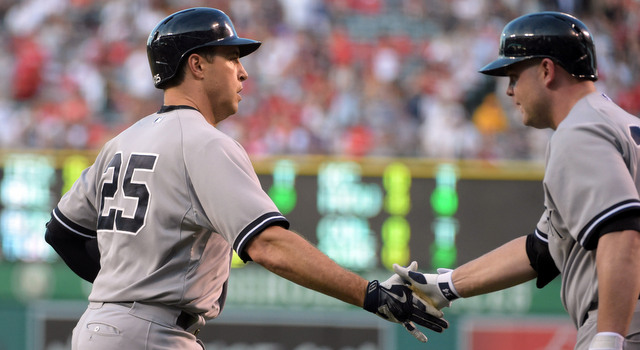 The Yankees have scored one run in each of their last three games. It's the first time they've scored one run or fewer in three straight games since 2013 and only the third time they've done it this century. The last time they scored one run or fewer in four straight games? You have to go back to 1990. Yikes. Trying avoid tying some dubious history tonight.
Because the non-Adam Warren bullpen is well-rested and there's an off-day tomorrow, the Yankees only need about five good innings out of Nathan Eovaldi tonight. I'm guessing Chasen Shreve, Justin Wilson, and Dellin Betances are all good for four or five outs to nail down a win if necessary. Of course, scoring runs would be nice. Plural. More than one. Here is the Halos' lineup and here is the Yankees' lineup:
CF Brett Gardner
3B Chase Headley
DH Alex Rodriguez
1B Mark Teixeira
C Brian McCann
RF Garrett Jones
LF Chris Young
SS Didi Gregorius
2B Stephen Drew
RHP Nathan Eovaldi
You're not going to believe this, but the weather is pretty much perfect in Anaheim time. Mid-80s, sunny, no humidity … a lovely day for baseball. Tonight's game will start at 7pm ET and you can watch on YES locally and ESPN nationally. Enjoy.
Injury Updates: Andrew Miller (forearm) threw 20 pitches off a mound this afternoon with no problems. Pitching coach Larry Rothschild said Miller could return before the All-Star break, which is only two weeks away now … Carlos Beltran (ribcage) is day-to-day for now and will undergo tests when the team returns to New York tomorrow.
Roster Move: In case you missed it earlier, Taylor Dugas has been called up from Double-A Trenton and Esmil Rogers was again outrighted to Triple-A Scranton. Dugas is Beltran insurance for the time being.