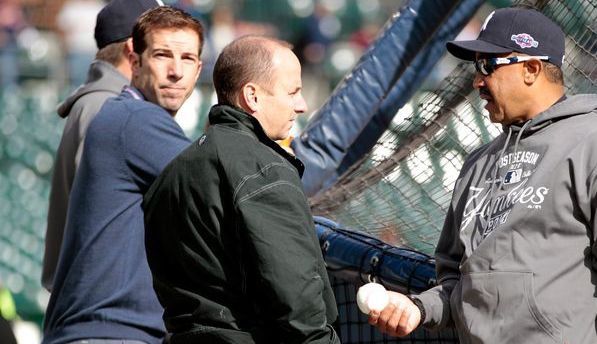 September 17th: Eppler met with Mariners brass in Chicago last night, reports George King. Seattle supposedly prefers a GM with experience, though they have a long list of candidates and are covering all their bases.
September 15th: Eppler was scheduled to meet with Angels owner Arte Moreno and team president John Carpino in New York last night, reports George King. Eppler interviewed with the Angels a few years ago, so it seems like the two sides were getting reacquainted more than anything. He is supposedly very high on their wish list.
September 9th: According to Ken Rosenthal, assistant GM Billy Eppler will interview with both the Angels and Mariners for their GM openings. The Yankees granted both teams permission to speak to Eppler, which isn't surprising. Clubs usually won't block a chance at an upward move.
Eppler, 39, interviewed with the Angels back in 2011 and was reportedly the runner up to Jerry Dipoto. Dipoto resigned earlier this year after losing a power struggle with manager Mike Scioscia. A few days ago we heard Eppler was considered the front-runner for the Halos GM gig. He's a Southern California native and could jump at the chance to return home.
The Mariners fired GM Jack Zduriencik a few weeks ago and are in the process of picking a replacement. The Seattle job seems like a pretty good one — great city, great ballpark, and something of a clean slate. The new GM will presumably be able to bring his own people. Scouts, assistants, coaches, etc. With the Angels, the new GM will be stuck with Scioscia. Owner Arte Moreno made that clear when he picked Scioscia over Dipoto earlier this summer.
Eppler has been with the Yankees since 2005. He started as a scout and worked his way up the ladder, getting promoted to assistant GM back in 2012. Eppler has interviewed for several GM openings over the years, including with his hometown Padres this past offseason, and eventually he'll snag one. I thought he would one day take over for Brian Cashman, but that seems more and more unlikely.