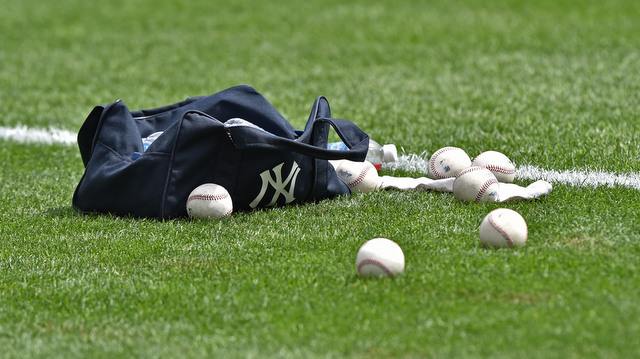 Here are some stray links and notes related mostly to league-wide matters that affect the Yankees and their fans.
MLB announces in-market streaming deal with FOX
Yesterday afternoon commissioner Rob Manfred announced MLB has agreed to a three-year deal with FOX to provide in-market streaming. It is only available for teams whose games are broadcast by FOX Sports — that's 15 teams, so half the league — and that does include the Yankees thanks to the YES deal with News Corp. a few years back. This is NOT a cable alternative. You have to subscribe to YES through your cable provider for in-market streaming. It's better than nothing, I guess. MLB is still working with the other networks on in-market streaming deals.
MLB to recommend new stadium netting regulations
Manfred also announced yesterday that MLB will recommend new stadium netting regulations for the 2016 season. (That's the netting behind home plate. Duh.) It's unclear how far the league will ask the netting to be extended but to the dugouts seems reasonable. There were several incidents of foul balls and broken bats injuring fans last year. Not everyone is as lucky as this guy:
"In addition to a recommendation on the physical location of nets, there will be a broad fan education component to the program," said Manfred to the
Associated Press
. "A lot of things seem easy and are not always so easy. We want our fans to be safe in the ballpark, but we also have lots of fans who are very vocal about the fact that they don't like to sit behind nets."
Martone leaves, Murtaugh joins front office
The front office shuffling continues. Manager of pro scouting Steve Martone, who had been with the Yankees the last nine years, has left the organization to become Billy Eppler's assistant GM with the Angels, reports Mike DiGiovanna. Martone, 35, was responsible for identifying trade and waiver targets on other clubs. He'll do something similar with the Angels. No word on how the Yankees will replace Martone.
Meanwhile, Nick Piecoro reports veteran scout Pat Murtaugh recently left the Diamondbacks to join the Yankees' pro scouting staff. Murtaugh, 56, has been in the scouting game a very long time, and, as Piecoro wrote two years ago, he was the scout who recommended Didi Gregorius to then D'Backs GM Kevin Towers back in the day. The Yankees lost Eric Chavez to the Angels a few weeks ago. Chavez had been working in the pro scouting department.
CBA negotiations to begin early next year
Last week, MLB chief legal officer Dan Halem told Mark Feinsand Collective Bargaining Agreement negotiations between MLB and the MLBPA are likely to begin early next year, in February or March. The current CBA is set to expire on December 1st, 2016. The qualifying offer and international free agent spending systems figure to get an overhaul, among other things. (We could see an international draft.) MLB has had labor piece for over two decades now. The game is flush with money and I doubt either side wants to mess things up with a work stoppage. I'm hopeful MLB and the union will get a new deal worked out without much of a headache.
MLB minimum salary will not rise in 2016
According to the Associated Press, the Major League minimum salary will remain $507,500 next season due to a lack of inflation. The CBA includes a modified cost-of-living adjustment. The methodology used actually said the minimum salary should be reduced next year, but lol no. The CBA says the minimum salary can only go up, not down. Minimum minor league salaries for players on split contracts are $41,400 for first year players and $82,700 thereafter. Baseball's good work if you can get it.