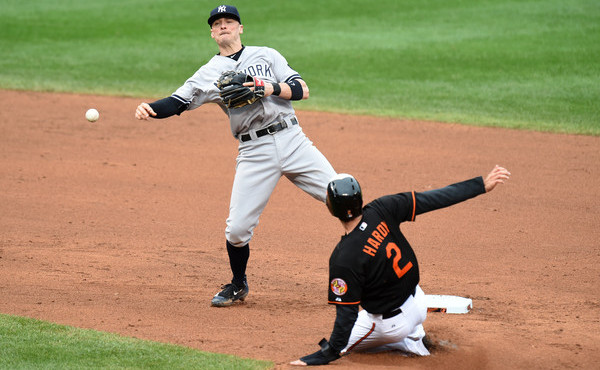 As expected, the Yankees declined Andrew Bailey's club option for 2016 earlier today, the team announced. Also, Brendan Ryan exercised his 2016 player option worth $1M. The Yankees actually hold a $2M club option for Ryan, but there's no reason to pick that up now. Not unless the Yankees feel like being generous and giving Ryan an extra million bucks.
Bailey, 31, originally signed a minor league contract with the Yankees prior to last season that included a club option for 2015. The team declined the club option and re-signed him to a new minor league contract last winter because he was still rehabbing from shoulder surgery. The club option for 2016 was worth $2M and I didn't see anything from Bailey during his limited time in September that made me think he's worth $2M.
Even though the Yankees declined their club option, Bailey remains with the organization as an arbitration-eligible player. MLBTR's model projects a mere $900,000 salary for Bailey next season if the Yankees decide to keep him around. That's probably worth it, though Bailey can refuse an assignment to the minors at his service time level, so stashing him in Triple-A probably isn't an option.
Ryan, 33, was likely looking at a minor league contract if he went out into free agency this offseason, so it's no surprise he picked up his $1M option. He hit .229/.275/.333 (64 wRC+) in 47 games and 107 plate appearances this summer while playing strong defense. Joe Girardi regularly used him against left-handed pitchers and Ryan responded by hitting .283/.321/.453 (109 wRC+) against southpaws.
The Yankees could eat the $1M and cut ties with Ryan this offseason, but they'll need to replace him with another shortstop capable backup infielder. They don't have anyone like that in the minors. The list of free agent backup middle infield types includes Mike Aviles, Clint Barmes, and Cliff Pennington. Spoiler: They'll annoy you just as much as Ryan. He's an acceptable backup infielder as long as his playing time is limited.