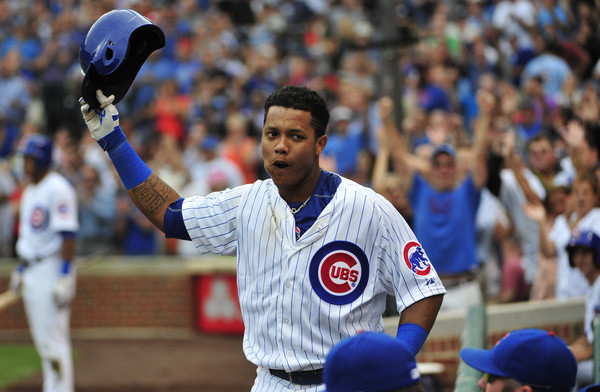 In more ways than one, Derek Jeter's retirement following the 2014 season marked the end of an era for the Yankees. The face of their run of success from 1996-2014 — even the bad years from 1996-2014 weren't that bad — was gone and the team was going to have to find a new identity. They're not Jeter's Yankees anymore. They're … someone else's. I'm not sure who yet.
The Yankees as an organization changed course after Jeter's retirement as well. The goal was always win win win during the Jeter era and understandably so, right? The Yankees had great teams with great players in their primes. That's when you're supposed to win, and the Yankees did a lot of winning those years. The team always went after the best players even when they had "overpay."
But, since Jeter's retirement, the focus has shifted a little bit. The Yankees still want to win, but not at the expense of the future, both in terms of prospects and payroll. The club is trying to balance winning now with winning later, which is not easy to do. Last year they added younger players (Didi Gregorius, Nathan Eovaldi, Luis Severino) to the roster and still qualified for the postseason. That's rebuilding the Yankees way.
"We can't rebuild here. That's not what we're about, our fan base," said team president Randy Levine to Brian Heyman recently. "We're trying to win every year and we're trying to get younger and transition. Most teams, they have two, three, four years to rebuild. We don't do that. So the fact that we are rebuilding, all these young players being introduced while we're being competitive — we were a game from going on — I think that's very hard to do."
For most teams, tearing it all down and rebuilding is a necessity. Smaller market teams like the Brewers and Braves can't retool and try to win at the same time like the Yankees. They don't have the resources. At the same time, the Red Sox and Angels have shown getting younger and winning is not easy to do simultaneously. They keep trying to incorporate young players and that's great, but they also keep falling short of expectations.
That Yankees, on the other hand, keep exceeding expectations. Eighty-seven wins last year is nothing to brag about, but they had the fourth best record in the AL, and many folks were counting the club out before Opening Day. The Yankees were being picked to finish in fourth or fifth place. They'll be picked to finish in fourth or fifth place again next year. That's just the way it is now. It's been like that for what, seven or eight years now?
The zombie Yankees never go away though. They're always more competitive than most of the rest of the league — you can blame the 1994 strike for the last time the Yankees didn't play meaningful games in late-September — and now they're not even trying to win. Not entirely, anyway. Their goal is building a new core, and yet they're not starting the season with close to no chance to win. Winning is a goal, but not the only goal.
Rebuilding sucks. The years of losing sucks. The idea of building the next great team is awesome — only if it works, of course — but sitting through the process of building that team is awful. There's nothing fun about watching a non-competitive team day after day. No matter how down you may be on the current Yankees, we haven't had to sit through anything like that in a long time.
I don't know if this on-the-fly rebuild will work. The Yankees have taken chances on talented guys like Gregorius, Aaron Hicks, and Starlin Castro and they might never figure it out. They might never be anything more than complementary players. Severino might be Neftali Feliz. Greg Bird might be Ike Davis. Aaron Judge could be Drew Stubbs. It could all go horribly wrong. Everyone loves the Cubs and Astros rebuilds but forgets about the Rockies and White Sox. It doesn't always go according to plan.
For now, I do know I am more excited about watching the current Yankees than I have been at any point since 2012. There is bonafide youth and upside on the roster, and I don't mean Andy Phillips and Jeff Karstens types. I mean potential cornerstone players. The Yankees have really done a fantastic job adding young talent to the roster the last 15 months, and they did it while not being completely uninteresting on the field. As far as I'm concerned, this is exactly the kind of rebuild a big market team should attempt.