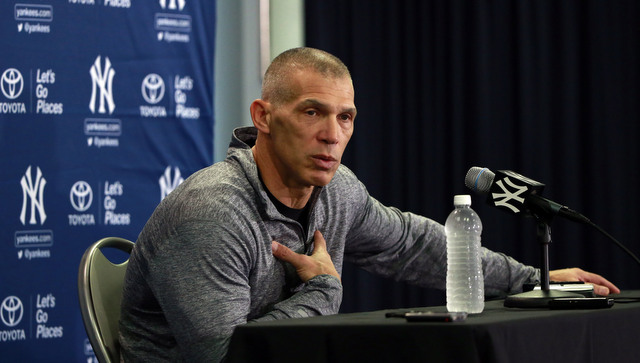 Pitchers and catchers reported to Tampa for Spring Training today, meaning the first steps of the marathon that is the 2016 season have been taken. Joe Girardi met with reporters for his annual start-of-spring press conference this morning, and of course he was asked about all aspects of the team.
"Pretty much (quiet). I think it was evidence in the amount of time it took someone to ask a question this morning," said Girardi when asked about this being a normal camp because they're no huge stories. "We haven't had the big story and that's nice … It is a pretty regular Spring Training. I hope that doesn't make it a boring Spring Training, but it is regular."
Normal spring or not, Aroldis Chapman dominated this morning's press conference, with questions about his pending suspension, the domestic dispute incident, and his role as closer. You can watch Girardi's press conference right here (it's chopped up into smaller clips.) Here's a recap of the important stuff with some thoughts thrown in.
All Things Aroldis
On an appropriate punishment: "I think that's up to the commissioner to decide. That's not my job. Obviously I wasn't in the room when they put the (domestic violence) policy together. I have not reviewed the cases … I know it's very serious and we have to take it very serious. To me, it's very important when there's an issue, it's taken care of."
On behavioral concerns: "Obviously you look at behavioral patterns to see if guys are maturing … We've all probably done things in our lives we wish we could do a little differently. I want to get to know him before I really form an opinion about his character. It's unfortunate sometimes players get labeled before you a chance to know him."
On conduct: "I think there's an expectation of conduct and how you're supposed to handle things. The court of law is different than the court of MLB or the MLBPA (or) the public's opinion. I think we have a responsibility as athletes with the way we present ourselves on and off the field, and I'm okay with that."
On Chapman's decision to appeal any suspension: "I think it tells you he wants to question the suspension … Does it tell me maybe he (doesn't think he did) something wrong? I don't think it says that."
On getting to know Chapman: "I think it's really hard to form a really good opinion by talking on the phone. There's some language issues there … He's very thankful to be here … But until I really get around him it's really hard to form an opinion.
On making Chapman the closer: "He's been a closer most of his career. It's (a role) he's probably most comfortable with. Andrew Miller did a tremendous job … Andrew has been a reliever most of his career — setup guy, seventh inning guy, lefty specialist — I thought it would be (easier for him) to adjust to it better than Chapman."
On the trade itself: "His name was brought up, then it kinda died, then it happened really fast. I had some information about it (but) I was not given much information."
Girardi danced around any questions regarding Chapman's domestic dispute incident, which was to be expected. Technically MLB's investigation is still ongoing and he wasn't going to say anything remotely controversial. Girardi deflected everything with "that's up to MLB" and "I have to get to know him," basically.
I hope commissioner Rob Manfred announces the suspension soon, however long it may be, so Chapman can file his appeal and go through the process. The longer this goes on, the more of a distraction it will be. Let's rip the band-aid off, so to speak. The sooner we can begin focusing on nothing but baseball, the better. During the press conference you could tell Girardi felt the same way.
The Rotation
On Masahiro Tanaka's elbow: "We will watch him closely to see where he's at … We'll make sure that we put him in a situation where he's ready to go pitch before he gets into a game. If it takes a little longer, it takes a little longer."
On the fifth starter spot: "I think you have to let things work their way out in Spring Training. I know (CC Sabathia's) name has been brought up in that conversation, as well as Ivan Nova. Sometimes things have just a way of working out. The competition just goes way. A lot of times, unfortunately, that comes down to health … The big thing is that we have five healthy starters when we leave Spring Training. That's my goal. We'll take the five best starters."
On managing workloads: "I thought putting an extra starter in there helped them … I think just watching them physically and watching their innings (is important). You have to be sensitive to your bullpen that it doesn't get overworked. I think we were able to manage that because (the young relievers) were able to come up and be interchangeable."
On Luis Severino's workload: "I think he's a guy that can handle 200 innings."
There were surprisingly few questions about the rotation. I guess that's what happens when you have five pretty clearly established starters plus a sixth starter who's been around the block. I don't buy Sabathia being involved in any kind of fifth starter competition though. If he's healthy, he's going to be in the rotation. We all know that. As for Severino throwing 200 innings … we'll see. I'd bet against it.
The Position Players
On Brett Gardner playing hurt: "He actually got hit (in the wrist) in April. This was something he dealt with all year long, and if you remember his July, it was an MVP type of month. Sometimes it's hard to predict. Was it fatigue? Was it the wrist? Did he just get in a bad way? … Everyone plays beat up, that's the bottom line. That's what happens in our game … You hope players are honest enough with you that when it becomes too much, they come to you. He never felt it was too much and we didn't either."
On expecting veterans to produce again: "I think you can expect it. You have to manage them physically and their workload in a sense to make sure they're strong at the end of the season. And that's something when you're fighting for that spot to get into the playoffs, it gets harder to manage that workload … I think the versatility of our club should help that."
On mending fences with Jacoby Ellsbury: "I have talked to him over the winter … I had a tough decision. Brett Gardner has been pretty successful here too. Maybe he wasn't as big a free agent signee as Jacoby Ellsbury, but Brett Gardner has been extremely productive in his career. That was a hard decision. I was going to disappoint someone immensely. I did what I thought was best for the team."
On Starlin Castro at third base: "It's something that I need to talk to him about to see where he is. I have not talked to him. I want to talk to him face-to-face about the possibility of what do we do if we need to give (Chase Headley) a day off. That's something that will be important when we get to Spring Training to talk about."
On A-Rod: "He is our DH and we expect him to be productive … He'll be ready."
I though the Ellsbury question was pretty funny. Girardi was asked about saying he had to mend the fences with Ellsbury but quickly pointed out he never said that. He was asked whether he had to mend the fences at the end of last year, that's it. He never thought much of it. Girardi spoke to Ellsbury this offseason and this seems like a whole bunch of nothing.
Girardi again made it clear the Yankees want to rest their veteran players as much as possible this season, and he indicated the Castro and Aaron Hicks pickups will allow them to do that. (He also said Castro and Didi Gregorius are young and don't need as much rest.) He didn't name names and didn't explain how he intends to rest these guys, but I think we all have a pretty good idea. We'll find out soon enough.
Miscellany
On goals for 2016: "Our goal is to win the World Series. Bottom line. I appreciate how hard our guys played all year, how they never gave up last year, but you know what? We didn't get to where we wanted. We lost in the first round of the playoffs … Our goal is to win the World Series. That's why we come to Spring Training."
On getting over 2015: "It's never easy … I really don't get over it until baseball ends. Completely ends. There's an emptiness inside that you should be there. You try to avoid that one-game playoff and be a division winner. Our first goal is win the division this year."
On biggest spring concerns: "There's some competition here. When you look at some spots in our bullpen, I think we have to iron that out. And I always have concerns about players trying to do too much. I will let them know you're not going to impress me in your sides, you're not going to impress me in the first week of games."
On some new additions: "We added Castro, who gives us an everyday second baseman that has been productive in his career. (This) is a young man that has almost 1,000 hits and is only 25 years old … We added a switch-hitter as an outfielder, which gives us more of an opportunity to rest maybe our two left-handers out there against left-handers more often, in a sense. I think we're deeper."
On young players contributing again: "You might be a non-roster player, you might be in Double-A when you get sent down, but you may have a chance to contribute … That wasn't an easy job for the relievers — I was honest with them, I told them what was going to happen — but be the guy what when we make another move, is throwing well … Anything can happen. If you're in uniform, anything can happen, so give everything you've got."
Are the Yankees better than last year? "I think so. I think on paper we are better. Paper doesn't really mean anything until you go out and compete … I think there's more depth. I think our younger players in the minor league system have gotten a taste (and are eager to contribute)."
There wasn't as much talk about young players contributing this year. There's been a lot of that the last few years. I guess that after last season — Girardi mentioned Slade Heathcott, Mason Williams, and Rob Refsnyder (among others) by name when asked about who impressed him last season — and an offseason in which the Yankees signed zero big league free agents, it's common knowledge they're going to rely on young players again. That's pretty cool. And kinda scary.