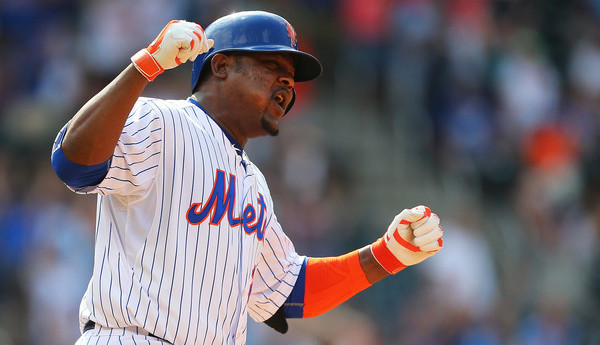 After four long months of offseason, the Yankees opened Spring Training yesterday as pitchers and catchers reported to Tampa. Position players will follow next Wednesday. Grapefruit League play begins the week after that. Soon real live baseball will be on our screens, and we'll be overreacting to small sample sizes against low quality competition even though we all know we shouldn't.
The offseason is over but the roster building is not. It never is. The Yankees have made some notable moves in the middle of Spring Training in recent years, including trades to acquire Shawn Kelley, Vernon Wells, Chris Stewart, and Chris Dickerson. They also traded way Eduardo Nunez and signed Lyle Overbay during the spring. There are always a final few tweaks made in the spring.
Right now several quality free agents remain unsigned — can the Yankees please sign Juan Uribe now? pretty please? — and apparently the trade market is still active. Rays president of baseball operations Matt Silverman told Marc Topkin the "transaction window is open longer" these days, and added more teams are willing to talk about significant trades in Spring Training.
The Yankees spent all offseason looking to add a young starter and were willing to discuss Andrew Miller and Brett Gardner in trades to make it happen, but nothing got done. There will always be a trade market for Miller as long as he's healthy because he's very good, very affordable, and teams always need bullpen help. The market for Gardner is limited right now because so many teams added outfielders through free agency.
The Angels, however, have not yet addressed their left field issues. Yesterday Mike Scioscia told Jeff Fletcher the team intends to bat Mike Trout third this year, which is no big deal in and of itself, but it prompted me to look at their depth chart to see who would be candidates to bat first and second ahead of Trout, and holy crap, look at this team: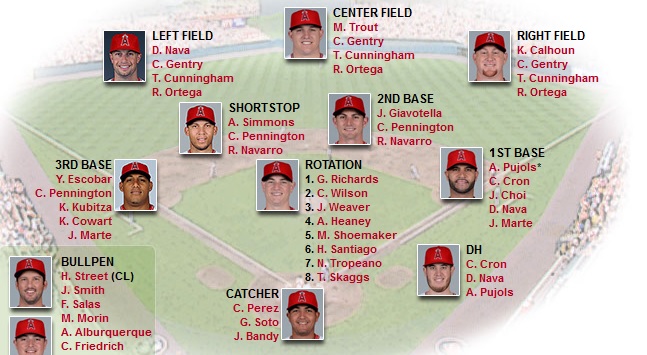 Albert Pujols is questionable for Opening Day following foot surgery, so Anaheim's offense right now is basically Trout, Yunel Escobar, and Kole Calhoun. And I guess C.J. Cron, who can mash taters but lacks on-base ability. I mean, I knew who they had on the roster, but it's shocking to see how unimpressive that offense is when you look at all the names in one spot.
I've mentioned the possibility of a Gardner-Angels trade a few times this winter and it still looks like such a perfect fit. The Angels need a left fielder and leadoff hitter, and they have some pitching to spare. Gardner's salary, while not exorbitant, may be an issue because the Halos have about $12M in wiggle room under the luxury tax threshold. The Yankees could always pay down some of his contract to facilitate a deal.
Anyway, I don't want to turn this into another "trade Gardner to the Angels post," I just wanted to use that situation as an example of how the Yankees could still upgrade their roster. There are free agents who fit the roster — did I mention Juan Uribe is still available? because Juan Uribe is still available — and there are still potential trade partners out there. With so many more teams in contention nowadays, you'd expect there to be desire to improve.
The Yankees don't have a ton of open roster spots at the moment — the last bench spot and three bullpen spots, that's about it — though there are always ways to upgrade, and the Yankees should be in the business of upgrading both short and long-term. A Gardner trade would be significant and I think it remains unlikely, but small trades (like Kelley and Stewart) and small signings (Juan Uribe!) are out there waiting to be made.
Spring Training has begun, but Opening Day is still more than six weeks away, so there's lots of time for Brian Cashman & Co. to fine tune the roster. The AL East is so very competitive that every upgrade, no matter how big or small it appears, it's worth making.
Update: The Indians just signed Uribe according to Ken Rosenthal. No word on the terms. Grumble grumble.