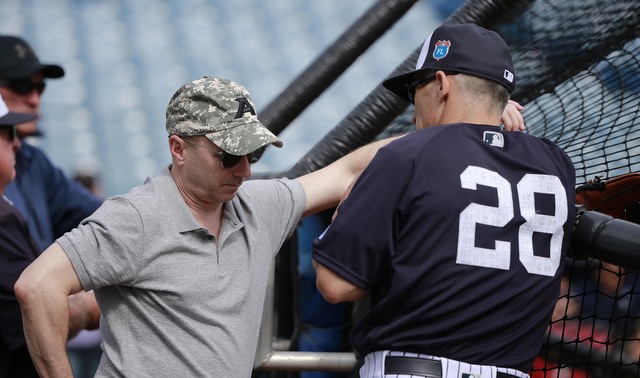 According to Jon Heyman, the Yankees may look to add a veteran reliever or two before Opening Day to improve their middle relief situation. The club has no shortage of bullpen candidates but very few have actually pitched well in Grapefruit League play. This spring was a chance for some of those shuttle relievers to stand out, though none of them really did it.
The out of options market doesn't have much to offer. The Yankees could wait to see what Article XX(B) free agents become available in the the coming days. Article XX(B) free agents are players with at least six years of service time signed to minor league contracts. They get a $100,000 bonus if they're sent to Triple-A and an automatic June 1st opt-out. Those who don't make the team are usually released in the spring though, like Chris Denorfia.
Among this year's Article XX(B) relievers are Burke Badenhop, Matt Belisle, Craig Breslow, Chris Capuano, Brian Duensing, Casey Janssen, Franklin Morales, Peter Moylan, Edward Mujica, Bobby Parnell, Manny Parra, and Jamey Wright. Quite a group there. Some have already been released (Janssen, Parnell) and some are actually going to make their team's Opening Day roster (Mujica), so the availability varies.
Do any of those guys seem worth the trouble? Badenhop and Belisle could be serviceable, and Parnell could be interesting now that he's further away from Tommy John surgery, otherwise I'm not sure I'd give any of those guys a big league roster spot over the shuttle relievers. There's always something to be said for accumulating depth. I just see these Article XX(B) guys as warm bodies to soak up innings, not have a real impact.
The trade market is always pretty active at the end of Spring Training, though I wonder how many teams legitimately have an extra reliever to spare. Very few, I'm sure. In fact, the Yankees might have the most bullpen depth to offer in trades than any other team in baseball given all the shuttle relievers. I'm guessing Brian Cashman will get some calls about the team's Triple-A bullpeners, if he hasn't already.
Right now I don't expect the Yankees to make a move for bullpen help. It's not a huge priority. If anything, I could see Cashman & Co. trading a reliever, perhaps for a new utility infielder. The bullpen is certainly a position of depth, and hey, you can't keep everyone, so trading an extra arm to fill a need elsewhere only makes sense.