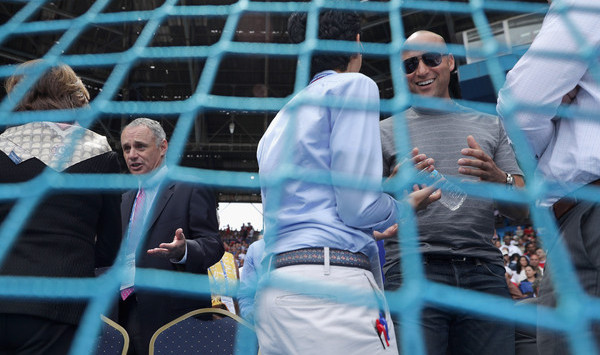 Earlier this week, Derek Jeter was part of MLB's contingent in Cuba for the Rays' exhibition game against the Cuban National Team. Tampa Bay won the game 4-1, though the trip was about much more than that. MLB wanted to make some inroads in Cuba and help grow the youth baseball landscape, and the trip also served a diplomatic purpose as President Obama, who was also on the trip, seeks to normalize relations between the U.S. and Cuba.
Among the other ex-Yankees to join Jeter in Havana were MLB executive Joe Torre and MLBPA executives Tony Clark and Dave Winfield. During yesterday's game, Jeter sat down with the ESPN booth for a lengthy interview, and during that interview he reiterated his desire to get back into baseball as an owner.
"I needed to be away from the game for a year," said Jeter (video link). "I didn't watch too many games at all — obviously I have a lot of friends that are still playing, so I follow them, I communicate with them, I talk with them — but in terms of sitting down and following the game, I haven't done it. But I'm going to start doing it again because I've always been very vocal about my next goal and desire is to be a part of an ownership, so I have to start paying attention."
The Cap'n joked he doesn't have the money to be considered for an ownership group — "Do you know much these teams cost?" he said — and added he is very early in the process of getting his foot in the ownership door. "The first step is sitting next to (commissioner Rob Manfred). I'm trying to get on his good side and hopefully get that opportunity," added Jeter.
Jeter first acknowledging owning a team is "the next goal" back in June 2014, when he was still playing. I've always sorta assumed that when the time did come, the Steinbrenners would allow Jeter to purchase a chunk of the Yankees, but it's not really that simple. First and foremost, the Steinbrenners say they aren't selling the team, and it seems unlikely Derek would have much control with the Yankees. Does Jeter seem like the type to settle for being a figurehead owner? Nah. Buster Olney (subs. req'd) has more:
After it was announced that Jeter would be part of Major League Baseball's entourage to Cuba, there was a fair amount of buzz within the industry that this might be the latest indication that Jeter will eventually but inevitably join the Tampa Bay Rays' ownership group.

Two MLB sources say they have not heard anything substantive about a Jeter-Rays link, so for now this appears to be a rumor without substance. But the speculation makes sense in some ways: Jeter lives in Tampa, and he would be a perfect agent for change whenever the Rays reach a turning point in their ballpark situation, in the way that Magic Johnson was the right guy to be part of the Dodgers' new ownership group in L.A. Jeter carries star power and credibility, of course, which will only grow once he is inducted into the Hall of Fame. It's easy to envision Jeter having power as a lobbyist for a team looking for a new ballpark situation.
The Rays recently received clearance from the City of St. Petersburg to begin looking for ballpark sites in the Tampa area, and they're currently reviewing sites. This is step one in what figures to be a very long process in getting the Rays a new ballpark. They've got to find a site, get approval from all relevant parties, figure out the financing, then design and build the ballpark. That ain't happening overnight.
The Rays represent the best opportunity for Jeter to get in on the ground floor of something big. It doesn't seem MLB will be expanding anytime soon, at least not before the Rays get a new ballpark, so this is the best chance to buy into a team and immediately have some impact. Jeter lives in the Tampa area and he could be part of the ballpark process. He could play a major role right away.
Rays owner Stu Sternberg is a New Yorker — he grew up in Brooklyn and now lives in Westchester — so he's seen Jeter's star power up close. Sternberg has talked about potentially selling parts or all of the team if they don't get a new ballpark soon, and letting Jeter in could help the stadium cause. Jeter would certainly add some name recognition to the franchise. Heck, he'd be their popular player as an owner.
It would be weird to see Jeter as part of the ownership group of another club, especially an AL East rival, but it's not something that is impossible. Not even close. The Yankees and Jeter don't owe each other anything. He has every right to look for ownership opportunities around the league and the Steinbrenners have every right to run their organization as they see fit. They don't have to sell him anything.
For now, it seems like we're a long way away from Jeter buying into a team. Manfred and the owners have to approve any ownership candidate, though I doubt Jeter will have trouble there. It's just a question of finding the money and finding the right opportunity. Right now, the Rays appear to present more of an opportunity than the Yankees.