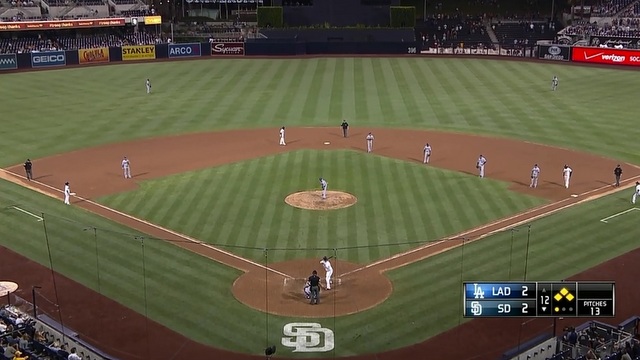 Two nights ago Nathan Eovaldi lost a no-hitter in the seventh inning on a ground ball single to the shortstop position. The Yankees, as they often do, had an infield shift employed, so the shortstop was standing somewhere else. The ball scooted on through and the no-hit bid was over. So it goes.
Prior to last night's game Joe Girardi was asked about the infield shift in general, and, to my surprise, he said he would like to get rid of them. Here's what he said, via Dan Martin:
"It's illegal defense, just like basketball," he said. "Guard your man. Guard your spot. If I were commissioner, they'd be illegal. As long as it's legal, I'm gonna play it."

…

"I just think the field was built this way for a reason," Girardi said. "Two on one side, two on the other."
Girardi is entitled to his opinion and he's certainly not the only person who would look to see shifts outlawed. I'm sure Mark Teixeira and Brian McCann would be in favor of them going away too. Lots and lots of left-handed batters have lost hits and batting average points and, by extension, dollars in their pocket because of the shift.
The rulebook says that with exception of the pitcher and catcher, defenders can position themselves anywhere in fair territory. Eliminating the shift would be a relatively easy fix. Second base creates a nice boundary, so MLB and the MLBPA could change the rules and force teams to play two infielders on each side of the bag. Boom. Problem solved.
I respectfully disagree with Girardi here. I'm not a fan of eliminating the shift. I'm not a fan of any rule change that would limit creativity within the game. Baseball, like everything else, is survival of the fittest. Players have to adapt to stay in the league and those who can't get left behind. The game went through a seismic shift when breaking balls were first introduced because only a few players could hit them. After some time, hitters caught up.
Offense is down around the league these days for many reasons, and the shift is surely one of them. It is worth noting the league wide batting average on balls in play has not changed much over the years. The league has a .297 BABIP this year. It was .299 in 2015, .297 in 2010, .295 in 2005, and .300 in 2001. Since the strike in 1994, only once has the league BABIP fallen outside the .296-.303 range (.293 in 2012). The overall impact of the shift is overstated.
The shift has been around for years and yet it is still a relatively new phenomenon. Every team uses them to some extent, though a few holdouts have not fully bought in just yet. Teams haven't yet had time to try to develop a generation of hitters to be shift beaters. The shift is still a baby. It's still a little too early to be re-writing the rulebook for something that may fizzle out on its own in due time.
Creativity and innovation are good. I want teams to try to outsmart each other and come up with new ways to gain an advantage. It makes the game more competitive and more interesting, I think. We shouldn't push aside something new because it goes against the way the game has been played for the last 150 years. Baseball is too old fashioned as it is. It could use some fresh ideas.