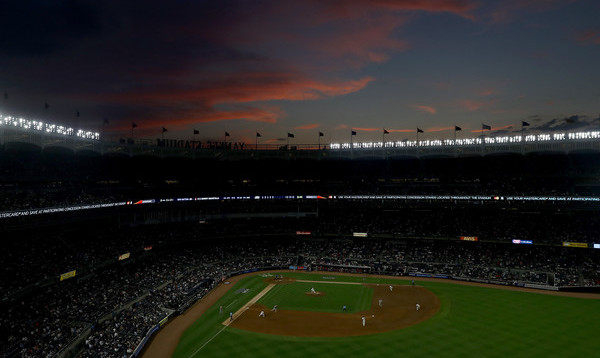 You know, the Yankees are one bullpen meltdown away from having won three straight games and four of their last five. They've also scored at least five runs in four of those last five games too. I'm not sure that will make anyone feel much better about the current state of affairs, but it's true. Could the Yankees be turning things around?!? Eh, probably not, but what else are we supposed to root for? Here is the Angels' lineup and here is the Yankees' lineup:
LF Brett Gardner
1B Rob Refsnyder
RF Carlos Beltran
DH Alex Rodriguez
2B Starlin Castro
3B Chase Headley
C Austin Romine
SS Didi Gregorius
CF Aaron Hicks
RHP Michael Pineda
It has been a very pleasant day in New York. A little cloudy but it's on the cool side. Pretty sweet weather. Tonight's game will begin at 7:05pm ET and you can watch on WPIX. Enjoy the game.
Roster Move: The Yankees have called up Anthony Swarzak and sent down Luis Cessa, the team announced. Cessa hasn't pitched much at all these last three weeks and that can't continue. He needs innings. That's all that move is about. Tyler Olson was designated for assignment to clear a 40-man spot for Swarzak.
Injury Updates: Mark Teixeira (knee) will attempt to rehab his injury. He's going to need surgery eventually, but he wants to try to put it off. The hope is Teixeira will be able to return to game action in three weeks … Chasen Shreve (shoulder) threw 20 fastballs off a mound today and felt fine. He'll throw again in two days, and if that goes well, Shreve could begin a rehab assignment shortly thereafter.
All-Star Voting Update: The second update of the fan voting for the All-Star Game starters was released today. Brian McCann is third among catchers behind Sal Perez and Matt Wieters — he was second last week, but dropped behind Wieters — and Beltran 11th among outfielders. Here's the full update and here's the ballot if you wish to vote.