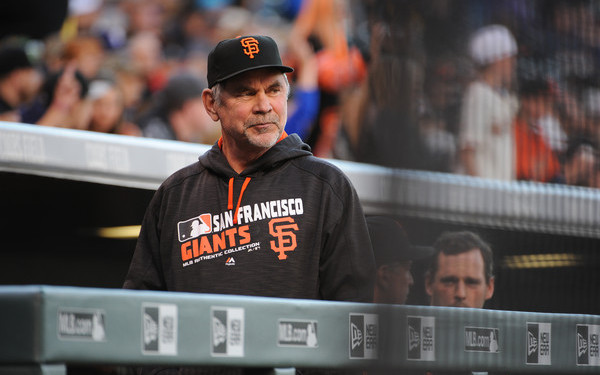 The homestand concludes this weekend with a three-game series against the 2016 World Series champion Giants. Don't even bother watching the rest of the season. It is an even year and the Giants got it locked down. Anyway, this is only the third time ever the Giants are coming to the Bronx as part of interleague play. They were here for three games back in 2002, when Barry Bonds did this …
… and they were here for three games back in 2013. Alex Rodriguez hit his record 24th career grand slam that series. The Yankees won two of three both times the Giants have played in Yankee Stadium during the interleague play era. This is the only time these two teams will meet this year. There's no series in San Francisco later in the season.
What Have They Done Lately?
The Giants have not won a game in the second half. Five games, five losses. They were swept in three games by the Padres last weekend and they lost both games up in Boston earlier this week. San Francisco still has the second best record in all of baseball at 57-38. Only the Cubs (57-37) have been better. The Giants have a +58 run differential, a four-game lead in the NL West, and a 6.5-game lead on a postseason spot in general.
Offense & Defense
Everyone seems to push the idea that the Giants are an old school organization that wins with pitching and defense, but that's not really the case. They're one of the most analytically inclined teams in the game, and they're averaging 4.64 runs per game with a team 104 wRC+. It's a really strong offense, especially considering OF Hunter Pence (hamstring), 2B Joe Panik (concussion), and 3B Matt Duffy (Achilles) have all been out for several weeks.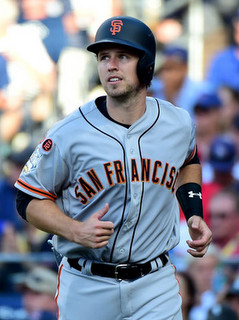 Panik (101 wRC+) has been on a minor league rehab assignment and may be activated off the DL prior to tonight's game. Manager Bruce Bochy usually bats Panik second behind CF Denard Span (92 wRC+). 1B Brandon Belt (142 wRC+), C Buster Posey (126 wRC+), and SS Brandon Crawford (112 wRC+) typically make up the 3-4-5 hitters. OF Jarrett Parker (124 wRC+) and OF Mac Williamson (117 wRC+) have been platooning in right with Pence out. LF Angel Pagan (109 wRC+) is the other regular.
The Giants have been played 3B Conor Gillaspie (88 wRC+) and ex-Yankee IF Ramiro Pena (143 wRC+) at third base during Duffy's absence. IF Grant Green (103 wRC+) is the utility man and chances are either he or Pena are going to get dropped from the roster whenever Panik returns. Pena's out-played Green — he also has nearly twice as many plate appearances — so he might stick. C Trevor Brown (101 wRC+) is the backup catcher and OF Gregor Blanco (88 wRC+) is the heavily used fourth outfielder. For what it's worth, Posey has been the DH four times in San Francisco's six AL park games to date. Parker was the DH the other two times.
Defensively, the Giants are very strong, especially up the middle with Crawford, Panik, and Span. Belt is solid at first and so is Pena when he's in the lineup. Gillaspie and the Williamson/Parker platoon won't kill them. Pagan's no longer the defender he once was, but he's still good enough. Posey has, incredibly, thrown out more basestealers (18) than he has allowed successful steals (16). Brown's throw-out rate (23%) is well-below-average (29%).
Pitching Matchups
Friday (7:05pm ET): RHP Masahiro Tanaka (vs. SF) vs. LHP Madison Bumgarner (vs. NYY)
The Yankees are catching zero breaks this weekend. Three games against the Giants and they're going to see their top three starters. Bumgarner, who is still somehow only 26, has a 2.12 ERA (3.02 FIP) in 20 starts and 135.2 innings. He's got great strikeout (28.8%) and walk (6.1%) numbers, but only average-ish grounder (40.9%) and homer (0.93 HR/9) rates. Bumgarner is really good at getting pop-ups and weak fly balls, and while his platoon split is fairly big, it's not like righties hit him hard. He dominates lefties and only kinda sorta dominates righties. Bumgarner uses a lower arm slot to sling low-90s four-seamers and upper-80s cutters. His moneymaker is a big upper-70s curveball he can throw to both sides of the plate. He'll also throw a few mid-80s changeups per start, but generally speaking, he's a four-seamer/cutter/curveball pitcher. Bumgarner is an ace in every possible way. What a stud.
Also, it's worth noting Bumgarner will not hit for himself tonight. Earlier this year the Giants made some history by passing on the DH and letting Bumgarner hit for himself during a game in Oakland. They were the first team in 40 years to decline the DH. Bochy told Hank Schulman earlier this week he plans to use a left-handed hitter at DH with Tanaka on the mound, not the righty hitting Bumgarner. That's unfortunate for the Yanks. For all the talk about his bat, Bumgarner is hitting .154/.237/.308 (51 wRC+) this year and .179/.224/.301 (46 wRC+) in his career. Guess it doesn't take much to get NL fans excited.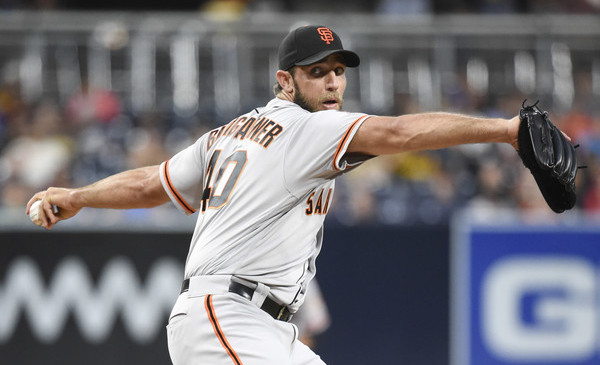 Saturday (4:05pm ET): RHP Ivan Nova (vs. SF) vs. RHP Jeff Samardzija (vs. NYY)
Baseball is good work if you can get it. Last year Samardzija led the AL in hits, earned runs, and home runs allowed, and he still landed a five-year deal worth $90M over the winter. It's good to throw hard, I guess. Samardzija, 31, has a 4.05 ERA (4.20 FIP) in 19 starts and 122.1 innings this year, and it's worth noting he started very well but has crashed hard of late. Check it out:
| | IP | ERA | FIP | K% | BB% | GB% | HR/9 |
| --- | --- | --- | --- | --- | --- | --- | --- |
| First 10 starts | 71 | 2.54 | 2.99 | 22.3% | 5.8% | 46.7% | 0.63 |
| Last 9 starts | 51.1 | 6.14 | 5.87 | 14.3% | 6.7% | 47.4% | 2.10 |
| Total | 122.1 | 4.05 | 4.20 | 18.7% | 6.2% | 47.1% | 1.25 |
I'm sure the Giants are looking forward to facing a weak opponent this weekend so Samardzija can get back on track. (I kid! Or do I?) Samardzija's been really, really bad of late. Really bad. Lefties are hitting him a lot harder than righties too. Samardzija still sits in the mid-90s with his four-seamer and sinker, and a tick lower than that with his cutter. An upper-80s slider is his main secondary pitch, and he uses a mid-80 splitter as his changeup. Samardzija has been really bad for several weeks now, yet for some reason I don't find that comforting.
Sunday (1:05pm ET): RHP Nathan Eovaldi (vs. SF) vs. RHP Johnny Cueto (vs. NYY)
Remember when no team wanted to sign Cueto because they were worried about … things? I guess his subpar performance with the Royals last year, and the fact he missed a little time with an elbow issue in the first half. Well anyway, the 30-year-old Cueto now has a 2.64 ERA (2.89 FIP) in 19 starts and 136.1 innings this year. He started the All-Star Game last week and this will be his first start since. Cueto has excellent peripherals (22.1 K%, 5.0 BB%, 51.3 GB%, 0.53 HR/9) and a bit of a platoon split, though he's overall very good against both righties and lefties. Generally speaking Cueto will work in the low-to-mid-90s with his fastball and mid-80s with his little cutter/slider thing. He also has a nasty mid-80s changeup. As you probably know, Cueto varies his delivery — he has four different deliveries, in fact — not just throughout the game, but within an at-bat, which makes things very uncomfortable for hitters. Between the fastball/changeup combo and various deliveries, Cueto is a master at disrupting the hitter's timing.
Bullpen Status
The Giants carry eight relievers largely because their bullpen has been below-average (4.00 ERA and 4.01 FIP) and Bochy needs as many options as possible. That's why they've been in the mix for Andrew Miller and Aroldis Chapman prior to the trade deadline. Here is Bochy's bullpen:
Closer: RHP Santiago Casilla (3.38 ERA/3.41 FIP)
Setup: RHP Sergio Romo (1.35/3.75), LHP Javier Lopez (4.60/5.89), RHP Hunter Strickland (3.12/3.52)
Middle: RHP George Kontos (2.86/3.85), RHP Derek Law (2.65/2.00), LHP Josh Osich (4.13/5.90)
Long: RHP Albert Suarez (4.19/4.38)
Casilla has not been nearly as automatic as he has been in the past. He's only 21-for-26 in save chances with several very big meltdowns, yet Bochy has stuck with him in the ninth inning. Bochy matches up with Romo and Lopez — Lopez is a classic left-on-left guy with a funky arm slot, mid-80s fastball, sweepy breaking ball, the whole nine — and will also use Strickland in setup spots as well. Strickland is the hard-throwing bat-misser.
The Giants had an off-day yesterday, so their bullpen is relatively fresh. Suarez threw three innings and 66 pitches Wednesday night, in one of those old school back and forth Fenway Park slugfests, so he's probably not going to be available tonight. Maybe not tomorrow either. Our Bullpen Workload page will keep you up-to-date on the Yankees' reliever availability.