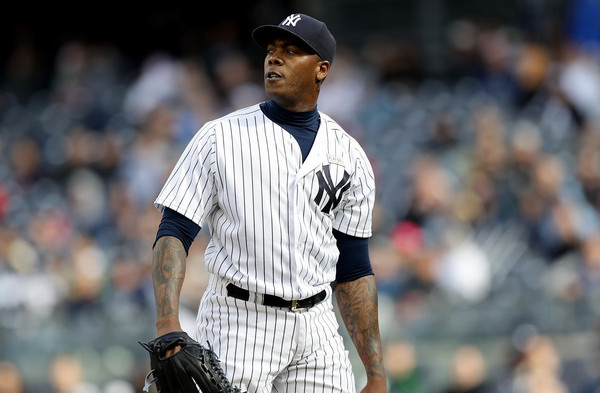 This afternoon the Yankees made their biggest and most important trade in quite a while. Since … the Curtis Granderson deal? That might be it. The Yankees shipped Aroldis Chapman to the Cubs for Adam Warren and three prospects, and the trade indicates the team has finally stopped obsessing over the present and is beginning to prioritize the future. That's pretty big.
Tonight's game is the first without Chapman — Warren is not in town yet either — and you can be sure the Yankees want to keep this recent hot streak going. They've won nine of their last 14 games and are kinda sorta maybe possibly inching their way up the wildcard standings. The Chapman trade that turned the season around? That would be pretty cool. Here is the Astros' lineup and here is the Yankees' lineup:
CF Jacoby Ellsbury
LF Rob Refsnyder
DH Carlos Beltran
2B Starlin Castro
1B Mark Teixeira
SS Didi Gregorius
3B Chase Headley
C Austin Romine
RF Aaron Hicks
RHP Michael Pineda
It seems the Yankees went to Houston to escape the heat and humidity in New York. It's actually been raining in Houston much of the day, but it's supposed to be clear tonight. Minute Maid Park has a retractable roof anyway, so the rain doesn't matter. Tonight's game is scheduled to begin at 8:10pm ET and you can watch on WPIX. Enjoy the game.
Roster Move: Luis Severino's back. He was called up today to take Chapman's place on the roster, the Yankees announced. I'm guessing Severino is going right back to Triple-A whenever Adam Warren arrives, which could be as soon as tomorrow. (He has three days to report.)